Blake Abbey says he was walking home from a bar with two friends on Sunday when a knife-wielding man jumped out, yelled homophobic slurs and stabbed all three of them.
"[He] called us 'faggots for wearing tight jeans,'" Abbey wrote on his Facebook page, after the attack in Sacramento, California. "We did nothing to provoke him. We were in the wrong place at the wrong time. My arm was completely mangled by a 7-8 inch Rambo knife."
Their alleged assailant, 25-year-old Timothy Brownell, was arrested Monday on assault and weapons charges and released on bail. Police issued a new warrant for his arrest after they reclassified the stabbings as a hate crime, and Brownell turned himself in on Tuesday, according to the Los Angeles Times.
Abbey, Alex Lyman and Weston Richmond, all local musicians, were assaulted at about 11:45 p.m. on Sunday. They were all treated for stab wounds and will recover, according to NBC affiliate KCRA.
All of them took to social media to describe the stabbing, and Abbey says he got stitches for a 4-inch cut that just missed his spleen, as well as treatment on his arms and throat. He posted photos of his injuries pre- and post-operation on Facebook, which can be seen at the bottom of this post.
Police say they saw the social media postings, and considered the hate crime charge after the men reported what Brownell allegedly said.
A benefit concert called "I Wear Skinny Jeans" has been set up to help the three victims with their medical bills.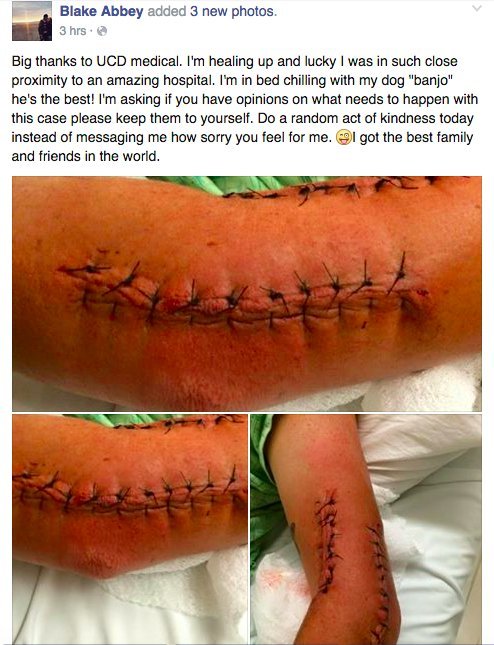 Popular in the Community