"Man's body found near trailer park." That was the headline in the Cortez Journal [Colo.] on June 23, 2001.
I was then the Journal's managing editor and had copy-edited the article, but I can't say that I attributed a great deal of importance to the finding of the as-yet-unidentified body. Police had not even said whether foul play was involved, and I thought it likely the person had died of alcohol intoxication and exposure -- a tragic occurrence, but generally not one that has far-reaching ramifications. If anyone had told me this death would become our local version of the Laramie Project or that I would end up in a film about the hate-crime murder of this young man, I would have found it ridiculous.

But soon after this body was found, it became apparent this was no common incident. This death was a murder, and it would make Cortez, a city of 8,000 in the far southwestern corner of Colorado, the center of a maelstrom.
The body was that of a 16-year-old Cortez boy, Fred Martinez Jr., who had been bludgeoned to death with a rock. He was Navajo and he was nádleehí, a Navajo word for a man with feminine characteristics -- a quality sometimes referred to as "two-spirited."
In the historic traditions of many American Indian tribes, being two-spirited was viewed as being special, even gifted. Sadly, as we all know, this view is not universally shared in the broader culture, where gays, lesbians, bisexuals and transgender individuals still encounter discrimination and violence.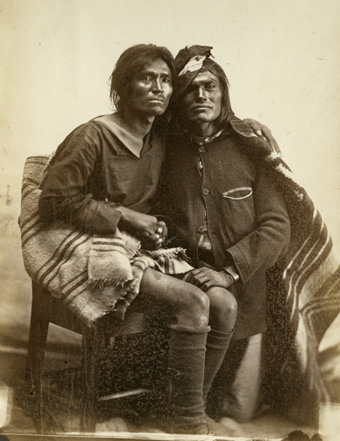 Historic photo of a Navajo same sex couple.
Fred's friends at Montezuma-Cortez High School reported that he had sometimes been harassed for his feminine manner, that he had eventually switched to adult-education courses to avoid the harassment. But law officers investigating the case seemed loath to label the killing a hate crime -- even after a tipster called and said that an 18-year-old New Mexico man, Shaun Murphy of Farmington, had bragged to friends that he had "bug-smashed a hoto [slang for a "fag"]." Murphy was arrested and initially charged with second-degree murder; a charge of first-degree murder was later added.

As details emerged about the killing, it became clear that Murphy, a violent young man with an extensive criminal record, had indeed been motivated at least partly by hatred for Fred's sexuality.

After some interaction that resulted in Murphy's finding out Fred was gay, he chased Fred down in a rocky canyon just south of Cortez, smashing his head repeatedly with a rock and leaving him there. Whether Fred died instantaneously or slowly, over hours or days, is unknown. His body was not discovered until five days later, decomposing in the summer heat.

In the weeks that followed, Cortez became the center of a debate that raged on street corners, in coffee shops, and in the pages of the newspaper. Letters to the editor streamed in that variously condemned homosexuality, supported gay rights, questioned the very concept of "hate crimes," and lamented the brutal death of a gentle and fun-loving boy.
We at the Journal initially came in for some harsh criticism by ostensible supporters of gay rights for mentioning Martinez's sexuality at all. "I am sure there is a flaw in everyone and I am sure no one wants to bring it out in the open," someone wrote us anonymously, a statement that prompted us to publish an editorial entitled, "There was nothing shameful about Martinez's sexuality." I wrote the editorial, but it pretty much expressed the sentiments of the Journal's entire news-editorial staff and management -- that being gay, lesbian, bisexual or transgender are not sins or even flaws, but simply attributes. The reaction to that editorial was mostly positive, as people wrote in from across the country to support our decision to write openly about Fred's sexuality.

And so it went that summer: There were moments of hatred and love, ugliness and beauty. A crowd of more than 80 turned out for a forum in Cortez to discuss Fred's murder and their feelings about gay, lesbian and transgender people. One pick-up truck parked outside carried a cross, made of two boards and hand-painted with a crude message: "God hates fags." Inside, the forum went smoothly and civilly -- except when a man in the audience rose and began preaching fire and brimstone for anyone who supported gay rights.

There was also a candlelight vigil one night in Cortez that drew more than 100 people, including Judy Shepard, mother of Mathew Shepard, the young gay man tortured and killed in Wyoming in October 1998. Speakers shared memories of Fred, shed tears, and called for forgiveness and healing rather than continued anger. Fred's mother, Pauline Mitchell, gave a moving statement, saying that her son "would want us all to join together and work to the understanding that we can get along. He would want the schools to be a place where those who are different will find peace and joy in being at school instead of name-calling, harassment and hate."

Murphy eventually pleaded guilty to second-degree murder and was sentenced to 40 years in prison; he wept when the sentence was announced. The hoopla died down, and as the years passed, Fred's murder began slipping into obscurity.

That changed when director Lydia Nibley of California and Say Yes Quickly Productions launched a project to make a documentary film commemorating Fred's short life and examining American Indian views on gender identity.

The world premiere for Two Spirits will take place on Saturday, Nov. 21, at the Starz Denver Film Festival. It will screen at 12:30 p.m. in the 520-seat King Center Concert Hall on the University of Colorado at Denver's downtown Auraria campus, and will be followed by a panel discussion and reception.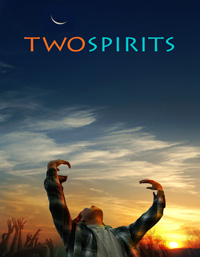 Two Spirits is a low-key, gentle and respectful recounting of Fred's life and death. It interweaves the tragic story of a mother's loss of her son with a look at a largely unknown time when many Native American cultures held places of honor for people of integrated genders.

I know that Fred's life -- and death -- taught me a great deal. My hope is that this film will promote more discussion and understanding.

The Denver premiere is sponsored by the Matthew Shepard Foundation, Barbara Bridges/Wildblue Entertainment, OutFront Colorado, the LGBT Community Center of Colorado, and PFLAG Denver. Tickets for the premiere will soon be available at the Starz Denver Film Festival site. You can view the film's trailer on YouTube and at the Two Spirits website.

Gail Binkly co-owns and edits a regional newspaper in Cortez called the "Four Corners Free Press."
Related
Popular in the Community