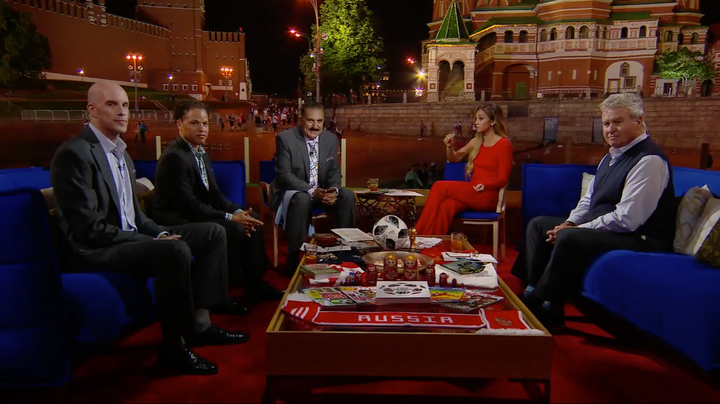 After a rigorous day of blatantly watching the World Cup at work, in open defiance of Mother Jones editor-in-chief Clara Jeffery, you may be looking for the perfect soccer digestif. You want to wash the day's events down with an hour of highlights, sharp analysis, lively banter, a little more time to revel in the highs and lows of the tournament.
Instead, Fox ― which owns the U.S. English-language rights to the 2018 World Cup ― offers "World Cup Tonight." The recap show, which airs on FS1 at 10 p.m., then midnight on Fox, is so weirdly off-kilter it comes all the way back around to being irresistible again.
Every part of it is not quite right. It is, for me, appointment viewing.
The oddities begin with FIFA's sweeping CGI video intro, which opens every episode. Not the intro itself, which is fine (see above), but that it seems to be played twice in a row every night. Am I hallucinating? Is this intentional? Why would you do this on purpose? 
On stage, we're greeted by a motley assortment of TV personalities who have all the group chemistry of the Argentina locker room.
There's a Russian music man, DJ Rudenko, who always seems taken aback when the hosts toss him a question. Most nights, there's Guus Hiddink, a legendary manager with tremendous insight about the beautiful game and a rather less tremendous facility for off-the-cuff banter. There's stolidly by-the-numbers commentator and U.S. men's national team alumnus Cobi Jones. 
Often they're joined by guests like well-sourced reporter Grant Wahl, who surely knows that he shouldn't make eye contact with the camera every two seconds, but can't tear his luminous orbs away from it.
Holding this ragtag bunch together with their fingernails, we have hosts Fernando Fiore, a seasoned commentator and Argentine partisan, and Kate Abdo, a British sports presenter and walking "it's coming home" meme. Their dual hosting personas almost complement each other ― Fiore full of hilarity and ebullience that mostly seems to clatter impotently off his more sober mates, and Abdo leaning back coolly, interjecting the occasional wry question about the match at hand. (She is the only force keeping the show remotely on topic 85 percent of the time.) 
Sometimes they show highlights from the match, augmented by their analysis, such as "Wow!" or "Goooal!" Other times, Fiore sets up little gags, often with his pal Hiddink, who is lovably game but lacks any comic timing. Typically these skits peter out almost instantly, leaving an uncomfortable pocket of time before the blessed rescue of the commercial break. It's awkward, and I love it. 
I'm not an expert ― on soccer, on sports TV, on anything really ― but I know this: "World Cup Tonight" is the best sports show to watch through your loose-knit throw blanket, cringing.
Please cancel everything on ESPN and make every sports show exactly like this going forward. This is the sports content we need, and, indeed, deserve.
REAL LIFE. REAL NEWS. REAL VOICES.
Help us tell more of the stories that matter from voices that too often remain unheard.