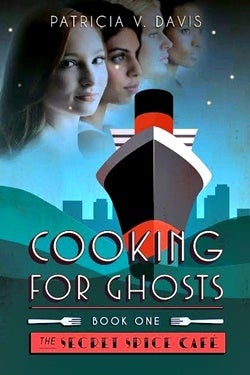 With Halloween around the corner, images of ghosts begin to proliferate into our consciousness. Silky threads begin to appear in my front yard in earnest this time of year, with unknown numbers of spiders working together to create their glistening traps. There is something beautiful about the structures which are at the same time so fragile, persistent, and sticky – much like the ties we have to family when we are queer. I think it is safe to say that most queer people have had the experience of being rejected by family, whether in small or large ways – and with the start of the holiday season, it is a pain that naturally comes to mind.
Betrayal by family haunts many queer folk, with memories that pop up, unexpectedly reopening old wounds. One of my memories is of visiting a beloved aunt in Greece. I'd lived with her and my cousins for a year in her tiny farming village when I was nineteen. I cooked for them, harvested crops, attended funerals, and witnessed new life with them. They were my second family. After I left and returned to San Francisco I missed them terribly. I periodically sent pictures and cards to keep in touch, until I could return. On a subsequent visit years later, I found a small photo album I'd sent my aunt on a small table in the entryway of her house. I was delighted to see that she had it so prominently displayed. As I started to flip through, however, I realized that she had edited the photos. She'd kept the ones that just showed me or my children, and literally cut apart the ones that showed me with a female partner so that only I was left in the photo. That moment broke my heart and my belief in her unconditional love. Her actions showed me that she was ashamed of me – that an integral part of my life was to be excised and shunned.
I began ruminating on this topic after reading the recently released novel, Cooking for Ghosts, by Patricia V. Davis. It's a story about four women of different cultural and socioeconomic backgrounds that meet online and decide to risk opening a restaurant together aboard the historic ship, the RMS Queen Mary, which is in actuality permanently docked in Long Beach and functions as a floating hotel and museum. It was originally built as a luxury ocean liner in the 1930s to host royalty, aristocrats, and the biggest names in Hollywood. Bigger and more powerful than the Titanic, it was soon called into military duty during World War II and renamed "The Grey Ghost."
The RMS Queen Mary is also considered one of the most haunted places in the world. It has special significance to me because I met my Butch love there for the first time, after many months of an online courtship, and we have returned two additional times to soak in the romance, history, beauty, and indulge in midnight ghost-hunting. It is the perfect backdrop for the novel, and a character in her own right.
Each of the main characters in Cooking for Ghosts has a shameful secret from their past they can't outrun, and family relationships that haunt and torment them. Over the course of the book, significant interactions with the spirit world bring each of the women face to face with their family secrets. An expression by Andrew Gilmore kept coming to mind as I read the book: "Sometimes good people do bad things."
One of the main characters, Angela, is an Italian-American pastry chef who lived her life with a husband of her family's choosing, according to the rules and cultural and religious expectations of their close-knit conservative Italian family. We learn early on that she has a son Vincenzo, from whom she is estranged. It takes a brutal confrontation with a mysterious man Angela meets on board ship to break her blind adherence to cultural expectations. "Did you really think that God was punishing you for giving you a son like him? And why was that – because he wasn't the son you ordered?" We learn that Angela's son is gay, and because Angela lacked the personal fortitude to reject her cultural and religious indoctrination, Vincenzo had his own moment of realizing that his mother was ashamed of him – that he was someone to be excised and shunned from the family picture.
I asked Patricia V. Davis what drew her to include a subplot about a mother who feels so constrained by culture that she has difficulty embracing her gay son in Cooking for Ghosts.
"Many of us who are raised in deeply religious or ethnically isolated families feel brainwashed into believing that gay people are sinners, and that those of us who support LGBT rights are going to hell. I wanted anyone who'd experienced a parent letting them down to know that sometimes it's not cruelly intended. Sometimes the people they love are too afraid to change their opinion and fight the norm of the group."
Davis paints a realistic portrait of a mother stuck within a conservative group mentality. But when Angela finally finds the clarity and courage to break free from her cultural indoctrination, she realizes her own liberation and gains a chance at a meaningful relationship with her gay son. Davis says, "If you read my dedication it says, 'To every mother who has ever lost a child, to every child who never had the mother they deserved.' This is my little beacon of hope for those people."
A beautifully structured novel that builds layer upon layer of meaning, held together with gossamer threads and magic, Cooking for Ghosts not only gives insight into the potentially negative power of cultural expectations, but also shows that redemption is possible when we have the courage to think individually – to "do the right thing" vs. "following orders." Davis creates a character for your straight family to relate to and learn from, and hopefully gives them a beacon they can follow back to their greatest treasure – you.
BOOK GIVEAWAY! Patricia V. Davis has offered to give away one copy of Cooking for Ghosts to a reader of this post. Just leave a comment below and a reader will be selected at random.
Calling all HuffPost superfans!
Sign up for membership to become a founding member and help shape HuffPost's next chapter