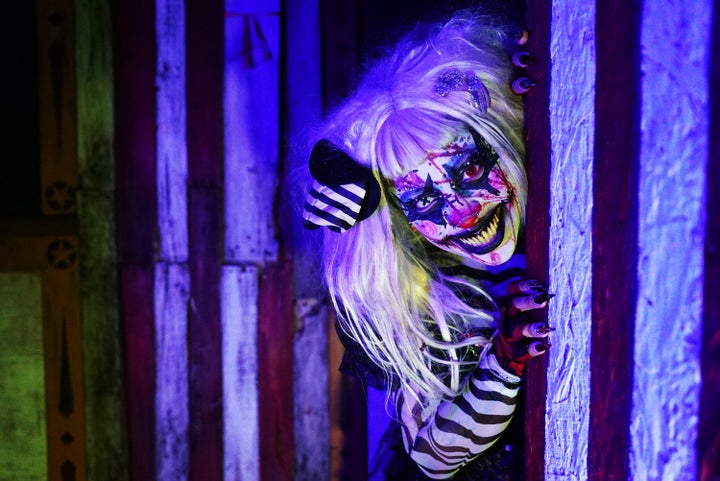 For 40 hours a week, Ribz DeLeon is a store manager at a mall. But after she clocks out at 3 p.m., she drives an hour and a half for her true passion: being a scary clown at Field of Screams Maryland.
For some people, clowns are creepy, but DeLeon has always gravitated toward the wigs, colorful costumes and face paint.
"I'm already seen as very eclectic and very loud, and I'm very not afraid to be myself. ... Being a clown is easier for me because it feels more natural," DeLeon said. "Because when you're a clown, you can scare people by just being funny. You can scare people by just standing there."
DeLeon has been spooking people for the immersive haunt experience for two years but has also been volunteering with community haunts since she was child. For her, scare acting never gets old. If she could, she said, "I would choose to do it every single day."
HuffPost talked with DeLeon and other scare actors about the rewards of spooking people and the psychology of what makes a good scare. Here's what they want you to know:
When your job is scaring people, screams are the reward.
For scare actors, your blood-curdling shriek of surprise and terror is a sign of a job well done.
"The reward of it is ... the satisfaction of knowing that you got them," DeLeon said. "When I instill that fear, it's different than getting a standing ovation or getting your name called in a crowd ... they'll get scared and they're like, 'Ah, you got me!' and then they love you instantly."
There can also be a pleasure in bringing horror film characters to life. Paige Trotter plays the "Friday the 13th" antagonist Pamela Voorhees for Kersey Valley Spookywoods in Archdale, North Carolina.
When she was hired in September, Trotter, who works as a carpenter and artist, had not acted since high school. Trotter said her boss told her she would quickly learn if she loved or hated scare-acting. By the first night, she realized she was going to enjoy eliciting screams.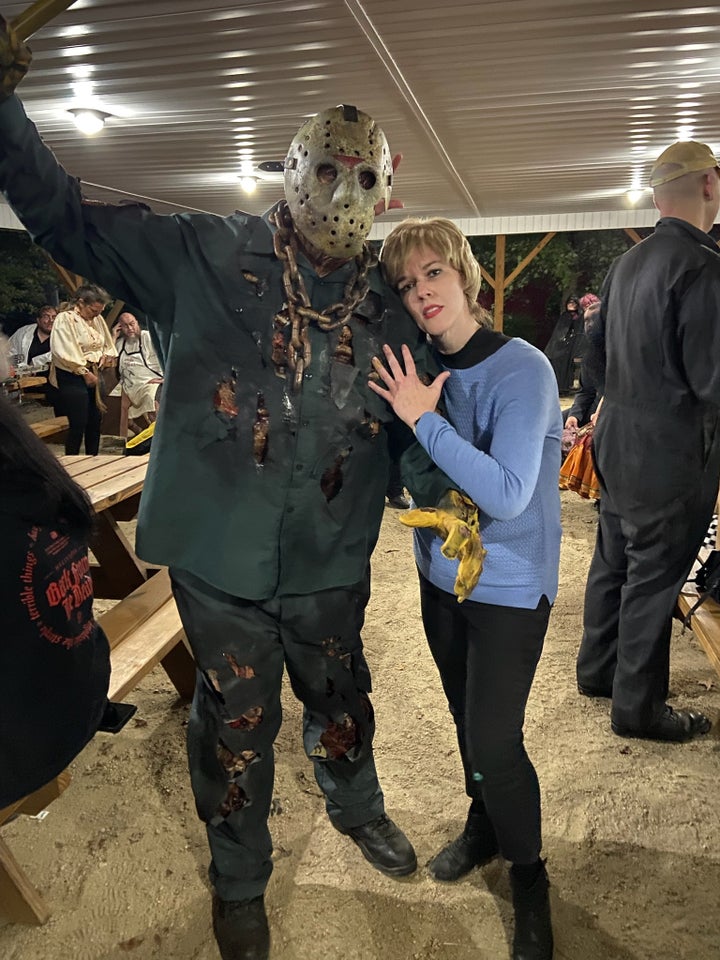 For Spookywoods' Icons section, customers go through a bathhouse and cabin staged to look like the "Friday the 13th" film. There, Trotter jumps out, wielding a fake knife and delivering movie dialogue as her fellow actors, playing Voorhees' victims, swing down from the rafters of the cabin.
"Some people that come through there, they're just eating it up ... they'll know who I am. They'll know what's going on, and they'll just be so excited. So that makes you feel good," Trotter said.
"I'm like 4-foot-nothing. I've never really been the person that instills fear in people regularly."
DeLeon said the job can also be an "ego boost, low-key" for scare actors.
"I'm like 4-foot-nothing. I've never really been the person that instills fear in people regularly," she said. "So when it comes to being in this costume and just standing there and being able to scare 6-foot-3 burly football players, it's different. We had the [Baltimore] Ravens team come by once, and I swear I almost made those quarterbacks fall into our sets so many times, it was so rewarding."
Being a good scare actor means paying attention to what freaks people out.
Scare acting requires the performer to pay close attention and improvise what is said to each group that comes through. "It's never boring," Trotter said. With kids, she and her fellow actors tone down their actions so they're not too frightened, she said, but with adults, they gauge how to act based on how scared the group seems.
"We've had people just jump through the bunk beds to try to get out because they're so scared," she said. "Sometimes you can tell they're not going to be scared as easily, and you're like 'Let's go the funny route, and they'll just die from laughing so hard.'"
From her experience, clowns and the fear of what's in the dark are the two things that consistently scare people the most, DeLeon said. "People will literally hesitate to go into a dark room. And I think it's the fear of the unknown."
Jon Hicks runs rides at Legoland and works as a personal security guard, but his favorite job is playing a killer clown for Erebus, a haunted house attraction in Pontiac, Michigan. Hicks' clown is based on the Capt. Spaulding character from the "House of 1000 Corpses" movie and sequels.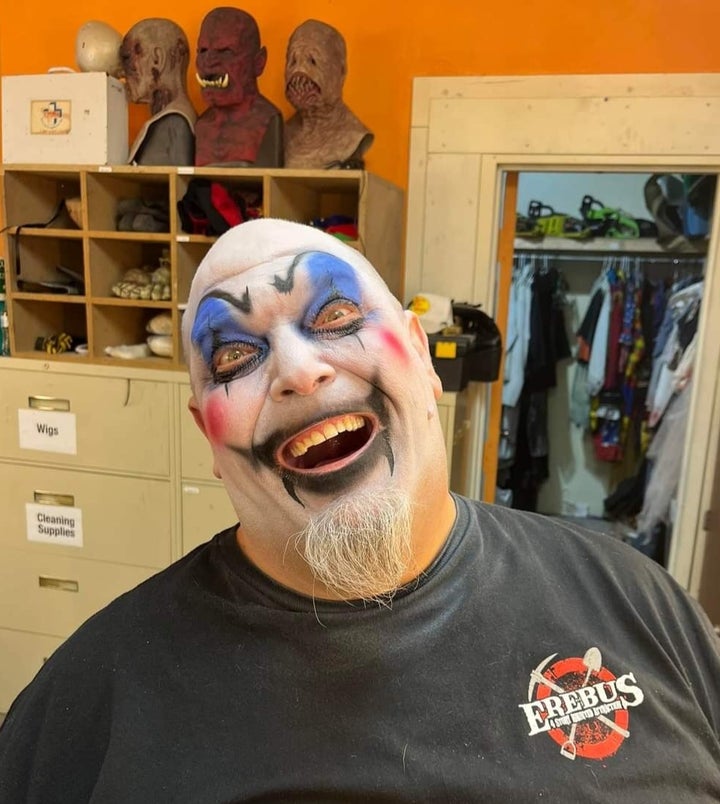 "If you can do the performance, it's just amazing how people will look at you. They're like, 'Oh, my God, yes.' I've got people that come in three, four times a week just to see me," Hicks said.
If you want to be a scare actor, there's a community that will welcome you.
Scare acting can be a blast, but it's not always easy. Trotter said people can misunderstand how physically and mentally demanding a scare acting job can be. "It is a continual flow of people, and you're out there for hours."
But at the same time, making a lasting impression on a group and working every night with her cast made those long hours worth it, Trotter said: "We all support each other. It is truly like a family." Like every scare actor interviewed, Trotter said she would want to be a scare actor again next Halloween season.
The scare acting community can be a tight-knit group across generations. "A lot of us don't have families. So it's a family setting for everybody," Hicks said. "Younger kids, they look up to us older people, for scare tactics and little things, because we know what's going on, what people want to see."
If you want to be a scare actor, know that you do not need previous experience. "You can be taught," DeLeon said.
If you want to be a scare actor, Hicks suggests first going to a haunted attraction. "That way, you know what your fear is, and you can project that onto somebody else."
And when you get the job, "don't be afraid to make big choices" because scare acting is "going for what people haven't seen," DeLeon advises. "When ... you are unapologetically you, it's what gets the scares."
And who knows? Once you start scare acting, you might get hooked.
Hicks said a good scare for him is when he can see the customer's surprise after he jumps out of a dark corner. "Once you feel that first scare, it's a whole different story. And you're going to want to crave it all the time to keep getting that scare."
Support HuffPost
A No-B.S. Guide To Life
Popular in the Community