With Halloween on the horizon, October is the time of year when we hear the chitter-chatter surrounding the notion of ghosts and goblins. The intrigue of haunted houses, vampires and the unsolved mystery of the afterlife are on the forefront of mortals' minds. Did a door mysteriously slam or did a ghost appear outside your window?
We ran a survey on our website that explored consumer sentiments around their perceptions of "haunted" real estate. Of the survey's nearly 1,400 respondents, 26 percent indicated that they would be open to purchasing a haunted home and 36 percent shared that they might consider a haunted home purchase. When we combine those percentages, nearly 62 percent would contemplate buying a haunted home! Thirty-eight percent said no way to purchasing a spooky home. Though buyers may be reluctant to purchasing a home that is haunted, the novelty of living in a haunted home does appeal to some.
Our survey also found that a staggering 35 percent of respondents believe they have lived in a haunted home and nearly 51 percent have heard of someone else's haunted home experience. Seventy-five percent of the potential home buyers open to purchasing a spooky home would be scared off if they saw levitating objects on a property and 63 percent admitted that they would be dissuaded by ghost sightings.
As a seasoned realtor and consumer housing specialist for realtor.com, I have my fair share of stories about properties rumored to being haunted. Realtor.com's survey found that 61 percent of respondents thought a cemetery on the property may be an indication that a home is haunted. Fifty percent believe that homes that are older than 100 years old could be haunted. With the many battles won and lost across the United States, 43 percent felt that homes in close proximity to a battlefield could be cursed.
The mystery still remains as to if the legend of a haunted house is a fact or fable. This Halloween season keep your eyes and ears open and if you sense any paranormal activity (or a not so friendly ghost) in your home or neighborhood hire a ghostbuster, ghost hunter, phantom fighter or median to seek them out and help them find their way out of purgatory and move onto a happier place... BOO!!!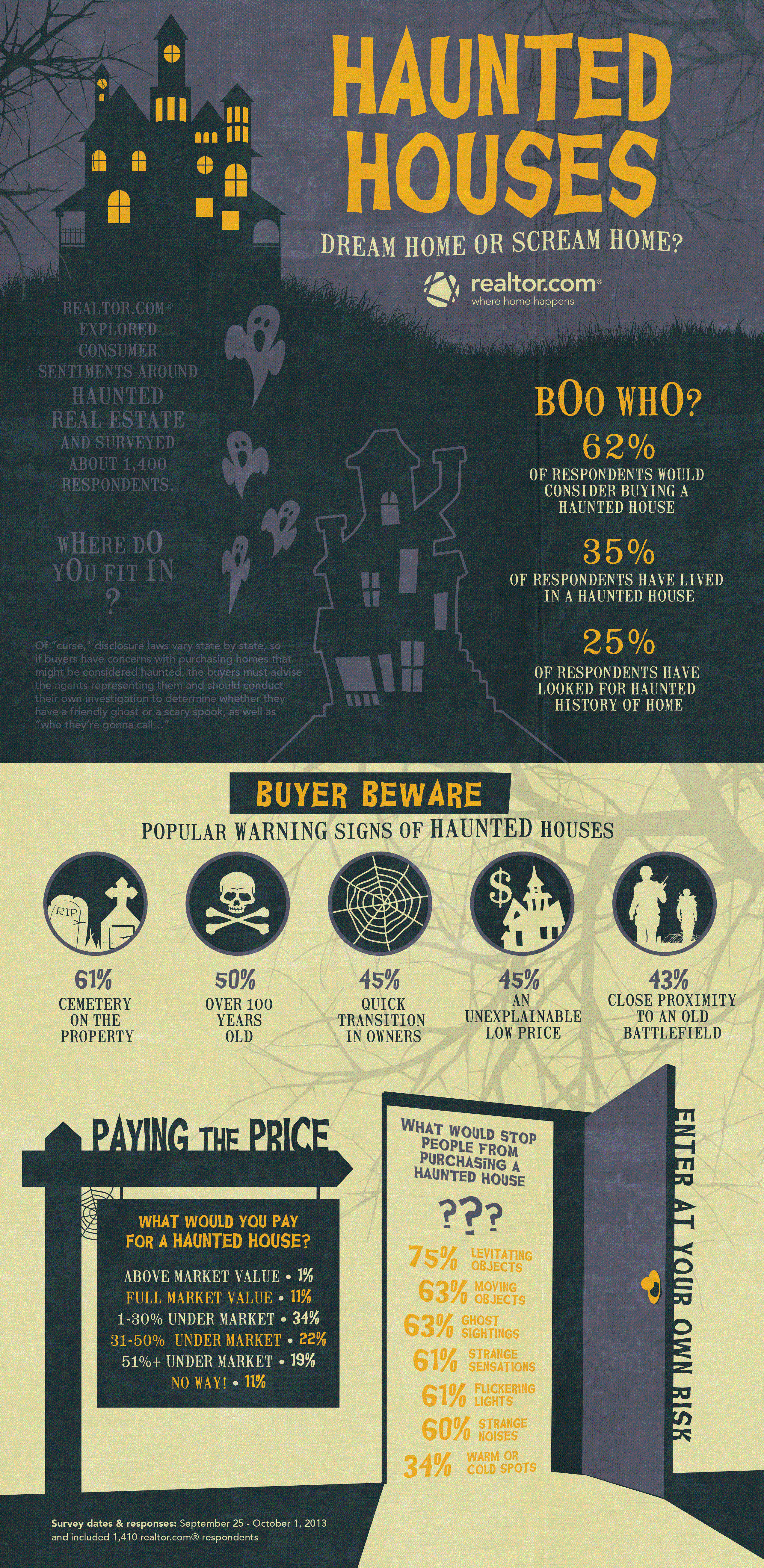 Support HuffPost
The Stakes Have Never Been Higher
Related
Popular in the Community