Trying to make contact with a ghost? The key to getting them to respond may be pie -- or at least a question about it.
That's the surprising claim made by paranormal researcher Matt Schulz, a San Diego-based art director when he's not exploring old houses, hotels or ships.
"It sounds strange, but a question like 'What kind of pie do you like? Cherry or Apple?' actually seems to get a response from spirits," Schulz told a group of wannabe paranormal researchers during a midnight expedition on the Star Of India, a 149-year-old ship that is harbored down in San Diego.
It's a technique Schulz learned a few years back from another investigator.
"Asking questions like ''Do you like cherry or apple pie?' or 'Do you prefer lemons or oranges?' seems innocuous," he told The Huffington Post a few days after the expedition. "But, for some strange reason, the spirits will answer them. Once, we were investigating an adobe house and trying to contact the ghost of a girl and we asked her if she liked chocolate or vanilla better and she said clearly, as if she was in the room, 'Vanilla.'"
Besides being the second oldest ship still sailing regularly and the oldest iron-hulled merchant ship still floating, the Star of India is also allegedly harboring a lot of ghosts, hence the late night expedition, which was part of the Maritime Ghost Conference, a recent event in San Diego that explored the connection between ghosts and ships.
The money raised from the conference went to the Maritime Museum of San Diego to help it continue to preserve old ships like the Star of India.
The connection between ghosts and ships may not be all wet according to conference organizer David Hanson.
"There is a theory about the connection between the water and paranormal activity," Hanson said. "The theory is that the water flowing underneath the hull helps exchange ions or some form of energy that provides more energy for the spirits to manifest or do the things they want to do."
If the theory holds water, Hanson feels that a ship with a good history will be more haunted than the average house.
But anything related to the paranormal is just an unsupportable theory, according to D.J. Grothe, President of the James Randi Educational Foundation, a non-profit organization that provides the public with reliable information about paranormal claims and a HuffPost blogger.
He believes ghost tours can be lots of fun as long as people don't take them seriously, but says the power of suggestion and the time they are held go a long way towards promoting possible paranormal sightings.
"There is a reason why ghost tours take place at night and not at noon," Grothe told the HuffPost. "Late at night when it's quiet except for noises in the distance, it's easy to imagine unseen forces are at work. There's also a social component. When you're around other people who believe in ghosts, the credulity can be contagious. There can also be the false authority of pseudo-experts, people waving around instruments claiming they can detect ghosts."
Schulz, who is quick to say that while he's had experiences that make him think there is another spirit world, there's no evidence it actually exists.
"I have to say there is no proof of the paranormal," he said. "There never has been and, possibly, there never will be. We're throwing darts at a dartboard with these investigations, hoping that one will lead to a breakthrough in communication."
During the two-day conference, attendees had the chance to do a paranormal investigation on two different allegedly haunted ships on two different nights: The Star of India and the Steam Ferry Berkeley, an 1898 ferry boat that worked on San Francisco Bay for 60 years.
Before the Star of India expedition on the second night of the conference, Hanson seemed enthusiastic, but cautious about the ghost hunting possibilities.
"Last night was pretty active, but sometimes you have a quiet night," he said. "There were a lot of reports of footsteps coming from the deck above or below the investigation [in areas where no humans were moving]."
Schulz was quick to point out that just because a ship is haunted, doesn't mean the ghosts will be active during an expedition.
"I often say the only thing consistent about the paranormal is its inconsistency," he said.
During the Star of India investigation, the investigators were divided into three teams of six and each team was assigned to one of three decks. Then, after an hour the teams would switch decks.
Once each hour for about 15 minutes, everyone would sit down so that the researchers could test for electronic voice phenomena, by asking questions to the ghost and recording the seeming silent responses to see if they later showed up on recordings.
That's where the pie question was asked. Other questions people asked during these sessions included, "Is there anything you want to tell us?" "What is your name?" and "Are you a man or a woman?"
To be fair, it was very late for this reporter and not thinking, I asked, "Did you know that I saved 15 percent on car insurance by switching to Geico?"
No response. Not from the ghosts nor from others in attendance.
One woman did hear a strange noise in her right ear and felt a strange pressure drop at the same time, but investigators like Schulz weren't ready to call it a major discovery -- or even proof.
The EVPs taken will be analyzed by Schulz and Pat Wheelock, an electrical engineer who does paranormal research on another allegedly haunted ship The Queen Mary, to see if anything tangible appears.
This reporter may not have seen any ghosts, but the experience did result in one tangible finding: A strange and sudden craving for cherry pie.
GALLERY: HAUNTED ATTRACTIONS THAT MAY REALLY BE HAUNTED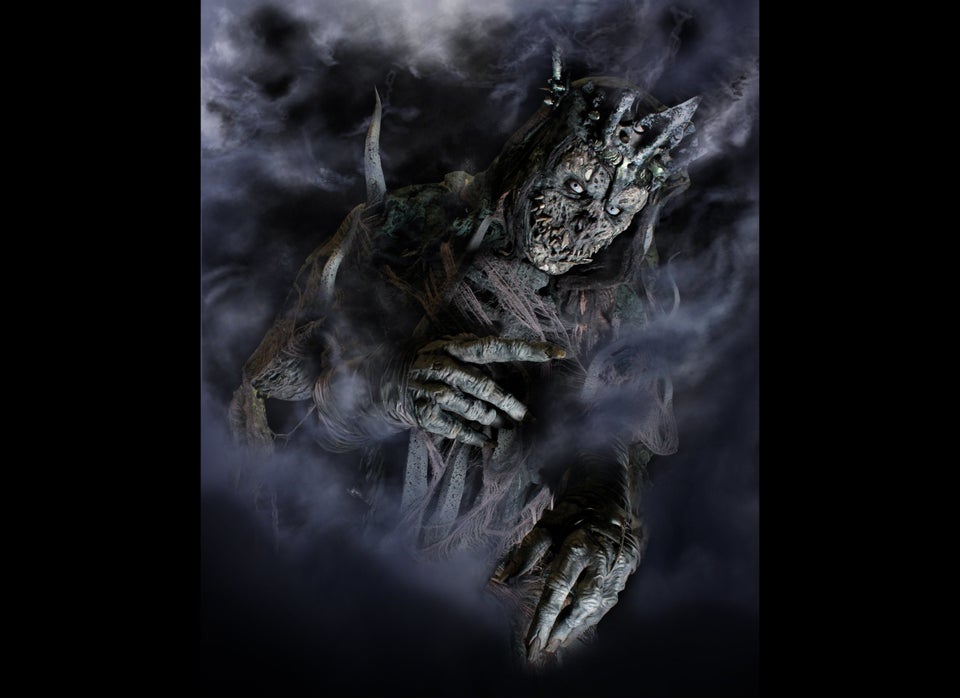 Haunted Attractions That May Really Be Haunted
Related
Popular in the Community