When Donald Trump won the presidential election in November, 18-year-old Aria Watson knew she needed to do something. So, she turned to art.
Trump's misogynistic comments paired with these women's naked bodies serves as a powerful commentary on the damaging effect his words have had ― and will continue to have ― on so many women.
Watson told The Huffington Post she decided to mix her political opinions with her photography because she felt so strongly about Trump and Hillary Clinton. "I never really cared for or understood politics, but this year was different," she said. "As a feminist, when I saw that Donald Trump actually won, my heart shattered."
"I'm scared that the way he speaks about women -- this sexism and misogyny -- will end up becoming a social norm."
The 18-year-old, who's also an avid YouTube vlogger, said she had a very difficult time finding women who wanted to model for the series. Watson ended up including only five women for the series, one being herself and the other four are close friends.
While one of the women is Latina, Watson noted that she wished she could've included more diversity in the images given how many groups of people he has insulted. "I've gotten tons of messages and comments asking me where all the women of color are... I understand where those people were coming from," she said. "Don't get me wrong I would have LOVED to have some more women of color, but I live in such a small town and attend such a small college where the majority of people are white."
Watson explained why it's important we continue to call out Trump's sexism. "Kids are going to grow up and look up to this man for the next four years," Watson said. "We can't have a leader who says such horrible things about women. I'm scared that the way he speaks about women ― this sexism and misogyny ― will end up becoming a social norm."
So, how do we stand up to Trump? Continue to speak out, Watson said.
"We can't be afraid to speak up about what we are passionate about," she said. "I don't know why Donald Trump is in office, or how this even happened, but he is. What we need now more than ever is to come together. We are stronger together."
Scroll below to see the rest of Watson's gripping photos from #SignedByTrump.
Images below may be considered NSFW to some readers.
To see more of Watson's work head over to her Tumblr, Instagram or YouTube page.
The Outrage partnered with Watson to create a #SignedByTrump postcard set. At least 15 percent of the profits from each purchase will be donated to a women's empowerment organization. Buy the postcard set here.
Support HuffPost
The Stakes Have Never Been Higher
Before You Go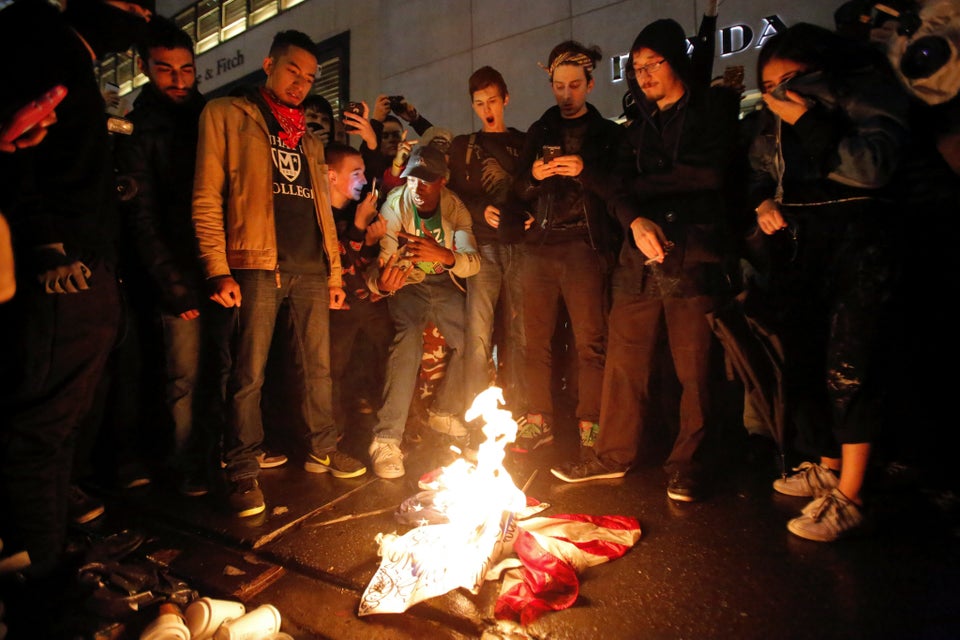 Donald Trump Win Sparks Protests Nationwide
Popular in the Community