BERLIN – A block east of Alexanderplatz, a huge concrete piazza dotted with shopping outlets, a train station and the suspended globe of the TV Tower, sits the dirty grey-white facade of the Haus der Statistik. This 540,000 square foot complex is made up of three adjoining buildings, the tallest of which is 11 stories of broken windows bearing the long-standing graffiti "Stop Wars," and beneath, in smaller, freshly-painted orange letters, "On Migration."
The imposing concrete structure, completed in 1970, is full of history. Located in what was once East Germany, it was used as a federal statistics office first by the government of the German Democratic Republic, and then, after the fall of the Berlin Wall in 1989, by the reunified German government. Vacated in 2008, it has left a ghostly shell at the crossroads of the three central East Berlin districts: Mitte, Prenzlauer Berg and Friedrichshain.
When it was slated for demolition in the fall of 2015, it became a focus for Allianz bedrohter Berlin Atelierhäuser (Alliance of Threatened Berlin Studios or AbBA), an alliance of more than 500 artists. As Berlin's popularity soars, AbBA seeks to raise awareness of disappearing spaces for the city's many artists. In September 2015, organization members unfurled a huge banner across the building in protest at the planned destruction. It read: "A center for art, culture and social projects will be created here."
It was a statement of protest rather than reality, but their stunt drew attention from like-minded housing advocates and refugee activists and slowly a plan started to crystalize for rehabilitating the building.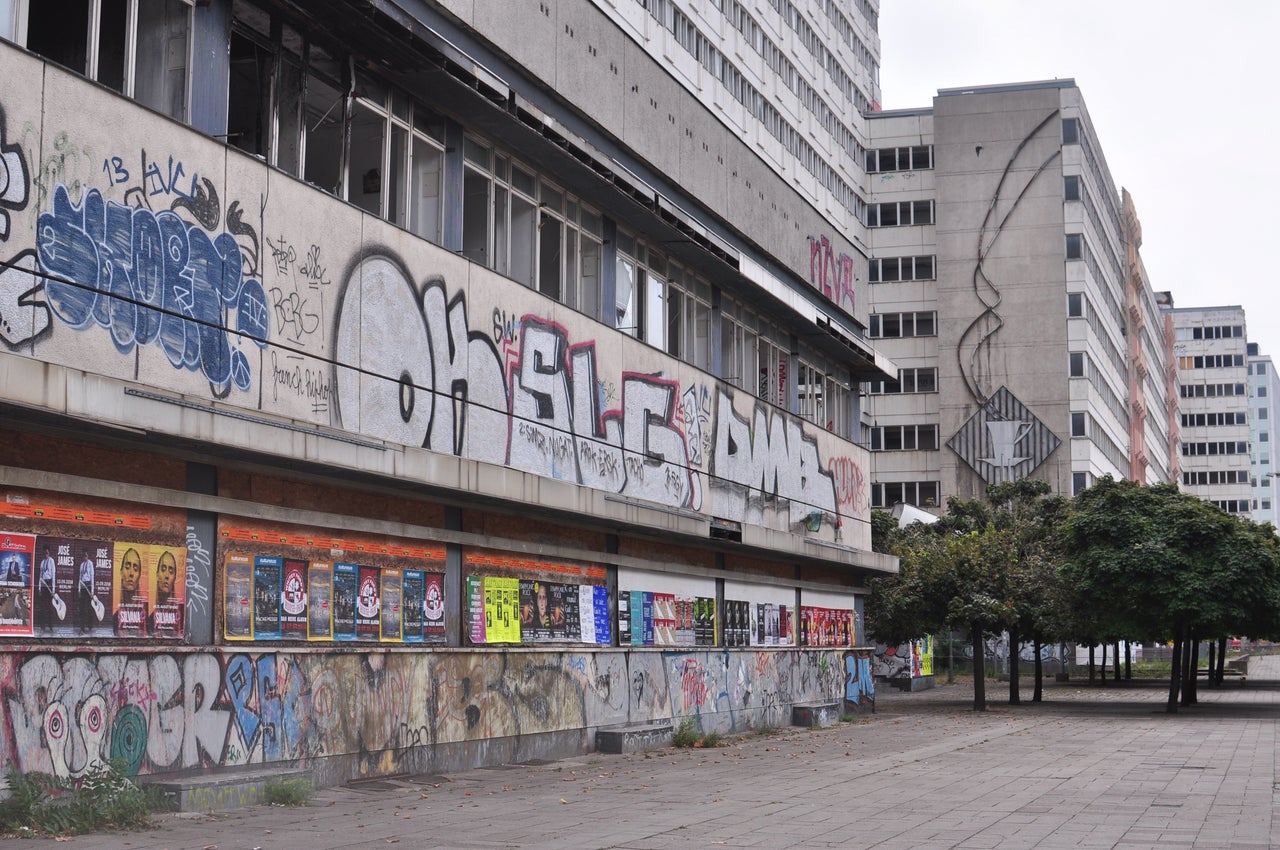 Together with 13 smaller nonprofit citizen activist organizations – including architects, urban planners, activists, cultural foundations and refugee aid organizers – AbBA formed a cooperative alliance in October 2015 called Initiative Haus der Statistik. Its aim was bold: to adapt the building to help tackle some of the big social problems in a city that is in the grip of a housing crunch, and to prove that a collaboration between grassroots activists and a government willing to listen can provide a model for a new kind of democratic urban development.
Berlin has long had a reputation as a home to artists, but things are changing. After the fall of the Berlin Wall, the availability of low-cost commercial and living space allowed subcultures like techno, street art, experimental architecture and alternative performance to blossom. "It was affordable, and [artists] didn't have to compete with other commercial rents out there," said Lennart Siebert, who is part of AbBA. But, he added, "This is something that is slowly breaking apart in Berlin."
Home to 3.5 million people, the city is booming. Berlin has expanded by 250,000 people since 2009, and is adding more than 40,000 every year, with predictions it will reach 4 million by 2035. The city has absorbed refugees from the Middle East and North Africa, as well as those coming to the city from other European countries.
Berlin stands at a crossroads. "In one part, people are pushing Berlin as being the new urban metropolis super-city, and then there is another power pulling it back like no, let's stay where we are and slowly, organically grow," said Siebert.
The Initiative Haus der Statistik is a response to this tension. It sees the renovation of this imposing former federal building as one way to respond to the challenges the city faces.
The initiative presented a proposal for the building to the public at a December 2015 press conference in a nightclub across the street from the Haus der Statistik. The plan included a temporary refugee shelter, workshops and classrooms, public housing, affordable studio space for artists, commercial space for local small businesses and a city hall for the borough of Mitte.
The idea was developed over a series of open meetings, including local residents, to present ideas, solicit critiques and discuss possibilities. "Part of the concept was: How do we bring all the things being demanded in the city together, and form something in a way where they all create a synergy with each other?" Siebert explained.
After months of public presentations and community input, the initiative presented to the city's Senate for Finance in April 2016, requesting that the property remain in the hands of Berlin's government, while citizen groups manage social, civil and cultural use within.
The state of Berlin, which acquired the previously federally-owned building through a real estate swap in December 2017, will own the building through Berlin Real Estate Management (BIM), a city-owned property company, which will contribute the renovation budget of €50 million ($59 million) from the funds it earns through its rental portfolio.
"The Haus der Statistik is not only a special place in the heart of Berlin, it is also a good example of how cooperative city development can be a success," said Katrin Lompscher, Berlin's state government Senator for Urban Development and Housing and one of the partners on the renovation project, at a September press conference.
The next stage involves workshops, open to the public, with local architecture and urban planning experts, and the selection of a jury, including members of the public, to make final decisions on the plans. At the last press conference, the group announced there would be 300 housing units and 20 percent of the building would be dedicated to artists and citizen-led spaces. But the plans remain vague partly due to the democratic nature of the project. Despite this, the initiative hopes to reach renovation and rebuild stage by January 2019.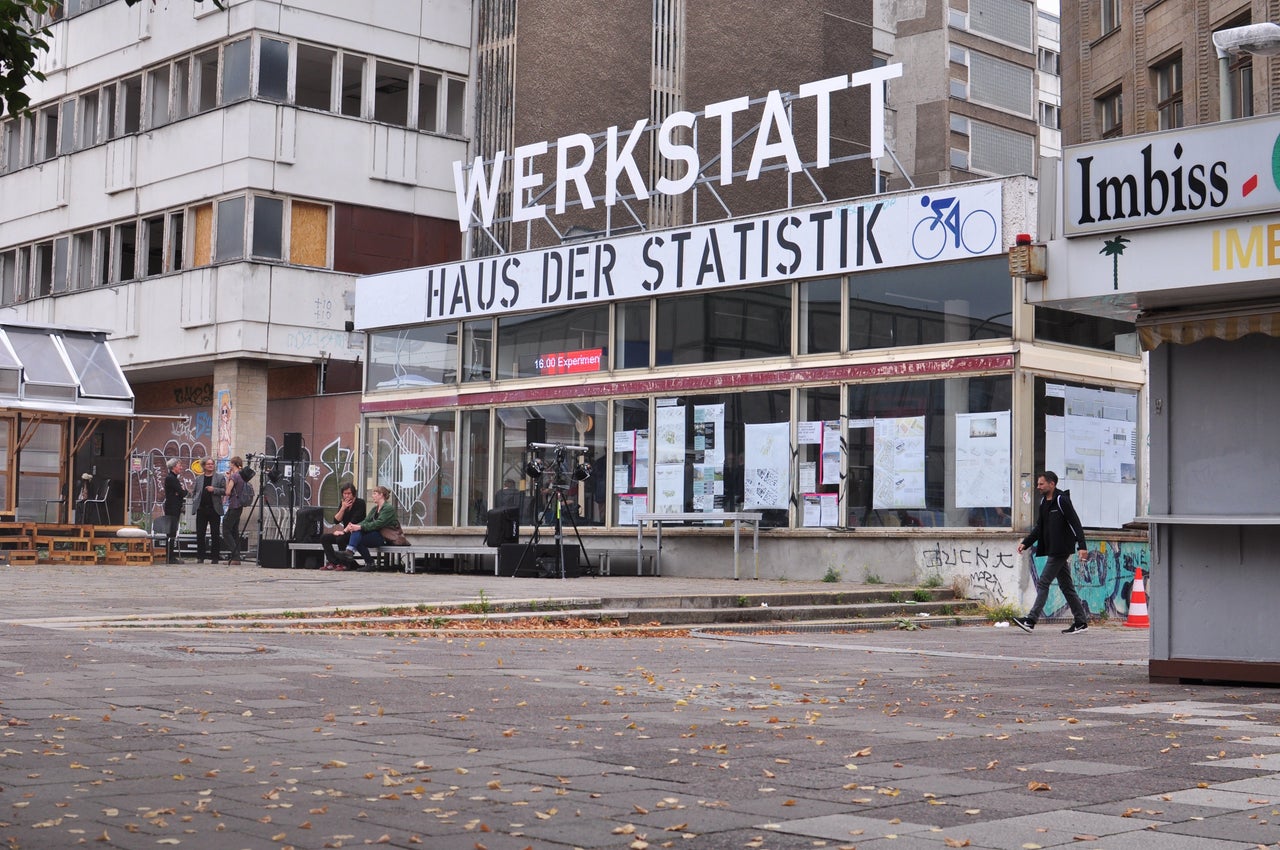 It's "a classic Berlin project," combining artists and alternative architects with non-speculative real estate and project developers, said Michael LaFond, an urban housing activist and founder of ID22, which studies alternative housing initiatives in and beyond Berlin. "They're coming out of the landscape of projects in Berlin that are community-based, civil-society-led. Their interests are in doing something alternative and participatory that is affordable, that is for the common good, that's not speculative."
LaFond said the impressive thing about this project is that it has taken a civil society initiative ― propelled by people mostly working without pay and with few resources ― and given it a seat at the table with well-established institutions that have a lot of money and staying power.
To achieve projects like this, he credited activists who "do not just have the idea, but have the experience and ability to imagine it and then take steps toward developing it." The challenge, he added, is both in the size of the project and in balancing the different interests it represents: the city, artists, neighborhood and refugees.
"This project is also a test case to see if the city can increase acceptance for new projects done in a better way that makes the neighborhood and citizens happy," said LaFond.
Siebert thinks the diversity of voices is the project's strength.
"Berlin is not only being made by people born and raised here. It's a cosmopolitan, metropolitan city made up of so many people, many from cities that have been over-gentrified. They brought their knowledge here, to tell us how to be careful, and we respect that."
For more content and to be part of the 'This New World' community, follow our Facebook page.
HuffPost's 'This New World' series is funded by Partners for a New Economy and the Kendeda Fund. All content is editorially independent, with no influence or input from the foundations. If you have an idea or tip for the editorial series, send an email to thisnewworld@huffpost.com
Related
Popular in the Community