Los Angeles Grand Opening: Sunday 13 March 2016, 2 - 6 pm

The grand opening of Hauser Wirth & Schimmel played out like a mix of a Fellini and Terrance Malick film. One traversed the throngs of art world patrons elite and average pedestrians gazingly enthralled by the majestic walls of the antique grain mill in Los Angeles downtown. The repurposed 116,000 square-foot HSW complex is the former Globe Mills complex in the Arts District, settling itself as the new Fortress of the Arts, and we're not even talking about a new museum, but yet a mere gallery. Just another gallery in Los Angeles of international magnitude to thumb its nose like Tati to the rest of the world. At the grand opening I envision Marcello Mastroianni languidly strolling the exhibition halls of HSW wondering aloud, "Where did this come from, this new Rome, a city of Nero and Caligula, parties and galas like the Satyricon - all this art - all these sophisticated people gathering - not from Paris or London or Berlin, but from Malibu and Calabasas and East LA. There was live music in calming 80 degree weather, and there were pig heads as part of the feast luncheon.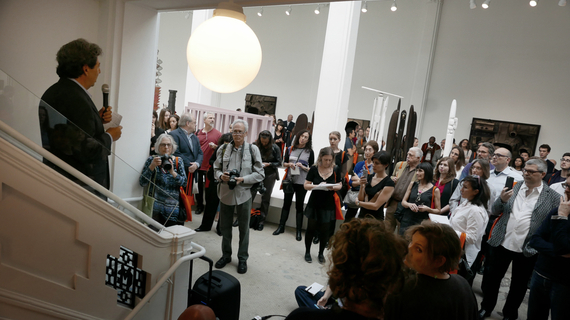 Paul Schimmel addresses the media. Photo by EMS

As I strolled through the wonder of the inaugural exhibition I saw monumental works of women celebrated in 'Revolution in the Making: Abstract Sculpture by Women, 1947 - 2016. HSW described the exhibit : "Through nearly 100 works made by 34 artists over the past seventy years, this ambitious undertaking traces ways in which women have changed the course of art by deftly transforming the language of sculpture since the postwar period. Works on view reveal their makers inventing radically new forms and processes that privilege solo studio practice, tactility, and the idiosyncrasies of the artist's own hand. 'Revolution in the Making' explores multiple strains of artistic approaches, characterized by abstraction and repetition, that reject the precedent of a monolithic masterwork on a pedestal, employing such tactics as stacking, hanging, and intertwining, to create an intimate reciprocity between artist and viewer. The exhibition examines how elements that are central to art today - including engagement with found, experimental, and recycled materials, as well as an embrace of contingency, imperfection, and unstructured play - were propelled by the work of women who, in seeking new means to express their own voices, dramatically expanded the definition of sculpture."

Works by Louise Bourgeois, Ruth Asawa, Eva Hesse, Liz Larner and Senga Nengudi are on view till September 4. Approximately 20% of the art in the show is for sale.
HSW comes complete with an on-site bookshop called Artbook, a cafe restaurant called Manuela (opening summer 2016), and a panel discussion room called Hauser & Wirth Book & Printed Matter Lab. Based in Switzerland, this is the sixth location of the multi-national heavy-weight. HSW promises museum-caliber exhibitions, public programs, educational activities, and a dramatic courtyard for informal gatherings. Hauser & Wirth was founded in Switzerland in 1992 by Ivan and Manuela Wirth and Ursula Hauser and LA's HSW marks the sixth location by the multinational heavy-weight. The gallery's global operations are overseen by Ivan and Manuela Wirth; Marc Payot, Partner and Vice President; and Paul Schimmel, Partner and Vice President.
Paul Schimmel helmed the Museum of Contemporary Art in 1990 as chief curator until 2012. He is known for his 1992 exhibition Helter Skelter: Los Angeles Art in the 1990s, and curated other historical exhibitions such as 1998's Out of Action: Between Performance and the Object, 1949-1979, and 2011's Under the Big Black Sun: California Art 1974-1981.
Check out the short film I did at the grand opening:
This article is part of an ongoing photojournalism survey of art exhibition openings titled EMS N(art)rative. Through my lens I document a photographic essay or visual "N(art)rative" that captures the happenings, personalities, collectors, gallerists, artists and the art itself; all elements that form the richly varied and textured fabric of the SoCal art world. This reconnaissance offers a unique view for serious art world players to obtain news and information on the current pulse of what's in the now, yet capturing timeless indelible images for posterity and legacy. Here is EMS N(art)rative Thirty-Five.
Related
Popular in the Community