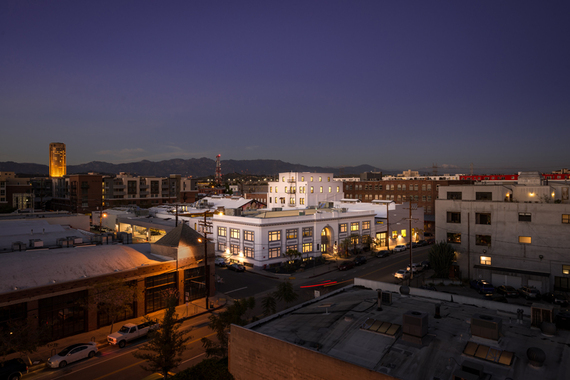 Exterior of Hauser Wirth & Schimmel in downtown Los Angeles, 2016
Photo courtesy of Hauser Wirth & Schimmel
The new Hauser Wirth & Schimmel in the downtown Los Angeles Arts District raises the bar, by setting a new standard for what an art gallery can represent. In an era when the art world is becoming increasingly market-driven, Hauser Wirth & Schimmel bridges the separation between a commercial art gallery and a non-for-profit museum by combining a commercial mission with an educational mission. Hauser Wirth & Schimmel raises the platform with a magnificent 116,000 square-foot space in an 1893 former flour mill, repurposed to create a sprawling gallery space. It is the L.A. branch of a global gallery - with locations in Zurich, London, New York and Somerset. Taking the impetus from their phenomenal success with Hauser & Wirth Somerset they expanded their scope in L.A. by partnering with distinguished scholar and curator Schimmel, who was chief curator at MoCA for 22 years. Hauser Worth & Schimmel ups the ante with this spectacular multi-disciplinary arts center - like a Kunsthalle - which is accessible to both art aficionados and first time visitors.
Los Angeles is defined by space exploration, from frontier culture to aerospace culture. Expansive space makes the L.A. art world unique, and it currently attracts artists from all over the United States, Latin America, Asia and Europe because in this vast metropolis, artists can afford large studios and easy transportation of materials. International galleries are now opening branches in L.A., because they are attracted by the opportunities of refurbishing larger, less expensive industrial spaces. However, Hauser Worth & Schimmel has taken the advantages of expansive space to a new level by embracing the other major difference of the L.A. art world: that it is "artist-driven," rather than "commercially driven," as Schimmel says.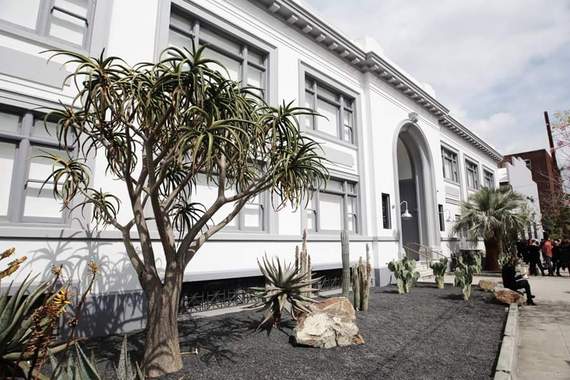 Landscaped front entrance of Hauser Wirth & Schimmel, 2016
Photo courtesy of Hauser Wirth & Schimmel
L.A. has boasted more art schools than any other city for decades, which facilitates more inter-generational dialogue and collaboration. But until recently, major L.A. artists had to relocate - or at least find a representing A-List gallery elsewhere - to gain international recognition. But the expansive space of L.A. provides an ideal creative environment for artists who can afford larger studios, while drawing inspiration from the diverse landscape of desert, mountain and ocean. Today, world renowned L.A. artists stay here to work more easily. As worldwide real estate prices began to soar more, international artists began relocating to L.A. for more affordable studios.
As the artist population grows, established L.A. galleries are moving further east to refurbish larger factory and film studio spaces further on/or near Highland Ave. (Regen Projects, Kohn Gallery, Diane Rosenstein Gallery) and South La Brea (Kayne Griffin Cocoran and David Kordansky Gallery). Interestingly, L.A. artists collaborated with gallery owners and their architects on these distinctively L.A.-inspired gallery designs, incorporating courtyard gardens and the ambience of distinctive Southern California light. James Turrell designed the courtyard at Kayne Griiffin Corcoran and created an ethereal site-specific moon roof, which is also used for staff and client meetings. Painter Dennis Hollingsworth (a former architect) made suggestions of floating walls in Kohn Gallery's architectural design. Sculptor Charles Fine made suggestions for redesigning Diane Rosenstein Gallery. Now, international galleries are following international artists and relocating to L.A. as the mecca for expansive gallery spaces and moving to DTLA (Nicodim Gallery, Venus L.A.) bringing with them more blue chip New York and European artists.
Until now, many world-renowned L.A. artists - who wanted to exhibit in their hometown - were still left without representation by an L.A. branch of a global gallery unless they were represented by Gagosian Gallery. But this year Spruth Magers opened a beautiful iconic architectural space opposite LACMA, representing L.A. heavy hitters John Baldessari, Ed Ruscha and Barbara Kruger in their mainly European mix. Now, Hauser Wirth & Schimmel further redresses this imbalance by representing additional L.A. heavy hitters Mark Bradford, Paul McCarthy, Diana Thater, Allan Kaprow Estate, The Estate of Jason Rhoades and the Mike Kelly Foundation for the Arts in their blue chip mix, along with emerging L.A. artists.
L.A. has always been a city where creatives collaborate in the film and music industries - a reciprocal spirit which spills over into the L.A. art world. Artists collaborate with one another in alternative spaces and studio complexes, while gallery owners collaborate with their artists, who envision new gallery architecture inspired by LA culture. Robert Irwin was commissioned to landscape the Centra Garden at the Getty Center and the Primal Palm Garden at LACMA.
Paul Schimmel has a remarkable history of working alongside artists as a fellow creative. Both erudite and innovative, Schimmel won the hearts of artists, collectors and the general public for his unique ability to see through the eyes of artists with a creative vision of exciting new ways to present art in monumentally bigger spaces, as well as create new site-specific works. It was Schimmel who inspired his close artist friend, Chris Burden, by finding the vintage street lamps Burden would use for the outdoor installation that evolved into Urban Light at LACMA. This famous Burden assemblage sculpture has become the iconic landmark of Los Angeles: the destination of most tourists, many bridal couples, prom queens and sweethearts for a memorabilia photograph of a cherished moment.
The inaugural exhibition, Revolution in the Making: Abstract Sculpture by Women, 1947-2016 is an all-women, historic, thematic survey which highlights studio practice in the "making" of sculpture. Hands-on craft techniques - like spinning, threading, weaving, layering and stacking - with the use of found materials and soft materials combine to distinguish a feminine approach to "making" sculpture - in contrast to well known masculine approaches.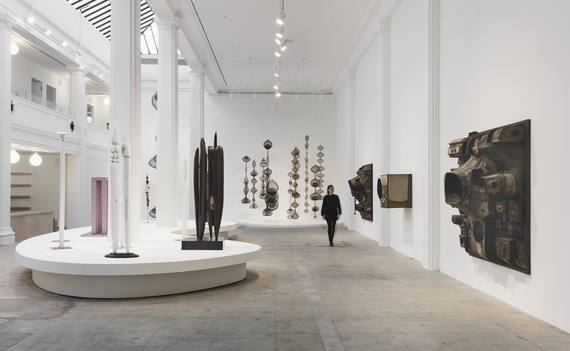 South Gallery installation with works by Louise Bourgeois, Ruth Asawa, Lee Bontecou, 2016
Photo courtesy of Hauser Wirth & Schimmel
When Lucy Lippard opened the feminist dialogue on gender differences, she observed in women's art in the 1970s, emphasizing "central core imagery," diffuse focus and tactility. Gender difference was later theorized by French post-modern theorists in the 1980s, like Luce Irigaray, Julia Kristeva and Hélène Cixous as an exclusion from language, or a speaking position (psychoanalyzed by Jacques Lacan).
These French feminist theorists developed the idea of Écriture féminine (Cixous) and parler femme (Irigaray) which means "womanspeak": a way for women to enter language from a different (feminine) speaking position based on the way women experience the female body from the inside out (beyond masculine definition). This exhibition shows how proto-feminist women sculptors in the '40s, '50s and '60s intuitively used the internal female body - well before the women's art movement or feminist theory.
Today, critical dialogue on gender difference emphasizes the "gender blur" raising the question "Where Does Biology End and Society Take Over?" (Deborah Blum) which this exhibition highlights. Feminist art historian Jenni Sorkin is the co-curator of this revisionist exhibition and she emphasizes that it is "territorializing space" for women, because sculpture is "one of the last bastions for the exclusion of women." Sorkin explains that this exclusion was not by choice, but due to "socialization." Past gendered education excluded girls from shop classes which taught building skills, like welding, and using building tools, like a hammer or lathe.
Interestingly, this socialization forced early women sculptors to become more idiosyncratic in their craft skills and choice of materials. Tools might be regarded as prosthetic parts which the artist uses as an extension of their body. Even an orchestra conductor uses a baton as an extension of his or her body to communicate feeling to musicians. Today, great art is often created by artists communicating conceptually to their factory assistants or foundry workers - in much the same way a film director communicates conceptually. However, the experience of viewing artwork lovingly or obsessively made by hand in a private studio is a different experience. Bernard Berenson was a connoisseur because he could detect the hand of a great painter in historic paintings and see the differences in a forgery.
This exhibition highlights the significance of the artist's own hands in making artwork - which is a fascinating subject in the era of mass production. There has always been a long, parallel history of sculptors using prefabrication (since the Egyptians) and today, even blue chip painters are expected to have factories filled with assistants to meet market demands. So, an exhibition of sculptures made in private studios reveals a parallel sculpture history which allows us to experience the intimacy, tactility and human imperfections of sculpture made by the artist's own hands. As Schimmel says, "these sculptors work more the way poets work."
This all-women exhibition opened during Women's History Month in March, which Schimmel says was not originally planned, but certainly "fortuitous." An exhibition showcasing gender difference in revolutionizing ways of "making" sculpture does not mean ghettoizing women artists in a separate history or making outmoded hierarchical judgments between feminine and masculine approaches. Instead, it expands the dialogue by recognizing that there are many histories of art - some canonized and others overdue for canonization.
The 100 sculptures in this exhibition by 34 women sculptors are installed in four galleries, each in a twenty-year chronological sequence, which also complements the architecture beautifully. The grand, skylighted, south gallery (formerly the executive offices of A-1 Globe Mills) is architecturally suited to the elegantly clustered, organic, erotic sculptures of legendary female pioneers from the 1940s and 1960s, and sets the thematic tone. Louise Bourgeois's totemic Personages take center stage on a platform, with (Californian) Ruth Asawas's fragile woven and knitted wire hanging basket sculptures behind. The overlooked great L.A. artist Claire Falkenstein takes her rightful place here with womb-like sheetmetal and tangled wire containers (made from copper, gold and iron). Her work has a feminine fecundity, interesting juxtaposited with the feminine eroticism of Bourgeois and Asawas's semi-figurative sculptures. A wall of Louise Nevelson's black painted salvaged wooden cast offs also suggest the beginning of new life. Lee Bontecou's ominous wall reliefs with toothed metal and twisted wire remind one of the mask in The Silence of the Lambs and evoke a darker side of creation. These proto-feminist artists who pre-date the women's art movement incorporate modernism and the interest in so-called "primitive art," particularly basket weaving.
The recurring motifs of woven and twisted wire in this front gallery of post-war artists reappear in the other three galleries with later generations, who also use hemp, rope, thread, fabric and latex in a visceral way. Hannah Wilke uses the skin-like association of latex in vulva-shaped leaves, while legendary Eva Hesse uses layers of latex over canvas to create a beautifully radiant light effect with strong visceral associations. In one gallery, Hess' work is paired with Gego's delicate suspended sculptures made from twisted stainless steel wire, nylon and lead weights alongside Mira Schendel's fragile hanging sheets of rice paper stitched with cotton thread.
Jackie Winsor's monumental Bound Trees are made from 20-foot birch trees tied together with hemp - perfectly positioned in the open air courtyard as a tour de force as viewers pass, entering the back galleries and returning to the entrance. This haunting sculpture functions as a central metaphor for tying together the cross-generational associations between these women sculptors through an allusion to the Greek mythology of Arachne, the truth-teller, who became the first Spider Goddess. Magdalena Abakanowicz also works on a monumental scale using rope and fiber in impressive geometric, circular shapes.
Lara Schnitger and Kaari Upson were commissioned to make new installation works. Along with other contemporary, postmodern artists - Lara Schnitger, Shinique Smith and Sonia Gomes - they extend the use of fabric in a more assertive engagement with expansive space, and draw influences from the fashion of leather and lace (Schnitger); bold, psychedelic color (Smith, Barlow and Gomes); and pom-pom girl language (Barlow), with a touch of irony they inherit from Mike Kelley - who, of course, made fabric, traditionally used by women sculptors, famous. Thus, parallel gender art histories converge in our era when women and men can play with inter-changeable gender roles without the strict constraints of past socialization.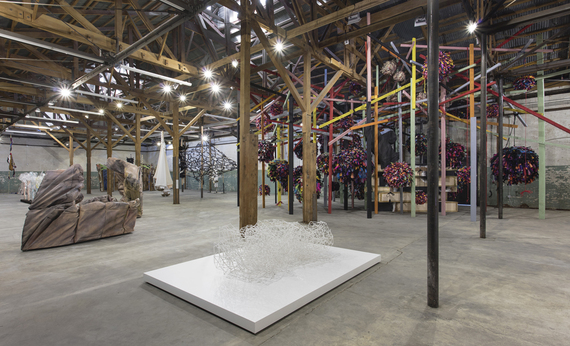 Rear Gallery installation with works by Kaari Upson, Phyllida Barlow, 2016
Photo courtesy of Hauser Wirth & Schimmel
This historically important exhibition opened on March 13th (on view for 15 weeks), and it is already raising interesting debates. One issue is the appropriateness of a commercial gallery borrowing 80% of the works for an exhibition from museums and collectors which are not on sale. However, as Schimmel says, "there is a long history of galleries doing museum quality exhibitions," which he traces to the 19th century when Paul Durand-Ruel organized an influential exhibition of Monet, Manet and Renoir or when Daniel-Henry Kahnweiler exhibited Cubism or when Sidney Janis exhibited Mondrian. Today, Pace Gallery and Gagosian Gallery are renowned for museum-calibre exhibitions while non-for-profit museums are influenced by commercial galleries and invite living artists to make new works. Obviously, the issue of the appropriateness of borrowing art works depends mainly on the integrity of the end result: protecting the art, protecting the scholarship and making a cultural contribution.
While it may not be unprecedented for a gallery to borrow art works, what is unprecedented about Hauser Wirth & Schimmel is that it is becoming a major cultural destination, attracting thousands of enthralled visitors. It will soon be a mecca, because it combines great art and architecture, with a lively educational program and first class publishing in the Hauser & Wirth bookstore. This is all embraced within an industrial environment that contains an open air courtyard - complete with tables, chairs, wi-fi and a garden - where visitors from all walks of life can meet friends and family to experience art in an organic way - akin to the way artists make art. L.A. is all about collaboration, fusion, hybrid and trans-everything within a global cultural context - which Hauser Wirth & Schimmel embodies in an intoxicating atmosphere.
Schimmel concludes, "With Hauser Wirth and Schimmel, we aspire to give all of these artists a unique second home: a place to create and show their art in historic context, a place that encourages their most rigorous and best expressions, and a place that brings them and their art into a dynamic, exciting and transformative dialogue with the public."
REAL LIFE. REAL NEWS. REAL VOICES.
Help us tell more of the stories that matter from voices that too often remain unheard.