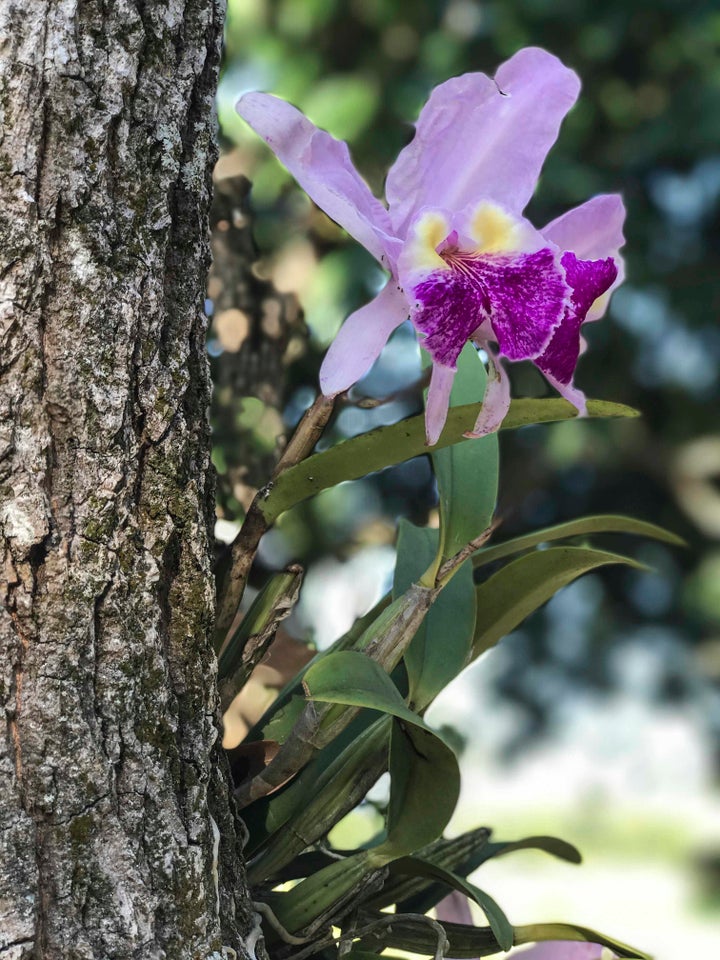 HAVANA – I met an orchid clutching a tree in Viñales, and to me that flower said, "I am Cuba." Deeply rooted into the trunk, the flower trembled but stayed erect as a brisk breeze swept through the tobacco plantation.
A week earlier, applause erupted as the Southwest Airlines 737 landed at José Martí Airport in Havana. "Hallelujah," someone said. Getting to this closed island had always been a kind of religious pilgrimage. This time it was easy. Buy a tourist card at the Southwest counter in Tampa and get on the plane.
Returning to Cuba after 10 years, I was traveling between two cataclysmic events in the island's history – Fidel's death and the end of automatic legal entry to the U.S. for Cubans. Jose Marti Airport hasn't changed, still gray and barely lighted by weak fluorescents. Get used to waiting here. Eventually we're squeezed out into a perfect morning –four travelers and six suitcases.
The taxi is a tiny yellow government issue, like a little Kia but from China. Never fit, hail a second one. No, no, the driver insists and uttering a magic word you hear a lot here -- "resolver"— somehow fits all the bags in the trunk and the four humans into the seats. On to the Hotel Habana Riviera.
It's high season in Cuba and all the prime hotels are booked up at $400-plus a night. We found lodging at half that price in the Riviera, built in the late 1950s by mobster Meyer Lansky. It beckons us like a coastal lighthouse washed by time hovering over the Malecón, the seawall that protects Havana from the Caribbean Sea.
Immediately to the left as you enter the lobby, the casino locked up by Fidel now stores unused furniture. Take a seat. The hard-angled 1950's-modern furniture from a faded House Beautiful memory is genuinely threadbare, the blanched under-cloth peeking through the indigo crepe.
To the right a sweeping view of the surf slamming on the seawall unmatched in Havana, exactly as they saw it, the swells in dinner jackets and the ladies in strapless gowns cradling champagne cocktails, Peggy Lee crooning Satin Doll, waiting for dictator Fulgencio Batista to grace the New Year's Eve party, 1958. He must have sighted the gleaming 21-story hotel receding in the night as he flew past the Malecón heading high to Ciudad Trujillo and away from history.
Sitting outdoors in the downtown Plaza San Francisco with Raul, an acquaintance from my last trip here, I noted some of the changes.
"There are more restaurants," I said.
"Yes, but less fresh food for ordinary folks," he said.
"Why is that, when the island is lush wanting to be tilled?"
"Farmers don't get paid enough, so they plant only for themselves."
Unlike all other Latin American cities, there are practically no street markets in Havana, only a lonely stand now and then offering graying goods. Lines form at government stores when the frozen Chinese chickens arrive.
The Cuban economy is a Gordian Knot of conflicts. "There are two money worlds here," Raul said, "We are a country of 12 million, but 10 million don't work at anything productive. The ones with decent government jobs earn traditional Cuban pesos, which are basically worthless on the street."
Cubans who want more than the dregs, must find Cuban Convertible Currency (CUC$) in the real market supported by foreign exchange, mainly tourism. That is why a doctor or an engineer has to drive a taxi after hours to function in the CUC$ economy. The U.S. dollar will buy 85 cents of a CUC$, almost one-to-one, but the regular Cuban peso is 24 per CUC$.
You can use the cheap pesos but you won't find anything worth buying with them. I saw a couple of clueless gringo kids try to tip a waiter with the cheap pesos and the guy laughed at them. "These are worthless," he said.
You don't come to Cuba for the food. Havana is the only city in the world -- and I am well travelled -- where a filet mignon served medium rare was absolutely tasteless, not even salt and pepper had been applied to the meat. And heaven forbid, don't order a paella anywhere! What I got was boiled rice with an orange colored sauce and a few hard shrimp. There's a scarcity of greens in the restaurants and most offerings tasted frozen and thawed. One night in one of the top hotels, I ordered a mojito, Cuba's signature cocktail these days.
"Sorry," the waitress said. "We can't make a mojito."
"I can't believe you," I said.
"Es que no hay hierbabuena. There's no mint. Sorry."
I went bed that night uttering, "I can't drink a mojito in Havana."
An intense storm began to batter the city that night, surf rolling over the seawall in towering waves. A gale hit the hotel and the windows in our room started to vibrate, wind whistling through a crack in the glass like lost souls, waking me up with a start. Next to the window in a white undershirt, striped boxer shorts with calf-garters holding up his socks, Fulgencio Batista said he was running late, his full round cheeky face beaming at me.
Waking in the morning, I saw my ghost, just a hat and jacket on a chair, but I wasn't staying in that room. Call the desk. No dial tone. The storm flooded the ground floor and all the phones were dead. The ex-military desk clerk was not amused by my haunting experience, but he did give me another room. The lady from housekeeping told me guests move out of that room all the time. "Its the wind," she said.
In Cuba you have to look for the orchid and forget the gnarled tree trunk. Time lost its meaning in Havana and you come here to step out of time. Havana is an alternate reality wrapped in an ebb-and-flow time warp. You are looking through the glass darkly, perceiving changes now and then that worm their way to the surface of the old city only to fade into crumbling rows of unkempt sepia masonry. Time streaks and fades the mostly 19th century Spanish style buildings that lean into streets cobbled with ballast from ships that docked in the finest new-world harbor centuries ago.
Isolation away from the Internet also enhances the sense that time has no mooring. The hotel sells special hourly Internet access tickets for 2CUC$ apiece. They are usually sold out but you will find them on the street for 5CUC$ apiece. Going online is hit and miss, more of hassle than it's worth, so forgetaboautit and just timefloat.
All makes of 1950s American cars grace the streets of the city, some bustling about with tourists and many others parked on the inside streets with hoods raised, with two or three guys working on the motor. Once running, they are fantastic producers of CUC$ for their owners. One driver told me his 1954 Chevy was worth more that $30,000. But his had a reconditioned Toyota diesel engine, new front wheel disc brakes and Chinese air conditioning. Only the transmission was original, "That's why Roll-Royce used the GM transmissions," he said.
But his Chevy was getting a flattop haircut, he said. I had noticed an unusual number of convertibles on the streets and thought they had all been exported to Cuba that way, but no. This is Cuba. For $3000 you can chop off the top of your old sedan and turn it into a tourist magnet.
The Cuban sense of humor is also priceless. It has allowed them to live through 60 years of deprivation at a price they say they had to pay for independence, for freedom from U.S. colonialism. Another friend tells this tale, the one he says would make the corpse laugh at a funeral.
Now pushing 90 years of age, Antonio still lives in the apartment he and his mother owned before the revolution. Near the harbor, it was rocked off kilter when the French freighter La Coubre loaded with 70 tons of munitions exploded in 1960. The event spawned a swarm of conspiracy theories, but here we are only dealing with Antonio's plight.
He says he went to the proper government office and asked for help to restore his apartment. The functionary sent an inspector to assess the damage. Sure enough, the inspector said, this place is not fit for human habitation and he filed a report. A year went by with no action so Antonio returned to the government office. Yes, the report was filed but for an unknown reason no action was taken. A new inspection was required, the functionary said. And so on, for more than 50 years, Antonio never gave up, returning to the office year after year. Not fit for human habitation, his apartment still stands and he still lives in it.
We took a welcome day-trip in an old Chevy station wagon out to the manicured tobacco fields of the Viñales valley where we found a nice restaurant that grows its own organic vegetables. A young woman in the village taught us another lesson in the art of "resolver." She makes ends meet for her family by baking and selling cakes for birthdays and weddings. Her kitchen was spare -- no oven, no stove, just a two-burner hot plate. She cooks the cake layer by layer in a pan covered with an aluminum foil balloon. No complaints from her, just pride as she shows a beautifully decorated birthday cake. Another Cuban orchid.
Biding goodbye to the Riviera, the cab driver cannot "resolver" the six suitcases and four humans so we hail a second yellow taxi. As I pull open the rear door, the handle breaks off. "Don't worry," the cab driver says quickly opening the door from the inside, "Ill fix it."
After four hours of standing torture in the crowded airport, we board the Southwest plane and in 50 minutes we are back in solid time and place, landing in Tampa to general applause. My cellphone comes to life with a CNN advisory—Obama just shut the door to the longstanding policy that let Cubans who make it to the U.S. stay as legal residents.
Related
Popular in the Community