I love fantasy lands, especially when it involves an "I'm speechless" first impression. Once such place was my recent trip to Cuba where I visited a middle class neighborhood in Havana and fell in love with its impressive colorful and unique cultural imprint.
Fusterlandia, as this neighborhood is called, is a vibrant arts complex named after its originator and chief creative force, Jose Fuster. A self-effacing, middle-aged painter and sculptor, Fuster is recognized as one of Cuba's most talented and iconic artists. In fact, many call him the "Picasso of the Caribbean." And, with the help of our fabulous local Friendly Planet Travel guide Alejandro, we quickly found out why!
As our van entered the northeast section of the city, the neighborhood quickly transformed into a magical kingdom of mosaic creations. Block after block, we turned our heads to catch the bold mosaics popping up in front of us everywhere -- embedded onto fences, facades, roofing, doors, even street poles! As we finally pulled up to the entrance of the Fusterlandia -- it was so impressive that it caused me to mumble "OMG" aloud!
The main gates alone were an immediate invitation to a world of fantasy. A treasure of bold colors, combined with rough and smooth surfaces, welcomed us into the complex, which has been his studio residence for the past 30 years. Maze-like walkways and multi-level presentations -- all handmade mosaics -- inhabited by creatures and entities that slither and creep up along pathways and stairs, invite the visitor to surmise what they are up to.
Once inside, copious elegies to his brethren Picasso and Gaudi salute the visitor at many turns. I soon recognized representations of their famous works interspersed within the congregation of Technicolor glass and clay features that greeted visitors at every turn.
A light downpour forced me to escape to a little shelter. While I waited, I couldn't help but be mesmerized by the startling movement of light, shadows and reflections from the tiles that accompanied the gentle rain. I began to create stories in my head as I pondered the images around me. It almost put me in a trance.
I was lucky to spend some time with the artist and learned what motivated him to create this bold vision and inspirational mission for his neighborhood. He first began his mosaic vision with his small, single-family house as a way to represent his fantasy of life and art. That vision then morphed into what is today's complex of structures, undulating walls and installations -- a fulfillment of his dreams -- to have created an enclave dedicated to the vibrant spirits of Cuba and praise to Santeria -- the Cuban meshing of Catholicism and African Animism that is still embraced today. He continues to collect materials from various sources and designs as inspired at the time.
A double treat: I was also able to meet his son who was also involved in creating this liveable and personable art. I was encouraged by Fuster to take my time and explore the premises, which I gladly did.
Fusterlandia is a definite must see on any sojourn to Havana. The Cuban artist has energized his community, inspiring them to create art on their own homes, and thus his vision has aesthetically inspired this part of Havana.
Cuba has many fine artists and craftspersons, and they love their art! If you happen to venture out, then another event to definitely catch is the Havana Bienniale. Although it only happens every other year, it's a fabulous event to ingest the sights and sounds of this country. Fuster was a leading participant of this year's 2012 Biennial; he even created a new piece for the event. Unfortunately, I missed it by a few days, but at least I got to see Fuster's work and that made me oh so very happy.
If you're interested to catch a glimpse of this fantasy land and experience the beauty, history and culture of Cuba, then one way to go is check out our friends at Friendly Planet Travel. They are one of only a handful of tour operators authorized to lead these up close and personal people-to-people tours in Cuba, and they have fabulous local guides, like our Alejandro, that really let you uncover the rich Afro-Cuban heritage that exists in the music, art, dance and religion of this magical island.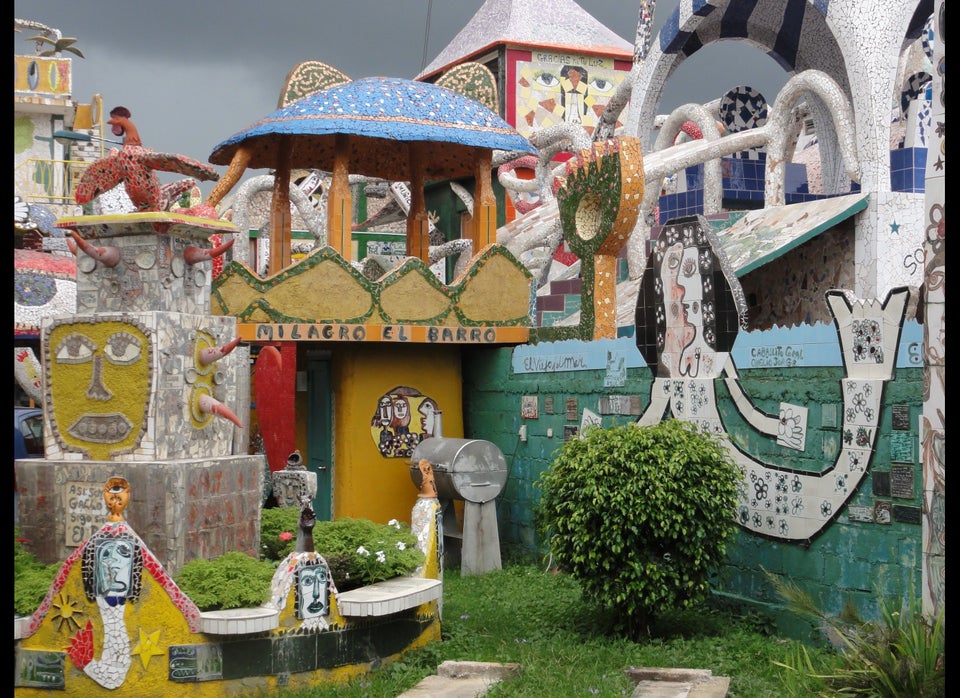 Havana's Fusterlandia - cultural infusion from a bold artist