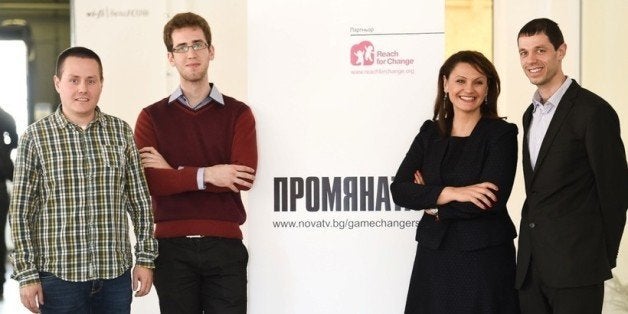 In Bulgaria, practically everything -- higher education, important events, business -- is concentrated in the capital, Sofia. Seventy miles away in my hometown of Vratsa (population 45,000), outside of local markets and public institutions, there are no businesses. For the young people of Vratsa, the town offers little in the way of job opportunities, which is why after high school they all move either to Sofia or abroad. I was one of them. Unlike most of my peers, a few years ago, I decided to return to Vratsa and -- hopefully -- change things.
As a 2009 university graduate with a degree in Informatics, I had lots of career opportunities. I began working in Sofia as a software developer, which had been my goal. When I returned home to Vratsa to visit, however, I began to notice the huge difference between people's lifestyle there and how my peers and I were living in Sofia. In 2011, I joined the first cohort of Teach for Bulgaria, an organization in the Teach For All network with a mission to expand educational opportunity so that all students in Bulgaria, regardless of their income level or where they lived, could reach their full potential. My experience as a teacher made me believe that while education is hard work, when students are motivated and inspired, nothing is impossible. So I started dreaming that if I could inspire young people in Vratsa to gain and develop IT skills, we might awaken the potential of our hometown.
Many people would spend months considering, researching and planning an idea like mine before taking the first steps toward actually making it a reality. But I was too excited to wait. While still living and working in Sofia, I began holding free programming courses at my former high school, thanks to a teacher who was interested in my idea. A month later, I unexpectedly received a call from an unknown number. Teo, another young software developer from Vratsa, heard about my classes and wanted to join me. He organized a group of students and started giving lessons on the weekends. And Vratsa Software was born.
The mission of Vratsa Software is to build an IT community which through quality education gives people in Vratsa the opportunity to have challenging and well-paid jobs as software developers without having to leave their hometown. In 2013 we began with two courses, one taught by Teo and one by me. We used free online software development lessons offered by leaders in the field like Telerik Academy in Sofia. At that point we weren't earning any money for our courses, but since we were both still working as software developers during the week, we considered teaching and building our company our weekend "hobby." Instead of spending months or even years on research and fundraising up front, our model was to dive right in and start doing it. If it worked, we decided, we would continue to put in more effort and resources.
We soon discovered that if you're willing and able to launch your idea without funding and offer your services for free, things start to happen quickly. Starting small with just two courses meant we could focus on our lessons and students. It wasn't long before other individuals and institutions heard about what we were doing and offered their support -- providing a computer room for our courses, sponsoring our events, or even volunteering their time to teach additional classes themselves. We expanded from teaching just high school students to adding courses for graduates who wanted to start a career in the IT sector. Another software developer and one of my former classmates, Iliyan, also joined the team. In October 2014 we organized an IT event for 200 participants with 20 lecturers -- IT professionals who all committed to the entire weekend for free.
So much happening so quickly meant we had many opportunities to gain experience and improve our model. In November 2014, just a year after we launched our program, Vratsa Software won the Reach for Change and Nova TV national competition for social entrepreneurship. With the funding we received, we established our own IT center in Vratsa and I am now able to work full time for our mission. Illiyan was able to attract a software company that wants to open an office in Vratsa and we are hoping others will follow.
In addition to funding, the competition also provided us with mentors who are helping us improve our idea and develop a business plan -- one of the things we decided to forego in favor of jumping in and starting our project right away. Though we still have a long way to go to achieve our goals and realize our dream, what gives us hope is that the IT sector in Bulgaria has a need for talent and we've seen that companies are willing to invest in the development of novices. Our ultimate goal is for our students to work as software engineers right here in Vratsa. I believe that education should provide opportunities and inspire people to develop themselves. Vratsa Software's aim is to give students the foundational knowledge that will lead to opportunities for internships with software companies where they will gain experience and improve their skills.
The experience of launching Vratsa Software in the unconventional way we did it has convinced me that you don't have to wait to act on a big idea. If you're inspired to create positive social change, keep your day job and make working on your dream your "hobby." Soon you'll be inspiring others to join in and offer to help, which is a more valuable resource than funding alone. If society likes your idea and utilizes it, the funding and support will come. What big idea have you been dreaming about instead of jumping in and making it a reality?
Related