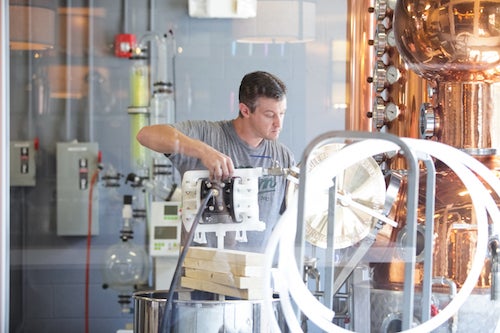 Melissa Katrincic had an idea, much more than a random thought. More like a plan.
She told her husband, Lee, about it.
To be fair, Lee Katrincic probably found the humor before he realized the potential for Melissa's idea.
Her plan: "Let's make gin."
Melissa has 20 years' experience in marketing and operations. Lee is a pharmaceutical chemist, also with some 20 years' experience.
Her plan made a lot of sense, and Lee knew it. The couple learned about distilling. They sought out experts and enrolled in classes. They bought a small still and began testing recipes.
The plan, well … came together.
Melissa, when she was a child and getting a bit testy, remembers her grandmother telling her to calm down. "Don't have a conniption," she would say.
Now, the Katrincics encourage such behavior.
The Katrincics make an 88-proof "Conniption" American Dry Gin and a powerful navy strength, which clocks in at 114 proof and recently earned a score of 96 and a Platinum Medal from the Beverage Tasting Institute.
"A big gin-drinkers gin — lots of juniper," Lee says of the navy strength. "We balance that with some caraway … there's rosemary, bay leaves. It's pretty savory.
"Having a 57 percent alcohol product allows us to really load the botanicals in there. If I put this much botanical intensity in something like our American Dry, that's 44 percent alcohol, it would be cloudy. The navy can hold those botanical oils."
"The American Dry, we call it a gateway gin. If you're not a big gin fan, this is how we help turn you on to gin."
The Juniper punch, he says, is secondary. A sip brings fresh cucumber and honeysuckle, as well as the required yet pleasant and fragrant juniper.
Durham Distillery also makes "Damn Fine" liqueurs, sourcing North Carolina products — Videri Chocolate, Slingshot Coffee, both in Raleigh — for its Coffee, Mocha and Chocolate liqueurs, which use natural ingredients only.
The Katrincics use a completely different set of botanicals for the navy strength and American Dry gins — each contain about 10 botanicals. They use an electric Mueller copper still to make 90 percent of the gin using vapor infusion. They then employ a unique process for the remaining 10 percent, using a rotary evaporator for vacuum distillation of the more delicate botanicals — cucumber and honeysuckle for the American Dry; figs for the Conniption "Navy Strength."
A marriage, so to speak, of art and science.
"(In the Mueller still) we have a vapor tray versus a gin or botanical basket," Melissa says. "A vapor tray is fantastic. You have the consistency of heat in the pot, and it's focusing those vapors through the botanicals only. So, the gin vapors are what's going through the still and then come out after they've been re-liquefied in the condensation column."
"Our runs take 2 1/2 to three hours, and we get about 250 to 300 bottles of gin."
Lee spent about a year perfecting the recipes.
He pointed to a desk, a sort of miniature laboratory in the distillery.
"I individually distilled maybe 20, 25 different botanicals on this contraption here," Lee says. " I have my pots here with my spirit, this is my basket for the botanicals...
"I put juniper in there by itself and then distilled that, and had a bottle of juniper distillate. I put coriander in there ... did it until we had 20 to 25 botanicals. I sat there mixing with shot glasses, using eye-droppers to see what tasted good, what didn't taste good. I generated a flavor profile and eventually worked our way up to the still."
The Katrincics have maintained a long love affair … with gin. When they traveled they would seek out new offerings. Taste gin and talk about gin. Share gin. But make gin? Well, of course. Why would they do anything else?
See more from John Trump at halfwaysouth.com. Email him at halfwaysouth@gmail.com.
Popular in the Community