We were crowded in the elementary school gym on a 90-degree day with no A/C. We were told there would be babysitting; there wasn't really. Our almost-kindergartners were whisked away... I was left behind to chase after my two younger boys, the sweat gathering on the nape of my neck as I cursed my black skinny jeans. There were cursory introductions, policy overviews (dress code, lunch program, dismissal protocol...). I barely caught a word.
Somewhere between doling out the fifty-billionth snack and doing laps with the umbrella stroller in which I discreetly tried to monopolize the ineffective, giant floor fan, the co-chair of the Parents Association approached. She was a woman not much older than me with a shock of black hair, tailored pants, kind, knowing eyes and a gentle smile. She offered to watch my younger boys so I could walk down the hallway with my newly minted Kindergartner to see his classroom -- to, as she put it, "have a moment." I felt the tears come; I choked them back. My sons were having none of it, so off we all went.
A whirlwind of put-those-toys-back-where-you-found-them later, I knew it was time to throw in the towel. We clumsily gathered our things and what was left of my dignity and headed for the door. (Not before stopping at the complimentary bagel spread so the baby could dump a full cup of OJ on himself--the stickiness of the juice mixing with several layers of sweat.)
But the details don't really matter now, do they? These are insignificant, external things, after all. The real problem was with me. Something nagged at the corners of my mind and heart. What did I really need? What was I seeking? A way to neatly tie up the sum of my son's childhood until now with a nice, pretty bow? So I could feel ready for this? So he could?
I summon the little I glimpsed of my son lined up, ready to walk off to his new classroom. He stood proud and tall. There was a little wave, wasn't there? Maybe even a self-assured "bye mom." And he was gone. I felt a sadness I didn't expect. We'd said goodbye like this before -- he's a day care veteran, after all. But this was different somehow.
Wasn't this what we all hope for? That our kids become these self-sufficient beings, capable of walking off -- first down the hallway, then down the street, across town, and ultimately out of our household to create another -- without us?
Have a moment. The words caught. That was just it, wasn't it? My utter inability to have this moment. To hold it, savor it, squeeze the marrow from it. To stash it away in my keepsake box filled with letters and artwork. To preserve it for all time. It was passing me by even as I was living it.
Have a moment. Instead I was lost. In the sweat, the distraction, discomfort, the ceaseless chase as the younger boys wrestled free to roam the school hallways. I tried to force myself to shut it all out, to focus on what was happening. On this milestone--for me and my oldest boy.
It was, of course, on the road, as we drove away with the sweet school at our backs, when the tears and clarity finally came. Have a moment. I needed that moment for me. He was fine. Ready. And it's not about me anymore. Tomorrow, a bus comes and takes him to a classroom I will not frequent. He will live whole days I know little about. I will curtail my curiosity; I will ache for details, get few.
We are two separate people, he and I. We may share the same temperament, the same strong-willed stubbornness, a love of what's right and fair, and all things carbohydrate...the same sandy hair and wide green eyes, ever reluctant to let go of a day and drift off to sleep...
But I carry him no more. No, I couldn't if I tried. Now it's nearly dawn on the day I will wake him to board the bus alone.
We will have a moment. And many, many more, my sweet boy. As he becomes a little less mine, a little more his own, a little more the world's. And I will take them with me, always.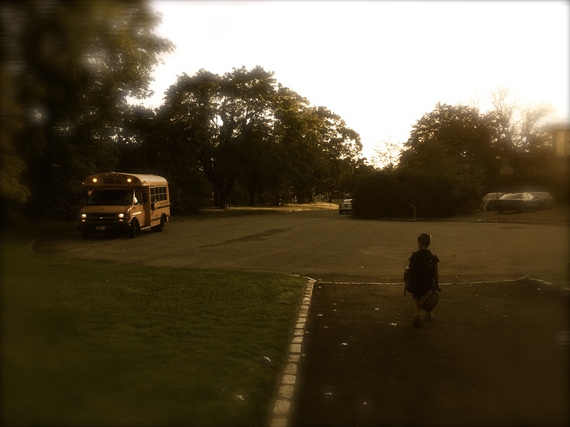 Related