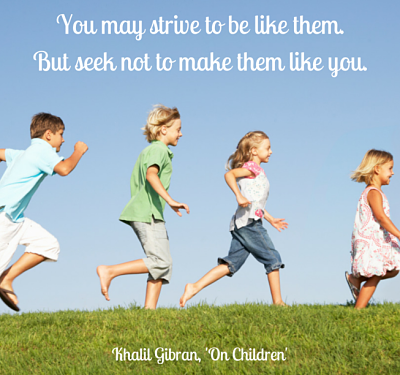 Recently I was attempting to explain to my 10-year-old daughter that anxiety can come from believing something that's not true.
"Our brains don't know the difference between what's real and what's not real," I said. I was about to launch into a sure-to-be-cumbersome definition of perception and reality, when she said:
"Right, because the mind and the brain are two separate things. The brain is physical and the mind is spiritual. If your mind thinks that something is real, then your brain and your body will act according to what you think."
Whoa. I just got schooled. These kids -- and I mean all kids of this generation and evolution -- know a thing or two. They are hard-wired with the ability to hold a higher consciousness and vibration than their parents. In fact, Dr. Meg Blackburn Losey, in her book The Children of Now, details how the very DNA of today's kids has changed. Electrical charges along DNA strands no longer move only in a linear fashion, but have begun jumping from strand to strand, along an electrical matrix. Losey calls it an amazing new development.
In my latest book, I share one of my favorite stories about the time my oldest son, then just seven years old, became the teacher and I became the student. My younger son was refusing to do his homework. We had been dealing with oppositional defiance for some time, and I'd learned that natural consequences are the key in these moments. But I was a newly single mom, mired in a difficult divorce and overwhelmed by the evening routine with three kids. I couldn't think clearly. What were the natural consequences if my son wouldn't fill out his worksheet?
"I guess you don't care about your homework," I said, "so let's just throw it away." And I ripped the paper into shreds.
My son stared at me, then threw himself on the floor, thrashing and screaming. I was gripped with uncertainty. I couldn't put him in a time-out, so I put myself in one by escaping to my bedroom. I hid behind the closed door, knowing that I'd taken a wrong turn but with no idea how to get back on track.
Moments later my older son slid a note under the door that said, "Mom, I think that was very mean. I understand that you are frustrated with him, but I still think that was a little xtreme."
That note was my reminder that, because our galaxy is ever expanding, our children are actually our elders in universe time. They have an innate sense of justice that is more finely tuned than ours. Their hearts beat more strongly with loving kindness, and they are able to envision a new earth more clearly than we can.
Khalil Gibran's poem, On Children reminds us of the true nature of children:
Your children are not your children.
They are the sons and daughters of Life's longing for itself.
They come through you but not from you,
And though they are with you yet they belong not to you.
You may give them your love but not your thoughts,
For they have their own thoughts.
You may house their bodies but not their souls,
For their souls dwell in the house of tomorrow
which you cannot visit, not even in your dreams.
When was the last time you turned to your own pint-sized sage for advice? What they say may be exactly what you need to hear.
Tammy Letherer is the author of one novel, Hello Loved Ones, and a memoir, Real Time Wreck: A Crash Course in Betrayal and Divorce, for which she is seeking agent representation. She is a writing coach who loves to help others find their voice, whether in a blog or in a book. She has also worked as an intuitive healer and uses her gifts of listening, insight, and vision to guide clients to write -- and live -- their best stories. Follow her on Facebook.