My mother once told me that "mistress" was an ugly word, but the term has never looked better, thanks to Lisa Faith Phillips. Her wildly funny play Savvy Secrets of Successful Mistresses, running as part of the East to Edinburgh Festival at New York's 59e59 Theaters, examines through comedy, song, and literal slapstick why "bad girls" have not only all the fun - but all the power too.
Phillips mixes absurdism and social satire to hilarious results as guru extraordinaire Dr. Faith, who believes mistresshood is an effective way for women to control their financial futures. The good doctor and her dominatrix accompanist Mistress Ethel (Ellen Mandel) preside over a self-help seminar designed to explain via the titular tips just how being a mistress enables one to "redistribute the wealth" from men and become a capable, high-achieving individual.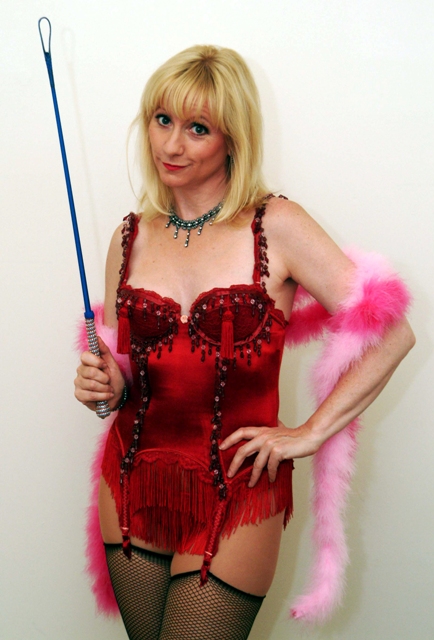 (Lisa Faith Phillips in character as Dr. Faith. Photo credit: David Kassel)
Savvy Secrets has had a long evolution; earlier incarnations of the show first appeared over a decade ago, and initially the set-up directly parodied the book The 7 ½ Habits of Highly Effective People (some homage remains in the current version, as Dr. Faith offers seven-and-a-half savvy secrets for her mistresses-in-training). But when the Franklin Covey Company sued Phillips over trademark infringement - her original title was 7 ½ Habits of Highly Effective Mistresses - it forced her to rethink the show's focus for the better.
"After I was sued I put [this play] away for awhile and I did a solo show that allowed me to think about what was important to me. When I went back to [Savvy Secrets], I really went through everything with new ideas, and I realized the whole slant of it was very different. It's very much about being a strong woman and taking control of your life. It's about being your own mistress."
It's also about having fun. While Dr. Faith slinks about the stage in sparkly suit and feather boa, occasionally smacking her beribboned riding crop against a chart, and she and Mistress Ethel belt out pun-laced musical numbers ranging from standards like "Diamonds Are a Girl's Best Friend" to original compositions ("I Cannot Get Enough," "The Fellatio Tango"), it's clear both performers revel in their antics. There's nothing quite so humorous as adults acting like children, and when Faith and Ethel touch their riding crops together a la the Wonder Twins, their girlish peals of laughter set the audience howling. Mistress Power, activate!
The play retains a delightful burlesque quality from start to finish; musical theatre veteran Cheryl Stern's direction lends the production "that Broadway polish," in Phillips' words, and Mandel provides virtuoso accompaniment with the requisite dramatic stings and fabulously old-style showtunes. There are deliberate nods to Marlene Dietrich and Edith Piaf, but Phillips and Mandel clearly take their inspiration from Mae West, including a fondness for topical humor. Though the nostalgic styles and modern references make for a seemingly schizoid combination, the pairing actually produces a beautifully fractured fairytale of a parody.
Of course, the best comedy stems from truth, and beneath Dr. Faith's outlandish statements sits a treasure trove of veracious observations regarding sexual politics. Affairs are far more common in everyday life than one might think, and history proves that it's far easier - somehow expected - for the men involved than for the women. Phillips' portrayal of the sad wife left behind, drowning her sorrows in a martini, doesn't differ greatly from her bereft and heartbroken mistress undergoing a mini-breakdown that leaves her begging the audience, "Love me! Love me!"
Sometimes it's easier to confront taboo with jokes. We don't like to talk about it, but we are all looking for a form of love. And if the love isn't coming from another person, aren't we better off finding it within ourselves?
"The reality is that women have so much power," Phillips asserts, "and it's great to be able to tap into that with humor."
Phillips certainly understands her own power; onstage she is a force of nature and bubbly wit, confident in both body and brains. One would expect nothing less from a former stripper with a master's degree in economics. Yes, you read that right. It's mentioned briefly in Savvy Secrets as another of Dr. Faith's uproariously instructive anecdotes, but it's entirely true that Phillips spent time stripping to pay for graduate courses at the London School of Economics (by her own account, the experience was an education in itself). Her solo show The All-Nude College-Girl Revue, or How I made it through the LSE, which Phillips will perform at the Edinburgh Fringe Festival this August, explores the topic in greater detail. Suffice it to say that as Dr. Faith she can still shake and shimmy with the best of them, look damn good doing it, and simultaneously dispense valuable wisdom such as "Keep the cow and sell the milk!"
The success of a show like Savvy Secrets depends heavily on audience reaction, and fortunately this was an enthusiastic one. Still, there was minor but noticeable dissent present - a few older men spent most of the play with their eyes carefully averted, their thumbs twiddling and feet tapping nervously. What made them so uncomfortable? Was it the performers' willingness to show off their bodies and crack raunchy jokes? Did the humor perhaps strike a bit too close to home? Whatever the reason, it's quite telling that two women over thirty speaking openly about sex can make gents of a certain age squirmy. Those who think we're living in a post-gender age can forget about it.
Ultimately Phillips would like people to leave the show questioning society's gender rules and how we can change them. On the issue of women controlling their own careers, Phillips notes, "Facebook COO Sheryl Sandberg says 'Lean in [and ask for a raise],' but Dr. Faith says 'Bend over.' It's supposed to be a joke, but [as women] we really do have to step up."
Whether you're a feminist or not, the notion of commanding and exuding confidence from the inside out is extremely gratifying (and sexy). If Phillips is any indication of a successful bad girl, I think I'm ready to sign up for Dr. Faith's life lessons. But one piece of the puzzle still remains: Anybody know where to find a good riding crop?
Related
Popular in the Community