Halloween is finally (almost) here, and although the holiday falls on a Monday this year, we'll luckily have all weekend to celebrate. But the fun of Halloween isn't all about the candy. Whether you're handing out treats or prefer spooktacular tricks, there are so many toys and activities this year to get everyone into the Halloween spirit.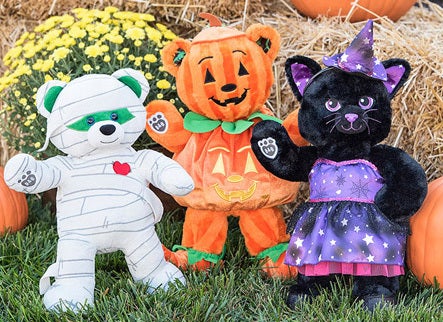 These furry friends are anything but haunted! By far my favorite Halloween-themed Build-A-Bear furry friends ever, this trio wears fun costumes and are some of the softest plush I've ever felt. Straight from the pumpkin patch, the Bear-o-Lantern features a sweet jack-o-lantern face and orange stripes with vines on its paws. Night Sky Kitty has midnight black fur and piercing purple eyes with purple stars on its inner ears. And, don't be fooled by Mummy Teddy—this ancient bear wears a smile and has a heart right on its chest! Give kids a sweet Halloween experience by making your own Halloween-themed plush at your local Build-A-Bear Workshop store, or order your favorite online for a fun surprise! Additional accessories can be purchased separately.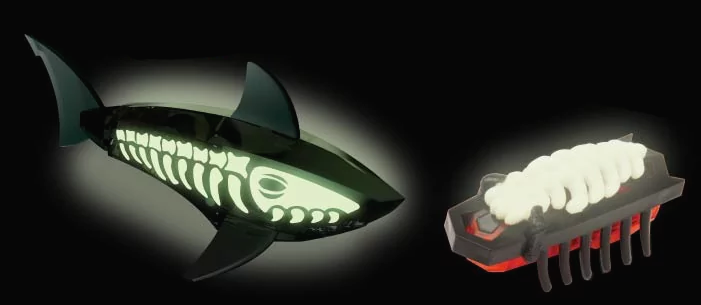 Be careful about what's lurking in the water or crawling on the ground! These Hexbug creatures put a spooky spin on the original Aquabots and Nanos, with a twist that the Zombie Apocalypse has infected them. The Zombie Aquabot features a translucent-black exoskeleton and has an automatic on and off sensor that activates when submerged in water. The Nano Zombie comes with an orange casket and a removable exoskeleton, and can crawl around corn mazes and knows where it's going. My favorite feature is that both of them glow in the dark.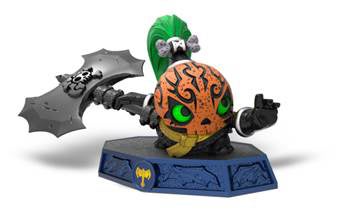 Chop 'til you drop Portal Masters! Halloween Chopschotch is the latest limited edition toys-to-life character for the new Skylanders Imaginators video game. Based on the popular character Chopscotch, Halloween Chopscotch wields her giant ax and is a Sensei for the Smasher Class. Not only will kids have a spooky friend to play with in the video game, but they will also have a special edition of a character that they can play with all year long (and that collectors will swoon over!).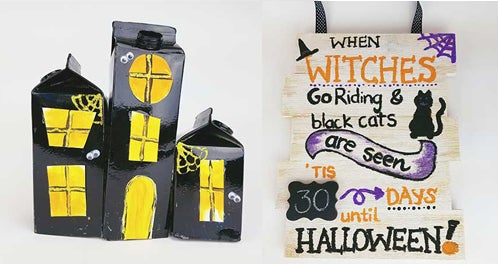 Ready, set, craft! Kids can celebrate the scariest day of the year with these do-it-yourself (DIY) projects using simple objects around the house and Crayola products. To make the haunted house decoration, kids can paint recycled milk cartons with acrylic paint and wait for it to dry completely. Then, they can use yellow construction paper and Crayola markers or crayons to make windows and doors. With parental supervision, hot glue the pieces together and decorate with accents and washable glitter glue. For the Halloween Countdown, all kids have to do is trace a quote on a wooden plaque and use Halloween-colored paints to paint over the pencil lines. Glue a small chalkboard to the wooden plaque, and use glitter to add shimmer to the piece!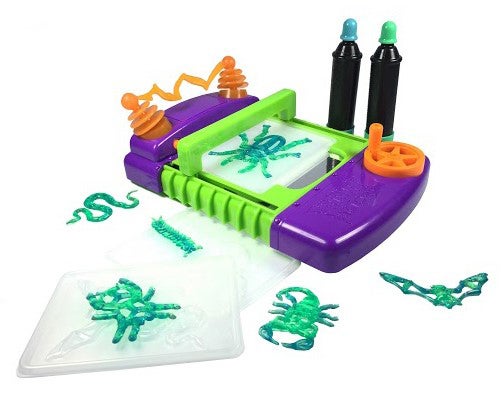 Two given requirements of any Halloween-themed creepy, crawling creature is that they are ooey and gooey. This year, Tech 4 Kids is putting a frightening twist on 3-D creations with the Fright Factory. Kids will use the EwwGoo (actual name) gel to fill the creepy molds and harden them with the eerie light from the kit. They can create anything from insects and reptiles to bats and rats, and more!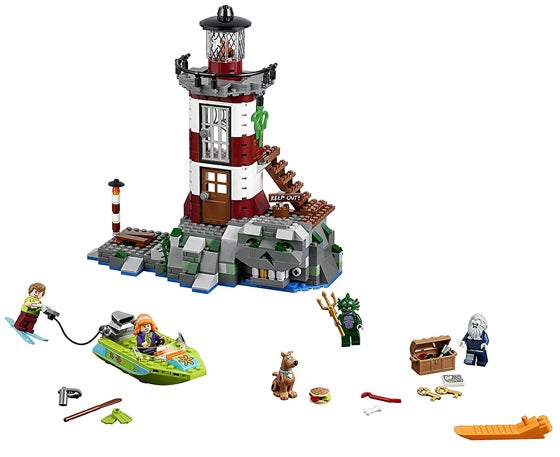 Ruh roh! There's a swamp monster at the lighthouse and it's up to Scooby-Doo and the gang to investigate! Kids will build this haunted lighthouse jam-packed with a prison with an opening door, a secret compartment, movable planks, a wheel-operated opening skull cave, and more. This 437-piece set also features a speedboat with a windscreen, a steering wheel, a paddle, an engine with a rotating propeller, water skis with an attachment line, and Daphne, Shaggy, Scooby-Doo, Lighthouse Keeper, and Swamp Monster minifigures. Kids can even solve the mystery and find out who is in the Swamp Monster costume. Jeepers–this set is spooktacular!
Laurie Schacht, also known as The Toy Insider Mom, has covered the toy industry for more than 20 years. The Toy Insider is a year-round resource for parents, grandparents and other gift-givers looking for the best toys for their kids. The Toy Insider also produces an annual holiday gift guide featured in Family Circle magazine. Visit thetoyinsider.com for the latest toy news, reviews, giveaways, and more.
Calling all HuffPost superfans!
Sign up for membership to become a founding member and help shape HuffPost's next chapter
This post was published on the now-closed HuffPost Contributor platform. Contributors control their own work and posted freely to our site. If you need to flag this entry as abusive,
send us an email
.