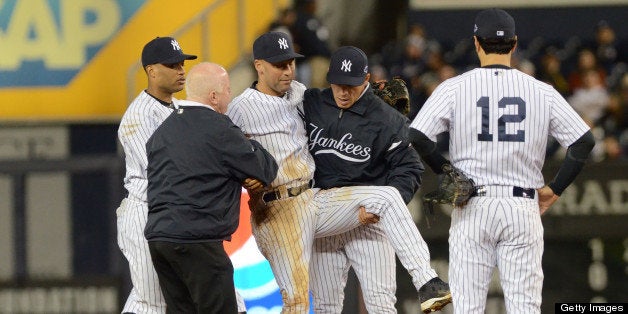 The Yankees hot start has been one of the biggest surprises of the baseball season thus far. Many, including this writer, thought 2013 was going to be a very tough year for the Yankees and that they would struggle to play .500 baseball. However, with the season roughly one-fourth over, the Yankees are in first place in the always tough American League East.
The Yankees have done this despite a number of injuries to key players. Alex Rodriguez, Mark Teixeira and Curtis Granderson have yet to play a single game for the Yankees this year. However, players like Kevin Youkilis, who is now also injured, Travis Hafner, Vernon Wells and Lyle Overbay have filled in very well, exceeding most expectations, for the injured Yankee stars. The one injured Yankee for whom the Yankees have not found an adequate replacement is Derek Jeter. Jeter is not only the face of the franchise and the best shortstop ever to wear pinstripes, but he also managed to hit .316/.362/.429 while playing 135 games, albeit without much distinction on defense, at shortstop last year. It is not easy to replace a player like that. Jeter's recovery from a broken ankle during last year's ALCS has not been easy as he recently reinjured the ankle, further postponing his return to the Yankee lineup.
Age, injuries to Jeter and Rodriguez, as well as Robinson Cano's possible free agency indicate that the Yankee infield of Teixeira-Cano-Jeter-Rodriguez may rarely play again as a unit for more than a few weeks at time. This foursome was the more or less regular Yankee infield from 2009-2012, leading the Yankees to one World Series victory and three other post-season appearances. This raises the question of where this infield fits among the greatest infields in Yankee history.
There are three other great Yankee infields that played together for three or more years and are candidates for the greatest Yankee infield ever. The most recent of these is not the 1998-2000 Yankee infields led by Jeter and Tino Martinez because Chuck Knoblauch and Scott Brosius were not consistently strong enough during those years. Instead it is the 1977-79 infield of Chris Chambliss, Willie Randolph, Bucky Dent and Graig Nettles. The other two, from 1926-28 and 1937-37 both had Lou Gehrig and Tony Lazzeri on the right side of the infield. The earlier iteration had Mark Koenig and Joe Dugan, two relatively ordinary players at shortstop and third base. The second iteration had Frank Crosseti and Red Rolfe at second and third.
Determining which of these infields is the best is not easy. Based on WAR, the current Yankee infield from 2009-2011 had the best three-year run of any Yankee infield unit ever, compiling 52.8 WAR during that period. WAR seems like a clumsy tool for this exercise, particularly as the lowest WAR of the four was the 1977-79 Yankees with 46.3, a difference of about .4 WAR per year per player. The 1935-37 infield accumulated 51 WAR, while the other Gehrig and Lazzeri led infield had 48.2 WAR Other measurements make things no more clear. All four were part of at least one World Series winning team. All of the other three infields won two World Series, in three years, while the most recent team only did it once. However, the 1920s and 1930s infields played at a time when their were only 16 teams. The earlier two had two future Hall of Famers on the right side of the infield, while the most recent infield has one certain first ballot Hall of Famer, and one other who, if not for steroids would fit this category. The 1977-79 infield had no future Hall of Famers, but in Nettles and Randolph two of the greatest Yankees ever at their positions. Nettles, Randolph, Cano and Teixiera are all members of the Hall of Very Good, with Cano having an outside shot at Cooperstown.
The infields from the 1920s and 1930s were imbalanced with most of the value coming from Lazzeri and Gehrig. Crosseti, Koenig and Dent were the least valuable members of their respective infields and comparable players. All fielded well, had little punch but were not totally helpless with the bat; and in the case of Dent, hit one big home run. By contrast, the Yankee shortstop from 2009-11 was a future Hall of Famer still capable of making a big impact on offense.
The 2009-11 Yankee infield stands out because of its balance. They had no star comparable to Lou Gehrig in his prime, which lasted from the mid-1920s, until he got sick in 1939, but all four players in every season were good to great. Teixeira, Cano, Jeter and Rodriguez all contributed to the Yankee offense in a way that cannot be said of Dent, Crosseti, Koenig or Dugan. With some luck, Rodriguez and Jeter will be back some time this year, and this foursome may take the field again. They may even play together a bit next year, but there best years together are clearly behind them. Those years, however, are by many measures the very best the Yankees ever got from their infield.
REAL LIFE. REAL NEWS. REAL VOICES.
Help us tell more of the stories that matter from voices that too often remain unheard.