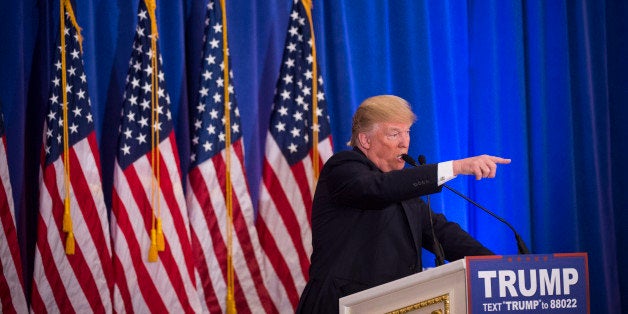 Presidential elections are always an entertaining time for Americans. We haven't even nominated Democratic and Republican runners yet, but this election season has proven to be unlike any other. No one has been louder than Donald Trump.
Trump; the presidential candidate, real estate developer, mogul, and reality star wants to make America great again. Apparently, the only way to get there is by insulting every single American who isn't a white, male, rich conservative. Donald Trump doesn't want to make America great again; he wants to make it colonial again.
Here are just a few groups Donald Trump has insulted, do you fit into one of them?
During his presidential announcement speech:
"When Mexico sends its people, they're not sending their best. They're sending people that have lots of problems, and they're bringing those problems with us. They're bringing drugs. They're bringing crime. They're rapists. And some, I assume, are good people."
When Jorge Ramos, one of the most respected journalists in the world, asked him a question during a press conference:
"You haven't been called, go back to Univision."
Ramos was then escorted out by Trump's security personnel.

African Americans:
"Our great African American President hasn't exactly had a positive impact on the thugs who are so happily and openly destroying Baltimore."
"And if you look at black and African American youth, to a point where they've never done more poorly. There's no spirit."
47 seconds into a speech to the Republican Jewish Coalition in Washington:
"You're not going to support me because I don't want your money," Trump said.
"A total and complete shutdown of Muslims entering the United States until our country's representatives can figure out what is going on."
"He caught 50 terrorists who did tremendous damage...and he took the 50 terrorists and he took 50 men and dipped 50 bullets in pig's blood. You heard about that? He took 50 bullets and dipped them in pig's blood [which is considered haram]. And he has his men load up their rifles and he lined up the 50 people and they shot 49 of those people. And the 50th person, he said, you go back to your people and you tell them what happened. And for 25 years there wasn't a problem."
His story wasn't even true. When do Trump's stories stop being campaign tactics and start becoming hate speech?

Refugees:

Last September, at a campaign rally in New Hampshire:
"They're not coming to this country if I'm president. And if Obama has brought some to this country they are leaving, they're going, they're gone."
"I'm putting people on notice that are coming here from Syria as part of this mass migration, that if I win, they're going back,"
Refugees are not cargo, Mr. Trump, they're people; you can't just send them back if they're not the right size or color.
Trump has been making sexist and misogynistic comments since he first became a celebrity, and probably before that too. With the rise of social media, especially Twitter, Trump has an even bigger audience to yell his rhetoric at.

His favorite thing to tweet about? All the women he can't stand.
He also enjoys a live audience:
When asked during the Fox News Debate by moderator Megyn Kelly about the language he uses to describe women ( "dogs," "slobs", "fat-pigs, and "disgusting animals") Trump defended himself by replying:
Nobody has taken more insults from Trump than Jeb Bush. The former presidential candidate endured countless jabs from Trump during debates, through ads, and in interviews.
He mostly focused on Jeb's demeanor:
"He's a low energy person. Low energy people don't get things fixed. But if he were a real politician, he'd be careful when he says, 'I can fix it.' "
"Here's a guy, honestly, if he weren't in government, you wouldn't hire him to do anything, okay? If you had a company you wouldn't even hire him."
"Jeb doesn't really believe I'm unhinged. He said that very simply because he has failed in this campaign, it's been a total disaster. No one cares."
Remember when we were all worried about another Bush presidency?
Football and Injured Players:
When discussing rule changes in the NFL:
"Football has become soft like our country has become soft," Trump said at a campaign rally today, to cheers from the audience.
"Who wants to watch these crummy games?" Trump said, adding that the NFL has outlawed "what used to be considered a great tackle, head-on and violent"
Six months ago, researchers at the Department of Veterans Affairs and Boston University identified chronic traumatic encephalopathy (CTE), a neurodegenerative disease associated with dementia, depression, and amnesia, in 96% of NFL players they tested.
Who cares about regulations if Trump isn't getting is head-on violence?

Pope Francis:
"A person who thinks only about building walls, wherever they may be, and not building bridges, is not Christian."

How did Trump reply to the leader of the Catholic Church?
"No leader, especially a religious leader, has the right to question another man's religion or faith....I say only that this man is not Christian if he has said things like that. We must see if he said things in that way and in this I give the benefit of the doubt."
Trump has proven himself to be so bigoted and insulting that when he gave the Pope the benefit of the doubt, we praised him for it!
If you didn't make the list, don't worry, this isn't even a full compilation of comments Trump has made in recent months. However, it is enough to depict the range of groups Trump has offended. Most Americans are on this list, yet, he is currently the GOP front runner.
At some point, Donald Trump stops being funny and starts becoming dangerous.
Support HuffPost
The Stakes Have Never Been Higher
Popular in the Community