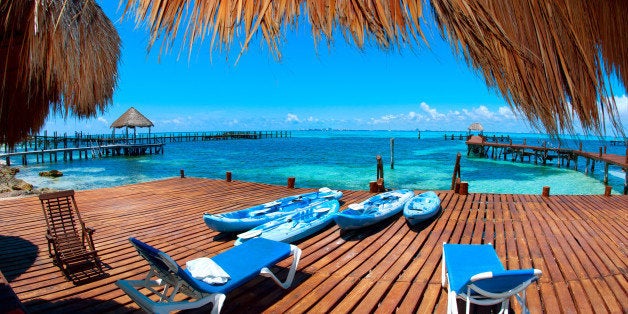 Do you remember when you were young and poor and a vacation meant spending weeks camping out in the woods in a leaky canvas tent with absolutely no creature comforts and just the clothes on your back? There was no phone, no radio and definitely no electronic entertainment. You only ate what you could hunt and catch. You foraged for food and clean water. You built fire from twigs and rocks and traveled by navigating the sun and stars. You pooped over a log.
But I do have to ask you: Are you getting soft?
Are the creature comforts of life becoming more important than the youthful thrill of conquering mother nature?
Do you think you have run out of ways to take creative vacations and still connect with Mother Nature?
Well, I have a solution for you.
In the past few years, a global trend has developed offering outdoor enthusiasts a creative alternative to the simple recreation of camping outdoors.
That's right, folks have even invented a word for this new vacation form, defined as "glamorous camping."
Glamping is the newest way to experience the great outdoors without sacrificing luxury. Glamping is that escape from the constant barrage of work and social excess that you have been longing to take... maybe?
Sure, you still get the chance to interact face to face with Mother Nature, but when you're glamping, there's no leaky canvas tent to pitch, no musty sleeping bag to unroll, no primitive fire to build.
While glamping, you might find yourself inside a magnificent multiple room tent or a solar powered yurt, a shiny "Airstream," a two story grass hut, villa or luxurious tree-house.
In most cases, you don't even have to fend for yourself at all. There are activity directors, cooks, maids, guides, butlers and even message therapists.
This sounds like my kind of camping and it has become so popular with the "outdoorsy" set of vacationers that a multitude of global hospitality brands have capitalized on the demand.
Now you can experience all of the character building and heady cleverness you once found while "roughing it" without the "uncomfortable" drawbacks of basic camping.
Glamping destinations often offers the highest level of personalized service that focuses on the complete and utter comfort of their guests. The amenities found at glamping destinations far exceed anything elemental campers might experience.
When you glamp, you can expect amazing views, unique structures and secluded landscapes while you relax in plush beds, indulge in sumptuous bubble baths, luxuriate at on-site spas or even escape to your own private beach.
What kind of unique experience are you thinking of?
Is it a week by yourself in a secluded tree-house? Is it an urge to try mountain climbing or deep sea diving?
Here's your chance to be adventurous, be secluded, be daring and be carefree all without ruining your new manicure.
Why go glamping? Let me give you a couple of examples of what you can experience. You options are incredibly varied.
How about a few days at The Resort at Paws Up located a couple of hours northeast of Missoula, Montana?
This beautiful resort is one of the most popular on GlampingHub. Here outdoor fanciers can live like the richest cowboys on the planet. The resort's variety of accommodations, located on 37,000 acres of wilderness, include a luxury ranch resort, sprawling log cabins, massive safari tents and exclusively designed honeymoon tents. No matter what your lodging preference is you'll have electricity, heated floors, spas and butlers. That's right, your own butlers.
Yes, Baby Boomers, when Mr. French isn't catering to your every need, you can go horseback riding, fly fishing and even work a cattle drive. After a hard day on the range, you can work out on the "Grizzleyman" fitness trail and then head to "spa town" for a massage. And for dinner, glampers can choose from a gourmet restaurant, an outdoor chuck wagon grill, or even room (well, tent) service.
OK, so maybe camping in the "wilds" isn't your cup of chai tea. How about spending a few days on the beach? If that sounds like "roughing it " to you then you had better check out the Lanzarote Retreats in the Canary Islands off of the coast of exotic Morocco. You can definitely retreat from the rat race of city life to this eco-resort in rural Lanzarote. You will stay in its yurts and eco cabins, relax and take in the unworldly volcanic landscape. In addition, Lanzarote Retreats is located near Arrieta beach, one of the best on the island.
Not all glamping destinations need to have a high-tech, minimalist design.
Why not live like Bilbo Baggins for a weekend at "The Hobbit House" in Cornwall, England? Your very own Hobbit House is a part of eco-friendly vacation site Plan-it Earth, and it's designed with the environment in mind. The house features wood-burning showers and compost toilets, but don't think it skimps on glam; the ornately designed house features plush furniture and a skylight roof. During the day, Plan-it Earth offers strolls around its vegetable garden, classes on the environment and rural skills. Oh, and don't forget to carve out some time to visit the on-site sauna.
Do you have something even stranger in mind?
How about booking some time at the "TreeHotel" in Harads, Sweden to experience the Northern Lights?
Do you miss the days of your youth playing in the backyard tree-house? Well, here's the grown up version with a retreat built around 6 (18 more are planned) camouflaged buildings suspended in the trees of the Lule River Valley
One "treeroom", the "Mirrorcube", blends into the landscape with a mirrored exterior, while another, the "UFO," resembles a flying saucer that didn't quite make it to the ground. There's also the "Birdsnest" and the "Dragonfly" rooms.
Just like the rest of TreeHotel, Britta's Restaurant is difficult to compare. They only serve the finest fresh produce that Norrland has to offer along with meals carefully composed of fresh, wild, local game and fish.
Like I said earlier the glamping options are only as varied as your imagination.
Baby Boomers can find themselves "tenting" in the sand dunes of central Australia, living in Geodesic domes in Patagonia, Chile or "slumming it" in a 5-star igloo in Whitepod, Switzerland.
Are you convinced that glamping is the future of vacations?
There is no doubt that glamping entices you to reconnect with nature in a new and unforgettable way. Instead of spending weeks buying supplies, packing the family "truckster" and trying to plan for all of the imminent dangers that nature can surprise you with, why not wake up and step outside of your private luxury yurt and enjoy the peaceful serenity, fresh air and striking natural scenery as it was meant to be experienced?
Oh ya, don't forget to have Mr. French book you some spa time.
Support HuffPost
The Stakes Have Never Been Higher
Related
Popular in the Community