The Challenge: All businesses want to engage in sophisticated multichannel marketing, but many are forgetting about the power of direct mail as a vital element of their media mix.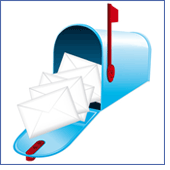 Experienced marketers know that relevance means sending the right message to the right person at the right time. But they neglect a key aspect: that message must be delivered per that individual's media preferences.
Data-driven marketers shouldn't ignore the evidence: consumers want direct mail to be part of their multichannel mix. Many common objections to this channel among "digital-only" marketers are at odds with the evidence:
Epsilon's study found that, "despite direct mail's reputation for being 'old school' or expensive, it is the top choice of U.S. and Canadian consumers for the receipt of brand communications in almost every category, ranging from 'health to household products, to household services, insurance and financial services.'"
Young Consumers Prefer Mail
Nor is this true only for technophobes: Epsilon found that "the preference for direct mail also extends to the 18-24-year-old demographic."
KEY TAKEAWAYS FOR MARKETERS
→ Deliver Content Per Consumers' Media Preferences
Search and social media allow us to send the right message to the right person at the right time, but the right channel isn't always online.
→ Email is not Always the Most Cost-Effective Channel
Extensive testing for clients by our company determined that while the Cost per Piece is clearly much higher for Direct Mail than Email, the yield from direct mail efforts are often far greater, i.e., sales per 1000 names. Therefore, total sales from direct mail are often significantly higher than email.
→ Seriously Consider Direct Mail As Part of Your Multichannel Mix
Forward-thinking marketers should evaluate the potential value of direct mail as a component of their multichannel mix. It may not be effective for all businesses, but it just might be right for yours.
Ernan Roman is President of the marketing consultancy, Ernan Roman Direct Marketing.
Recognized as the industry pioneer who created three transformational methodologies: Integrated Direct Marketing, Opt-In Marketing, and Voice of Customer Relationship Research.
Ernan was recently inducted into the Marketing Hall of Fame.
Clients include Microsoft, NBC Universal, Disney, Hewlett-Packard and IBM.

Ernan was named to "B to B's Who's Who" as one of the "100 most influential people" in Business Marketing by Crain's B to B Magazine.

His fourth and latest book on marketing best practices is titled: Voice of the Customer Marketing: A Proven 5-Step Process to Create Customers Who Care, Spend, and Stay.
Ernan is also the co-author of "Opt-In Marketing: Increase Sales Exponentially with Consensual Marketing" and author of "Integrated Direct Marketing: The Cutting Edge Strategy for Synchronizing Advertising, Direct Mail, Telemarketing and Field Sales."
Related
Popular in the Community