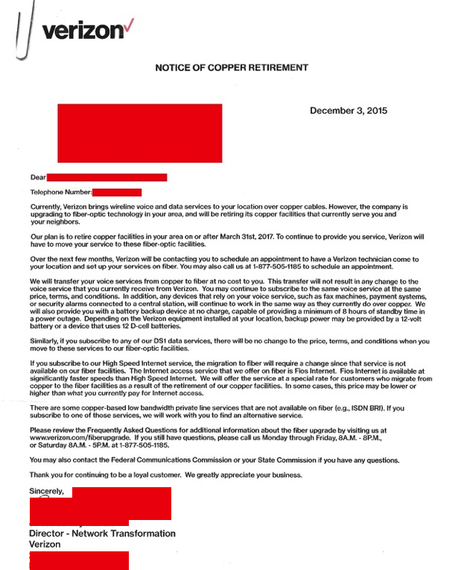 Above is the standard form letter being sent to Verizon customers in multiple states to shut off their current working copper-based telecommunication service.
And below is a list of the state agencies (and FCC) to contact if you have a 'complaint' about it. Essentially it is nine states -- most of the East Coast, from Massachusetts to Virginia.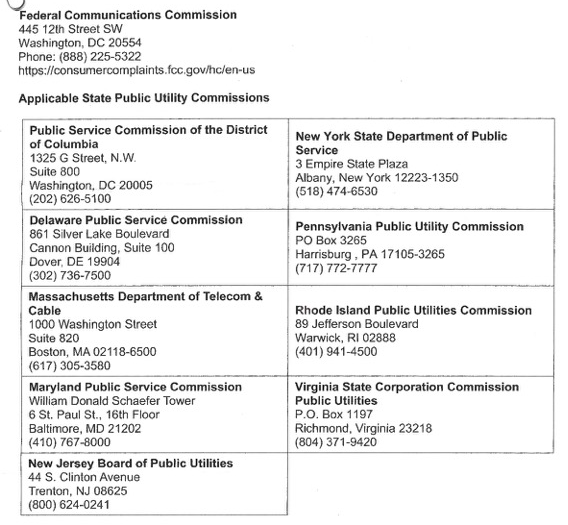 Unfortunately, these letters are also being sent to customers who use a competitive broadband or phone service that is based on the copper wires; this is a serious problem. The current FCC and regulatory environment is to not only allow Verizon and AT&T to just screw the customer, but it also blocks the competitors from moving their customers to these fiber optic services.-- i.e., if you have a DSL broadband or phone service from a competitor - that service will be shut off and the company offering you the competitive service can not 'migrate' you to the new fiber optic services.
(So what if this fiber optic wire was paid for by copper-based phone customers as part of the state utility deals with the telcos through rate increases over the last two decades.)
But this is only the first shot across the bow. Verizon's plan is to not only shut off customers in areas where they installed fiber (about 50% of their territories), but AT&T and Verizon are also planning on shutting off customers in areas that were not upgraded and force-march them onto more expensive wireless services, that they own.
I've been pro-fiber optic deployments since 1992 when I started New Networks. But this is not the future we paid for and we are on the wrong path as this is the start of a trendline based on a large con -- with the end goal -- remove customers' rights and the companies' obligations to even offer universal service.
What Does this Letter Actually Say?
These bullet points are from the accompanying 'Frequently Asked Questions'. (See the full list of caveats below.)
"I Don't Want Fiber Optics. What are my Alternatives?" -- If you don't want to use the new fiber optic service -- too bad, you have no choice.
"What is the Back Up Battery?" -- This fiber optic replacement is not like regular phone service. It requires a battery that you supply and it has an expected ability to work for only 8 hours. Regular phone service runs because the wires have their own power.
Battery Won't Work with "Alarm Equipment" --The FAQ has this caveat--i.e., if the service goes out, the back up doesn't work with alarm equipment or "other devices".

"What if I Change Providers?" -- If you are using a competitor, you may have to get rid of their service as they are not allowed to use the upgraded networks currently.
Shutting Off Copper-Based Services for Inferior Wireless, Etc.
While this first letter shows some of the issues with a customer on copper being 'migrated' onto fiber, there is a whole other agenda here -- shutting off the copper-based customers and forcing them onto wireless or the other 'copper-services' that were 'upgraded'.
This is from the AT&T IP Transition Trial 3rd Quarter Report. "Section 214" refers to the notification to 'sunset' the customers' working service - i.e., shut them off.

And in AT&T's own discussion of their "VIP IP Transition" plan, the company specifically detailed that in 25% of their entire territory, which has working copper-based services, the company will offer wireless service instead -- i.e., shut off the working customers for inferior wireless services.

"In the 25 percent of AT&T's wireline customer locations where it's currently not economically feasible to build a competitive IP wireline network, the company said it will utilize its expanding 4G LTE wireless network -- as it becomes available -- to offer voice and high-speed IP Internet services."
As we pointed out, the AT&T IP Transition trials have been a bomb. AT&T claimed that it was at 'Phase 0' in the rural community of Carbon Hill Alabama. But, AT&T's plan is to continue to claim that they should be 'shutting off the copper'; -- i.e., the copper wires that they do not want to properly upgrade to fiber, and just force-march customers onto wireless.
And Verizon has said the exact same thing. "Cut the copper off," said Lowell McAdam, Chairman and CEO of Verizon Communications, speaking at the Guggenheim Securities Symposium, June 21, 2012:

"And then in other areas that are more rural and more sparsely populated, we have got LTE [Verizon Wireless] built that will handle all of those services, and so we are going to cut the copper off there. We are going to do it over wireless. So I am going to be really shrinking the amount of copper we have out there, and then I can focus the investment on that to improve the performance of it."

The plan is to start 'disconnecting' copper-based customers in areas where they are installing fiber optics.
There is no plan to allow anyone with a competitor to use their current service provider on the fiber optic networks.
The fiber requires a battery that the customer is required to supply, and will last 8 hours as a "back up".
The battery doesn't work with anything requiring electricity that a normal phone line has, such as alarm equipment.
This is the start of a plan to shut off about 25-50% of the entire US, especially rural areas that were never upgraded, and force-march customers to wireless.
If you don't like it--too bad.
I leave you with this another form letter, this one from Verizon in Massachusetts to the town of Attleboro. It says - Sorry, we're not interested in your community and we have no interest in expanding the fiber optic services to your municipality. (And this letter, or something like it, has been sent or discussed with thousands of municipalities in the Verizon territory.)
The next letter the townsfolk may get is their own personal disconnection notice.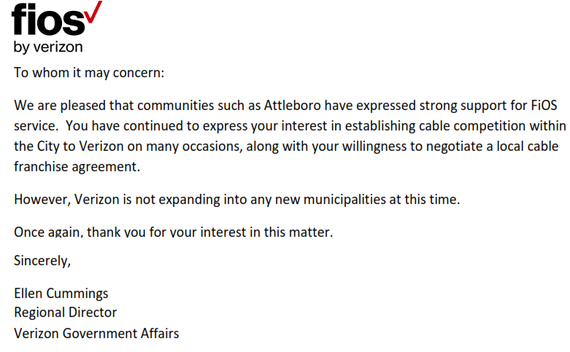 Popular in the Community