Hedwig and the Angry Inch is a show that either resonates deeply, or you walk away slightly disoriented. For me, Hedwig is one of the best rock musicals written in the last 45 years, ranking right up there with Rent, Jesus Christ Superstar and Hair. Conceived by the brilliant John Cameron Mitchell (who played Hedwig in its famed Off-Broadway run as well as the beloved underground film), it's a fascinating character study that keep you on edge, while Stephen Trask's unexpectedly tender and haunting rock ballads make you lean forward.
However, the show demands a strong directorial vision to help it transform from performance art rock concert to a deeply personal rock confessional. As its inaugural production, Haven Theatre's Hedwig comes mighty close to capturing the shattered spirit of this overlooked glam rocker. This is mainly due to fearless performances from Ryan Lanning as Hedwig (who manages to capture Hedwig's poise and fragility, as well as her dark insecurities and rage - with a compelling rock tenor to boot) and Lauren Paris as a quietly brooding Yitzhak.
Yet, under Kyle Trent's straightforward direction, this Hedwig seems more dutifully presentational, with the connecting moments between songs treated as an afterthought. The final moments, which typically leave me wrecked, found me dry-eyed. It also doesn't help that Jenna Moran's sound design, while staying true to the underground spirit of the piece, is far too easily overpowered by the rocking four-person band. If I wasn't already familiar with the show, Trask's haunting lyrics would be a muffled mystery.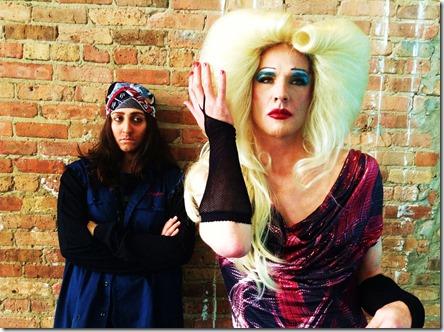 Lauren Paris and Ryan Lanning in Haven Theatre's "Hedwig and the Angry Inch"
"Hedwig and the Angry Inch" plays at Theater Wit through August 11. More info here >
Related
Popular in the Community