In the spring of 2001, I received one of the greatest honors of my queer activist life. With a small group of people, (including Krishna Stone, a Grand Marshall of this year's NYC Pride Parade) I had planned a rally for homeless youths in Times Square. As hundreds of us marched up 7th Avenue, I saw the STARR banner flying above us. I pushed through the crowd and discovered that the great Sylvia Rivera, the fierce iconic transgender activist who fought on the front lines in the early struggles of the LGBT liberation movement, had joined us to march in support of our youths.
We filmed the rally, and in this never-before-seen footage, Sylvia gave a brief, impassioned interview. She was in the last year of her life, which was tragically cut short at only 50 years, due to liver cancer. Sylvia glared into the camera and implored that more be done to protect "the gay children, the transgender children" thrown out on the streets by rejecting parents. "Haven't they suffered enough?" she demanded.
Sylvia spoke with the authority born of personal experience. She spent many years suffering homelessness. She knew all too well the violence, the terrors and humiliations that queer people face in the streets.
Homeless queer youth, many of them transgender or gender non-conforming, were a crucial part of the Stonewall uprising. Many of them hung out in Sheridan Square, and when the patrons of the Stonewall Inn were being led out into paddy wagons, it was the homeless youths who first gathered around and spontaneously began to resist. One of them, a transgender youth only known as Miss New Orleans, uprooted a parking meter, which she and a group of her fellow street kids used as a battering ram when the police retreated behind Stonewall 's door. Onlookers agreed that was the act that electrified the crowd and catapulted the resistance into a full-fledged riot.
Alas, the LGBT movement that took off in the wake of the Stonewall riots has been miserably slow to respond to the needs of the homeless LGBT youth who fought for us that night. More than 25 years passed before there were any sustained efforts to address LGBT youth homelessness. The priorities of the LGBT movement reflected the needs and priorities of the most privileged. The needs of poor people, people of color, and transgender and gender non-conforming people went largely ignored. Homeless LGBT youth like Sylvia and her great friend and co-warrior, Marsha P. Johnson, were cast aside, and their needs went unaddressed Still, in 2017, 48 years after the riots, the gap between the needs of homeless LGBT youth and the support available to them is staggering. A conservative estimate would put over 200,000 homeless LGBT youth on the streets of the United States. There are fewer than 500 beds dedicated to them.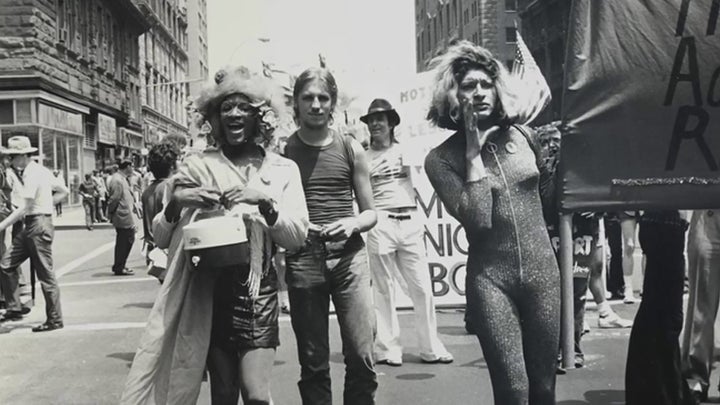 In New York City, birthplace of our movement, the memory of Sylvia and Marsha live on. The Sylvia Rivera Law Project fights for the legal rights of transgender persons. Sylvia's Place at MCC church (where Sylvia found a spiritual home in her last days) offers shelter to LGBT youths. Mariah Lopez continues to carry the banner of STARR, fighting to reform the treatment of transgender people in prisons and pressuring the police to investigate unsolved murders of trans people, including Marsha P. Johnson. Transgender leaders such as Sean Coleman of Destination Tomorrow and Jevon Martin of Princess Janae Place are fighting to create safe housing options for homeless transgender people. At the Ali Forney Center, we have recently opened an 18-bed residence dedicated to the special needs of our transgender youth. The Department of Homeless Services has recently opened Marsha's Place, a shelter for LGBT young adults, named after Marsha P. Johnson.
But with all of these great steps forward, a huge gap remains in NYC's response to homeless LGBT youths. Half of the homeless LGBT youth of NYC still have no access to safe shelter. While the Federal Government and now New York State define homeless youth through the age of 24, New York City only offers youth shelter through the age of 21. In NYC, a youth must leave their youth shelter on their 21st birthday. For LGBT youths this is a catastrophe. While in theory they can access the adult shelter system, in practice a great many young people, especially LGBT youths, are terrified of the violence and harassment they all too often face in the enormous adult shelters. Most choose to sleep in the streets and the subways. The small, homelike model of youth shelters is much safer and far more developmentally appropriate for LGBT youths than the huge, dangerous adult shelters.
As we marched up 7th Avenue together back in 2001, I told Sylvia how proud I was to meet her, and how overwhelmed with gratitude I was to have her support our young people. Sylvia looked me in the eyes and promised she would do anything and everything she could to help homeless LGBT youth. Sylvia's body was frail from illness, but there was nothing weak about her spirit.
As we prepare to enter Pride Month, the Ali Forney Center is launching the "Haven't They Suffered Enough?" campaign, bringing forward the voices of NYC's homeless LGBT youth from Stonewall to now, in an effort to engage our community in standing up for their needs. I ask all of our readers in New York City to call upon Mayor de Blasio and the New York City Council to raise the age for youth shelter up to 24. New York City, with such a large homeless LGBT youth population, and such a powerful LGBT community, should not lag behind in the efforts to protect our most vulnerable youths. I ask that you do so in honor of Sylvia Rivera, Marsha P. Johnson, and all the other queer street youths who fought so hard for us in the Stonewall uprising. It is a disgrace that so many LGBT youths continue to endure homelessness on the streets of NYC. Haven't they suffered enough?
Popular in the Community