Splashing is usually a prerequisite for most seaside vacations. But a trip to Israel's Dead Sea is unlike any other beach holiday. So pay attention and don't splash because a drop of Dead Sea water in your eyes or mouth could send you scurrying out of the water.
The Dead Sea is in Israel's Negev Desert, about 50 miles east of Tel Aviv and 15 miles from Jerusalem. Israel is on one side and Jordan is on the other. Bedouins still roam the sands and the Judean hills and you're likely to see a few camels as you drive to the lowest spot on Earth.
The Dead Sea is about 1,300 feet below sea level at the water's surface. Your first glimpse of it, from a high road as you drive in, reveals its glassy surface, edges rimmed in white -- the salt and minerals caking along the shore.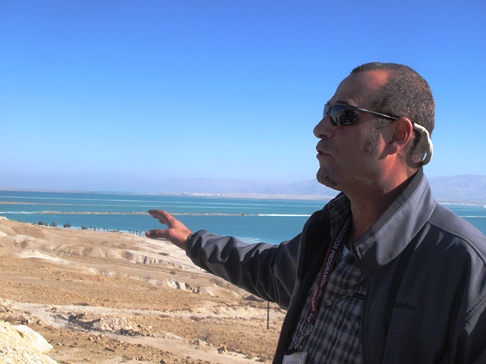 Don't try to swim in the Dead Sea. It's a losing proposition. Floating is the preferred method of immersion. Because of its salinity, (more than five times that in the oceans) the buoyancy is like nothing you've experienced before. You can't sink.
Walk in to a depth of about waist height and lean back. Your feet pop up, almost like a jack-in-the-box toy, a strangely unnerving experience that can't help but make you smile. On a January visit, I made the mistake of trying to turn over onto my stomach. The move completely upset my equilibrium and I was left flopping around until I decided to go with the flow and ease back into the more natural reclining position with my feet sticking out of the water.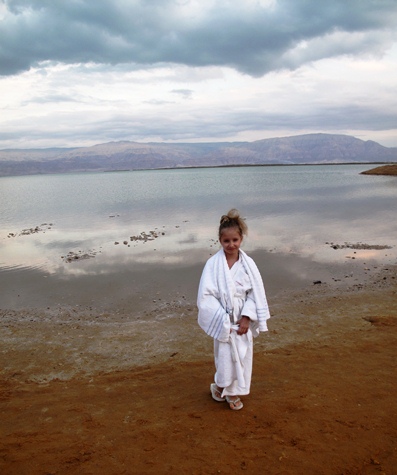 Health seekers travel to the Dead Sea region every year, many seeking relief from psoriasis or arthritis. The sea and its high mineral content is the main draw but so is the region's oxygen-enriched air -- and the sun can be enjoyed for many hours without sunscreen or fear of being sunburned.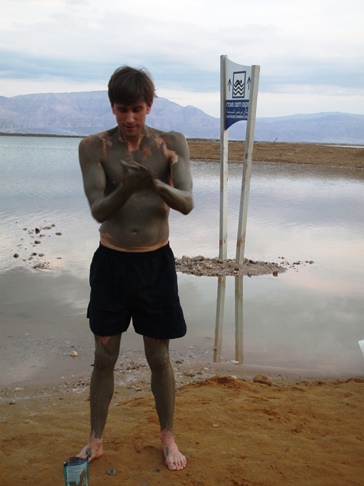 Israel's Ministry of Foreign Affairs website notes successful treatments for arthritis, psoriasis, respiratory ailments and high blood pressure here. Additionally, a small 2011 study by Ben Gurion University researchers showed a drop in diabetics' blood-glucose levels following a one-time, 20-minute immersion in Dead Sea waters.
There are about a dozen Israeli hotels that front the Dead Sea and many have heated pools filled with the mineral-rich waters. So if the outdoor air and water isn't warm enough you can enjoy the therapeutic effects as well as the silliness that goes along with the buoyancy. After a little bit of practice at one of the indoor pools, I was able to sit upright, as if on a desk chair.
But don't get too silly. The water is dehydrating, and you're advised to spend no more than 20 minutes in the water before getting out.
If you're traveling to the Dead Sea, be sure to take a trip to nearby Masada, site of the ancient mountain fortress of Herod the Great. Jews fleeing persecution in Jerusalem about 70 A.D. joined fellow refugees there. After a two-year siege by the Romans, defenders chose death rather than capture and enslavement, and the last Jewish stronghold fell, ending Jewish independence until 1948.
Israeli youth regularly climb the trails leading to the top of Masada, one of Israel's most popular tourist destinations and a UNESCO World Heritage Site. Visitors are welcome to hike the trails as well, but there's a cable car for those less interested in a hiking excursion. The views are phenomenal from the top. But even more impressive, I think, is the ability to walk amidst and touch the 2,000-year-old cut rock that once housed the Jewish holdouts.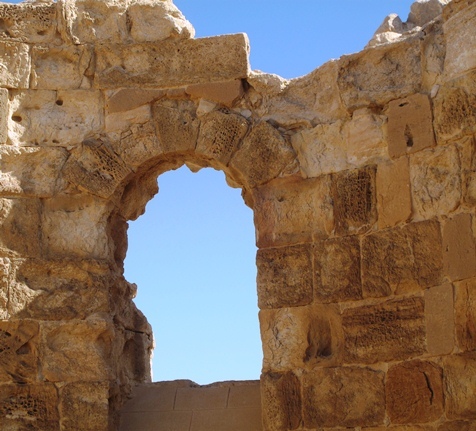 And if you time it right, you might even be able to see some amazing musical performances at Masada. In June, Israel hosted its third annual Masada Opera Festival, featuring five performances of Bizet's Carmen at the foot of Masada.