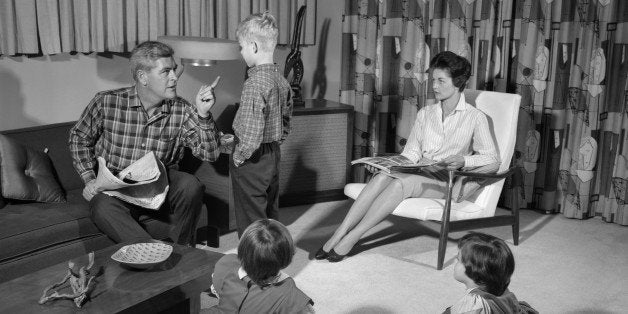 A friend of mine, when we were in high school, was the envy of us all. Her parents did not give her a curfew, nor did they require specific knowledge of her whereabouts on weekends. She was mostly her own boss and, as early as age 14, was allowed to determine what choices were right for her.
Our group of friends would feel like sticks in the mud when, come a certain hour, we had to head home for the night, while she, sans boundaries, could call her own shots and continue on with the fun. Fortunately, she had a good head on her shoulders and made smart calls; the potential for problems was there, but rarely materialized. At least not outwardly.
Another friend's mom and dad provided us with champagne the night of our senior prom. It didn't matter that we were underaged 17 and 18-year-olds; it was a big night and, according to her folks, a special night called for extra fun.
Both sets of parents seemed more like peers to us than guardians.
The rest of us, however, had the uncool parents.
My parents clearly stated their regulations for me. Limits were set, as unreasonable as they seemed to me at the time. Any party I was to attend, my parents -- never failing to mortify me -- would call the other parents to make sure adults would be home. Despite my protests and regular begging not to make the call, they did not back down. And any boy who wanted to take me out was expected to meet my parents first, regardless of how embarrassing that was for me. If I was driving somewhere at night, I was to call from the destination upon arrival. The rules seemed endless. I felt like my parents were the least-cool and most annoying of any I knew.
And lest you think my parents were over-the-top strict, I realize now, they really were not. They simply had high expectations and guidelines which they felt were sensible and fair for a teenager. My parents felt it important that they were informed without having to be overly involved. They granted me enough rope, so I still had freedom, yet I knew it wasn't carte blanche. During those years I wished my parents would be more lax and yielding, not as cognizant and in-the-know about my life as they were.
Now, from my current vantage point as a mom to teenagers myself, I can see that my parents actually struck the perfect balance between laying down clear rules to be followed while, simultaneously, allowing me to experience my teen years in a safe, but independent, way. I am now -- with the wisdom of a 40-something -- impressed with their ability to have been revered by all my friends while still maintaining their status as authority figures and expecting deference. To this day, my friends say how much they loved talking with my parents and spending time with them at the house. My parents were approachable, yet never allowed the line to cross over into equals or being "buddies" with my friends. They were warm and friendly, but always in charge. The respect my parents had for me, as well as for my group of friends, was healthy and trusting, but not a blank check.
Years later, after college, my friend with the permissive parents told me how much she had coveted my parents while we were growing up. Still lacking much wisdom or life experience, I told her I was perplexed to hear that, as her own life back in high school had seemed so easy and stress-free. She said that she truly never felt important enough or cared for due to her parents' leniency. According to my friend, my parents' rules conveyed that my well-being was priority number one for them, something my friend felt was lacking in her parents' actions.
And the prom night my friend's parents provided us with the champagne? Being my one and only time doing anything brazenly against the rules, it would figure I didn't get away with it. We ended up getting caught at the start of the evening, having imbibed just outside the venue. And my parents' reaction to that? When the chaperone called them to come pick me up, my parents made sure to be about as uncool as they could. They showed up, amongst the sea of tuxedos and formal ball gowns, in what they were already wearing when they received the phone call -- their bathrobes and slippers. Solely to add insult to my injury of humiliation. And yes, they were livid with my friend's parents for bestowing said beverage to us. In line with my parents' habit of implementing rules, they also ensured consequences followed if rules were broken. I was most certainly grounded for an extended period.
When I think back to my feelings and state of mind during my teen years, there were plenty of times I was frustrated with my parents and annoyed with the standards they set. There were situations in which their rules made them highly unpopular with me and many moments I wanted to disregard their precedent. But I honestly can't think of a single instance that I can say I didn't feel loved and important to them. Their "uncoolness" was a gift to me as it sent a message with their actions. I mattered. I was important.
So now, when my own teenage daughters challenge my decisions, or such decisions cause dissension in the house, I'm okay with it. It's not pleasant, but I'm confident in my stance. Just as my parents did with me, I set the bar high for my girls. And especially, when they say I'm annoying and "not like the other parents," I know I'm doing it right and and soak it up.