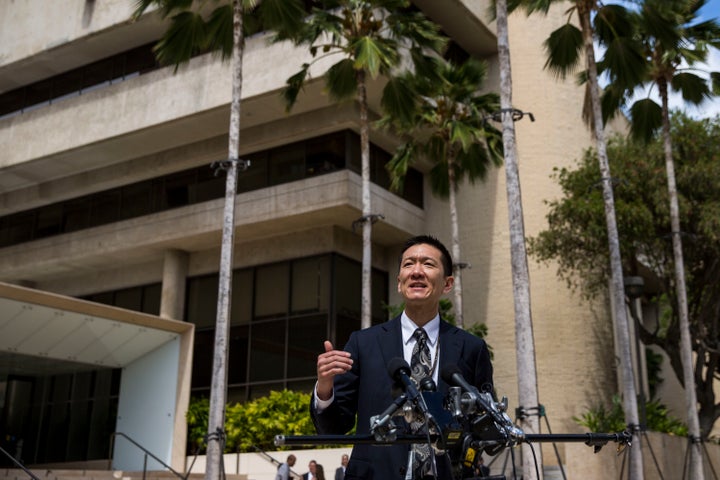 HONOLULU ― Douglas Chin says his 18-year-old daughter views her racial background very differently than he did his own when he was growing up. As one of the few Asians ― and minorities ― at his high school in Washington state, Chin says he was always aware that he was Chinese-American. So when his daughter told him that she doesn't really focus on her friends racial backgrounds, he took note. 
Her view of race makes sense, the 50-year-old Hawaii attorney general says. His daughter is mixed race ― half Chinese and half Caucasian ― and she was born and raised in Hawaii, one of the most diverse states in the country with the largest population of multiracial Americans.
But it's the way she views the diversity around her that motivates Chin to keep fighting against the president's controversial travel ban ― an order which Chin calls discriminatory against Muslims and people from Middle Eastern countries.
"Growing up as Americans, we've always been trying to appreciate and value diversity," Chin told The Huffington Post. "To see that eroding and going away is chilling."
Hawaii became the first state to file a lawsuit against Trump's revised executive order which restricts travel from six Muslim majority countries. A federal judge agreed with Chin's arguments in court that Trump's order likely violated the establishment clause of the First Amendment, which forbids the government from discriminating based on religion.
On March 29, Chin went back to court to successfully argue why Trump's ban should be halted indefinitely, saying the president's "religious animus taints the entire policy."
"We cannot fault the president for being politically incorrect," Chin said in court. "But we do fault him for being constitutionally incorrect."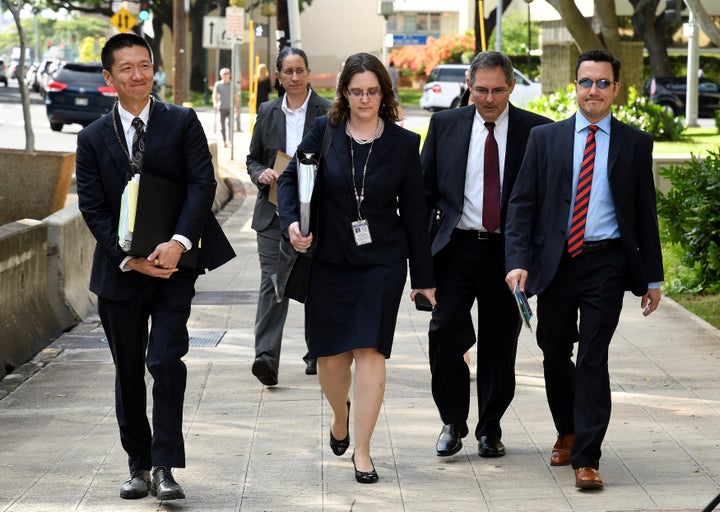 Unlike his daughter, Chin did not grow up in Hawaii. He was born and raised in a predominantly white community in Bellevue, Washington. His parents were Chinese immigrants, but he says they never talked to their kids about their lives back in China and they never really emphasized the sacrifices they had to make in order to move to the U.S. 
"Me and my sister grew up very Americanized and [my parents] wanted to give us that American experience," Chin told HuffPost. And while Chin's family adapted to their community, Chin couldn't escape being singled out as the "token Asian."
"Growing up Asian, the biggest thing we all know is that there's this stereotype that we're scholarly, that we don't get into confrontations, that we're very quiet," Chin said. He found it easy to "fit myself into that mold" because "that's what everybody expected from me," Chin added. "I was a lot more aware of being the token Asian friend."
I remember not always feeling comfortable being seen around a lot of Asians, because it would look like I'm not really integrating with the rest of the community.
This racial self-awareness carried into Chin's years as an undergraduate student at Stanford University. "I remember not always feeling comfortable being seen around a lot of Asians, because it would look like I'm not really integrating with the rest of the community," he said.
That all changed in 1989 when Chin moved to Hawaii, where Asians (including Chinese, Japanese, Korean, Thai and Filipino) make up 37 percent of the population, according to Pew Research. "All of a sudden, I wasn't a minority," Chin said.
In Hawaii, Asians can be "jocks, surfers and musicians," Chin explained. "I never saw that growing up in Washington." Free from the "token Asian" stereotype, Chin was able to live in Hawaii with a confidence he didn't have before. He went on to receive his law degree from the University of Hawaii and worked at the Honolulu prosecutor's office in 1996.
"When I was speaking to juries or presenting a case, I could have confidence knowing that [people aren't] looking down on me because I'm Asian or think that I'm quiet," Chin said. "They're just going to listen to what I'm saying."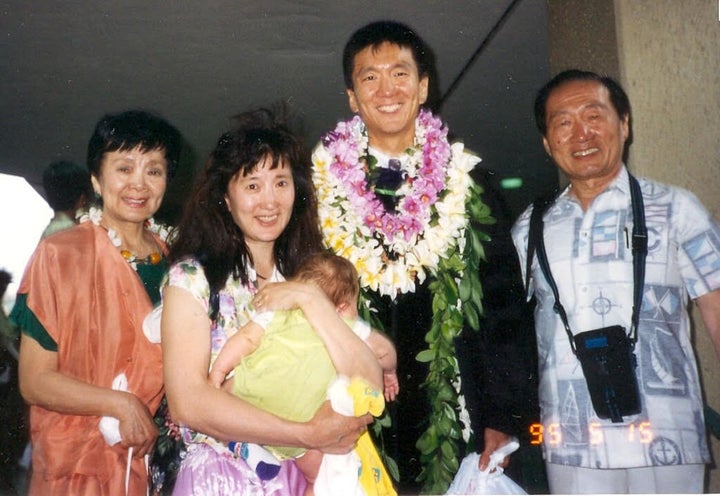 Fighting Stereotypes By Fighting Trump's Travel Ban
Chin believes that Trump's travel ban would strengthen damaging stereotypes placed on people of Muslim faith. 
"When this ban first came out, what really jumped out to me is that it is marginalizing," he told HuffPost. "It's degrading people who belong to a certain nation [or religion]. It doesn't matter if you're a baby, fiancé or grandmother, if you're from one of these countries then you're presumed to be a terrorist."
Trump's executive order reminded Chin of the one instated by President Franklin Roosevelt after the Japanese attacks on Pearl Harbor, which called for the incarceration of more than 120,000 people of Japanese descent, many of whom were American. One such concentration camp was located in Honouliuli on the island of Oahu.
The executive order strengthened anti-Japanese sentiments throughout the country in 1942, which is what Chin says Trump's ban would do for Muslim-Americans now.
"The worst thing that can happen is when the highest levels of government are [strengthening negative] stereotypes," Chin told HuffPost. "Because what does that teach everybody? That everybody who's a Muslim is a terrorist?"
I've been calling [the ban] a dog whistle. It's a bad foreshadowing of a path we don't want to keep going down.
The attorney general also thinks that allowing Trump's ban to roll out could've enabled more discrimination in the future. For example, what would happen if the president decided to add another country to the travel ban ― such as the Philippines, which he had suggested during his presidential campaign.
"I've been calling [the ban] a dog whistle," Chin told HuffPost. "It's a bad foreshadowing of a path we don't want to keep going down."
Chin understands that Trump's order was intended to beef up national security, but he says there's other ways to do that without violating the Constitution.
And as long as the ban appears to discriminate against people based on national origin or religion, Chin says he'll continue to speak out against it until people see diversity the way his 18-year-old daughter does.
"Just like now, people don't automatically say, 'Oh, you're Japanese? You must be an enemy because you bombed Pearl Harbor," Chin said. "It took some time to get there ― and I want to be a part of the process that helps people get to that place."
REAL LIFE. REAL NEWS. REAL VOICES.
Help us tell more of the stories that matter from voices that too often remain unheard.
BEFORE YOU GO
PHOTO GALLERY
What Life In Hawaii Was Like After Pearl Harbor