If you think there's not much beach space left in Waikiki right now, chances are it's going to be a lot worse in 35 years.
The study, titled "Doubling Of Coastal Erosion Under Rising Sea Level By Mid-Century In Hawaii," was published this week in the journal "Natural Hazards."
"The average amount of shoreline recession roughly doubles by 2050 with increased sea level rise, compared to historical extrapolation alone," lead researcher Tiffany Anderson said in a statement. "Further, our results indicate that approximately 92 and 96 percent of the shorelines will be retreating by 2050 and 2100, respectively."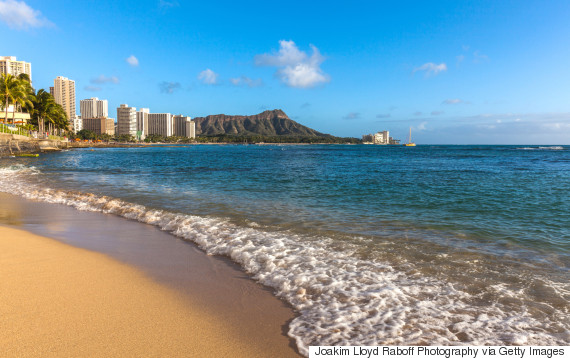 Waikiki Beach is entirely man-made, and naturally faces constant erosion.
"Beaches are temporary features," Assistant Professor Ken Rubin explained. "There is always sand being removed and sand being added to them. Often, they change drastically during the year, depending upon the frequency of storms."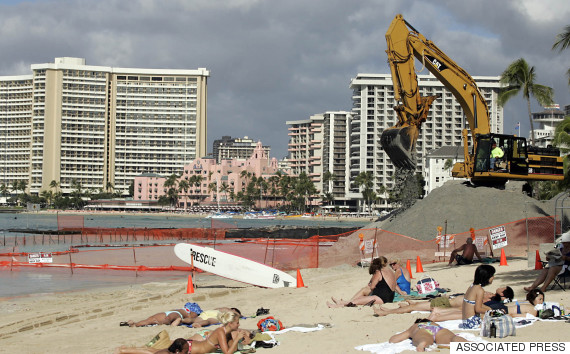 A backhoe dumps sand pumped from the ocean onto Kuhio Beach in 2006 to restore the beach from constant erosion.
Take Waikiki beach, for example, which is entirely man-made. In 2012, 27,000 cubic yards of sand was siphoned from offshore deposits, giving the beach 37 more feet and costing Hawaii $2.9 million.
But if Waikiki beach erodes as predicted, it could cost Hawaii's economy about $2 billion a year in visitor spending.
Chip Fletcher, associate dean at SOEST and co-author on the paper, said in a statement that "this study demonstrates a methodology that can be used by many shoreline communities to assess their exposure to coastal erosion resulting from the climate crisis."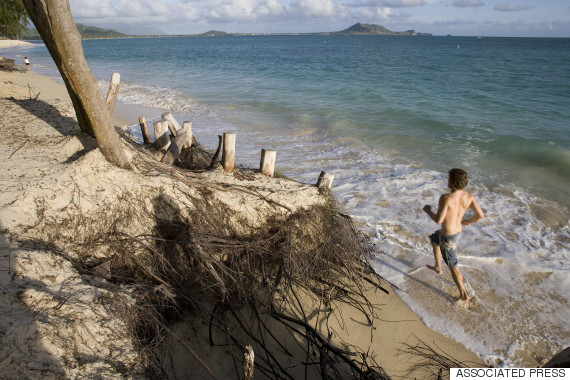 Kailua beach, on Oahu, is "historically dominated by accretion," which is essentially the opposite of erosion, the study points out. But even Kailua is projected to begin retreating by 2050.
A bill in Hawaii's Legislature seeks to reinvest in the protection of these beaches by earmarking part of the state's tax revenues -- one representative hopes for $5 million -- to fund restoration and conservation projects.
But the efficacy of many conservation projects is highly debated. The Surfrider Foundation, for instance, opposes the construction of seawalls to "armor" at-risk beaches, arguing that the structures actually encourage erosion. Instead, the group recommends restoring sand dunes and the landward retreat of structures from shorelines.
Regardless of the solution, the urgency of the problem is not lost on Hawaii.
"It is one of the most important things that we need to focus in on, because we are known for our beautiful beaches, our sand, our environment," Senate President Donna Mercado Kim said, "and if that should go, that would be so detrimental to the economy and to the environment."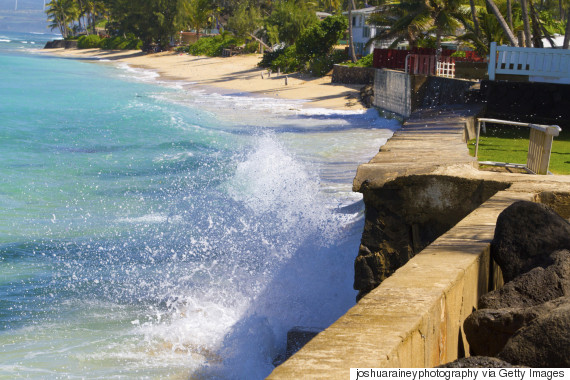 Calling all HuffPost superfans!
Sign up for membership to become a founding member and help shape HuffPost's next chapter
BEFORE YOU GO
PHOTO GALLERY
Harper Collins' Climate Change Photos