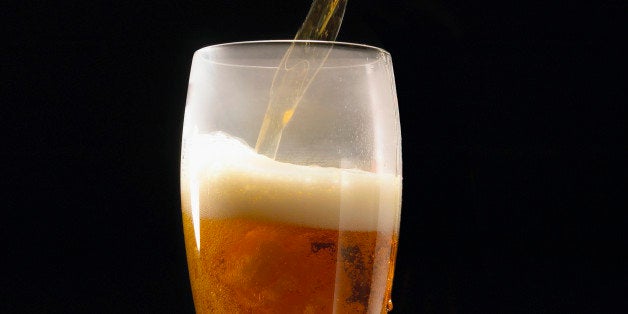 National Beer Day is October 27th and -- while our fridge is stocked with nothing but pumpkin ales -- we're starting to feel like we've had it all: the faintly European brews of New England (a perfect, cloudy glass of Allagash White comes to mind), the garish Southern concoctions (looking at you, Purple Haze), the earnest Midwestern beers (we love you, Lakefront), and the wild, but bitter Northwestern staples (Rogue's Brutal Bitter IPA, anyone?).
We're starting to wonder what beers we're missing out on. Which American craft beers are so craft-y that you can't even buy them at the super hip bodega down the street?
So, we turned to the most remote place in the entire world, which also happens to be America's 50th state. Being all alone in the middle of the Pacific Ocean, it turns out, has helped Hawaii develop a robust and unique beer landscape. If you've come across Kona Brewery's signature Longboard Island Lager (the most well-distributed of the Hawaiian breweries) you've only tasted the tip of the iceberg when it comes to liquid aloha.
According to Kona's president, Mattson Davis, it's almost unfair to mainland breweries: "We are at such an advantage with all the unique ingredients here in Kona such as Lilikoi [Lilikoi Wheat Ale] and lemongrass [Lemongrass Ginger Luau] in our beers." Not to mention a yeast strain that was discovered in the rifts of Volcanoes National Park. Kona uses that to ferment their Rift Zone Ale.
Over on the Valley Isle, Maui Brewing Co. takes both the local ingredients and the local attitude to heart. Apparently, their Bikini Blonde Lager is "What the Sailors really come to shore for" and their Mana Wheat, which is infused with Maui Gold Pineapple, inspires the sudden urge to play the ukulele.
Maui Brewing Co. president Garrett Marrero notes that Hawaii's allure to mainlanders is one of the reasons they can create such tempting island beers. "We are in a place that a lot of people like to come visit," he told FoodGPS.com last year. "And when Sam [Calagione, of Dogfish Head] calls up and says, 'Hey, I'm coming on a family vacation. Think we can brew something?' It starts out as homebrew, then we'll do something with the pub and it's national distribution, 100 barrels, 4,300 cases."
In this case, it was Liquid Breadfruit, which Maui Brewing Co. and Dogfish Head released last year.
Other notable Hawaiian breweries to scope out include: