HONOLULU ― Powerful back-to-back earthquakes shook the island of Hawaii on Friday as lava from Kilauea volcano continued to erupt from cracks in surrounding neighborhoods.
The first strong earthquake registered as a magnitude of 5.4 and originated at a depth of 4.29 miles on the south flank of Kilauea volcano. One hour later, a 6.9 earthquake struck near the same area at a depth of 3 miles. No injuries had been reported as of late Friday afternoon.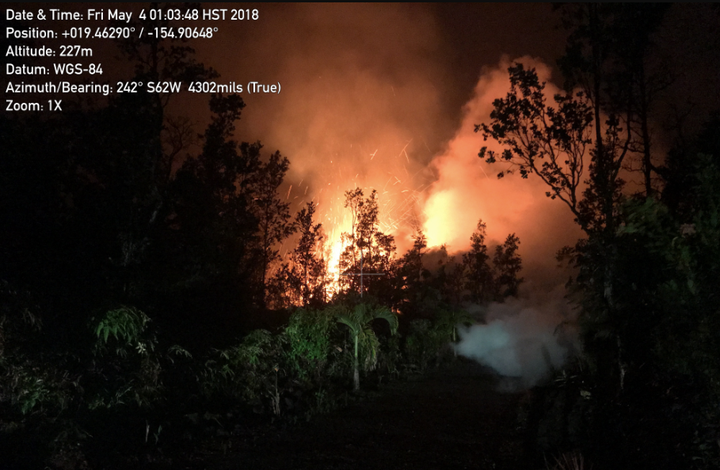 In a tweet, the U.S. Geological Survey noted that the magnitude 6.9 earthquake occurred in "almost exactly the same location" of a "deadly" 7.1 magnitude earthquake that took place on the Big Island in 1975, killing four people.
Friday's tremors did not cause any major tsunami threat to the area, according to Hawaii County Civil Defense officials.
The earthquakes struck less than 11 miles from the Leilani Estates subdivision, where at least six fissures have opened up by Friday, sending lava spewing into the streets. Two more fissures opened on Saturday.
The tremors could be felt as far as Hilo, more than 20 miles north of Leilani Estates. Francis Cristobal, who lives near the Carlsmith Beach Park in Hilo, said he returned to his high-rise apartment on Friday to find that some of his belongings broke after falling from shelves.
"It's really unnerving," Cristobal told HuffPost.
"There is something really raw about the ground shaking," he added. "As humans, we think we can rely on solid ground. If that shakes, too, it shakes you to the bones."
Kristen Hassett, another Hilo resident, posted to Facebook a video of the magnitude 6.9 earthquake shaking her house as her family runs for cover.
"No significant lava flows have yet formed," the USGS said in a report late Friday afternoon. "Spatter and lava are accumulating primarily within a few tens of yards of the vent."
The agency also said that not all fissures were active as of Friday afternoon, and lava spewing from these fissures had not traveled far.
Officials issued a mandatory evacuation for residents of Leilani Estates and the subdivision of Lanipuna Gardens in the largely rural Puna district of the Big Island on Thursday afternoon after the fissures started to appear in the streets.
Firefighters and USGS scientists were dispatched to an area where lava was crossing a road in the evacuation zone after Friday's earthquakes, Hawaii News Now reporter Mileka Lincoln said.
Two homes were destroyed by lava on Friday, according to Hawaii County Mayor Harry Kim. By Saturday, three more homes were destroyed.
There are an estimated 770 structures in the Leilani Estates subdivision.
"We all have to understand how traumatic this is for the people being affected," Kim told reporters. "It is more than just a loss of a home."
Areas affected by the lava and fissures have been blocked off to the public, and emergency officials are warning residents to stay away from the area, not only because of the threat of lava but also of deadly gases. The fissures are emitting high levels of sulfur dioxide gas, which can be life-threatening.
Volcanic activity started to increase earlier this week after the crater floor of Kilauea volcano's Pu'u 'O'o vent collapsed during an increase in earthquakes in the area.
After the collapse, the released pressure within the vent sent an "intrusion" of rising magma toward the east rift zone of Kilauea as earthquake activity continued through the week.
The first outbreak of lava occurred from a fissure in Leilani Estates, on Kilauea volcano's lower east rift zone, Thursday afternoon. The first eruption lasted for about two hours, spread less than 33 feet from the fissure and ended at around 6:30 p.m.
By early Friday morning, three more fissures had opened up in Leilani Estates and officials had ordered an evacuation for an estimated 1,500 residents.
This article has been updated with new figures on homes destroyed.
Popular in the Community