 (Adds color, quotes from pro-gay marriage rally; byline)
By Malia Mattoch and Suzanne Roig
HONOLULU, Oct 27 (Reuters) - Hawaii, which had a pioneering role in the acceptance of same-sex matrimony in the United States two decades ago, could become the 15th state to extend marriage rights to gay couples when state lawmakers meet this week for a special session.
Governor Neil Abercrombie, a Democrat, has called the session to start on Monday to debate a bill that would legalize same-sex marriage.
"I think Hawaii has always celebrated its sense of Aloha for one another," Abercrombie said in a telephone interview. "This is a question of equity."
In 1993, the Hawaii Supreme Court ruled it was discriminatory to deny marriage rights to same-sex couples.
But rather than pave the way for a gay marriage law, the ruling prompted a conservative backlash. In 1998, Hawaiian voters approved a state constitutional amendment that limited the right to marry to heterosexual couples.
The tide has begun to turn under Abercrombie, who was elected in 2010. He signed a same-sex civil unions bill into law in 2011 and has been a vocal proponent of gay marriage since then.
"To win now through the political process in Hawaii would show just how far public opinion in our nation has evolved, and how quickly," said Jon Davidson, legal director at Lambda Legal, which promotes gay civil rights. "It would demonstrate that ... allowing same-sex couples the same right to marry that different-sex couples cherish only provides greater joy and security to more families, and harms no one."
Just one year ago, only six states and the District of Columbia recognized same-sex marriage.
In June, the U.S. Supreme Court delivered a landmark victory for gay rights by forcing the federal government to recognize same-sex marriages in states where it is legal and paving the way for gay marriage in California.
But the court did not endorse a fundamental right for gay people to marry, leaving the issue to be decided on a state-by-state basis, at least for now. Same-sex couples and gay rights organizations now have 36 lawsuits pending in 20 states, according to Davidson.
Last week, same-sex weddings started in New Jersey , and the high court in New Mexico heard arguments on whether gay marriage should be recognized there statewide.
Lawmakers in Illinois are also considering the issue.
"This is an issue where we've hit a tipping point," said James Esseks, who oversees gay rights advocacy for the American Civil Liberties Union. "The momentum we have is striking."

The debate over same-sex matrimony has long divided the Aloha State, and the special legislative session is being greeted by rival demonstrations.
On Sunday, a crowd of about 300 gay marriage proponents staged an "All You Need is Love" rally at the state Capitol in Honolulu in support of state Senate Bill 1, which is due for its first hearing on Monday morning.
Men, women and children wearing colorful silk flower garlands, or leis, waved giant rainbow flags and carried signs urging passage of the measure. Some sat down at computers provided by organizers to type out statements to be presented as written testimony to legislators for the hearing.
"I am just as deserving of participating in the tradition of marriage as anyone," said Valerie Smith, 42, a school teacher who said she was just days away from giving birth to her first child but hoped to hold off delivery until she and her partner can get married in Hawaii.
They also wed in Canada in 2009 but would like to have their union legalized in their home state and their own country.
"When people tell me I don't have a right to get married, they're telling me I don't have a right to be a part of society," she said. "No one owns marriage."
Opponents of the bill who favor leaving the outcome of the debate to voters, plan to make their voices heard on Monday with a separate "Let the People Decide" gathering.
"They're starting House hearings on Halloween, when many of those opposed will be busy with their families, so we're telling people to bring their kids trick-or-treating at the state capitol," said Jim Hochberg, president of Hawaii Family Advocates, the leading group opposing the governor's bill.
Donald Bentz, head of the gay rights group Equality Hawaii, said he was hopeful the bill would pass, adding it was bad policy to allow voters - rather than lawmakers or the courts - to decide civil rights questions.
"Whenever you leave the rights of a minority up to the majority, that's a bad day," he said. (Additional reporting and writing by Edith Honan; Editing by Steve Gorman and Sandra Maler)

Before You Go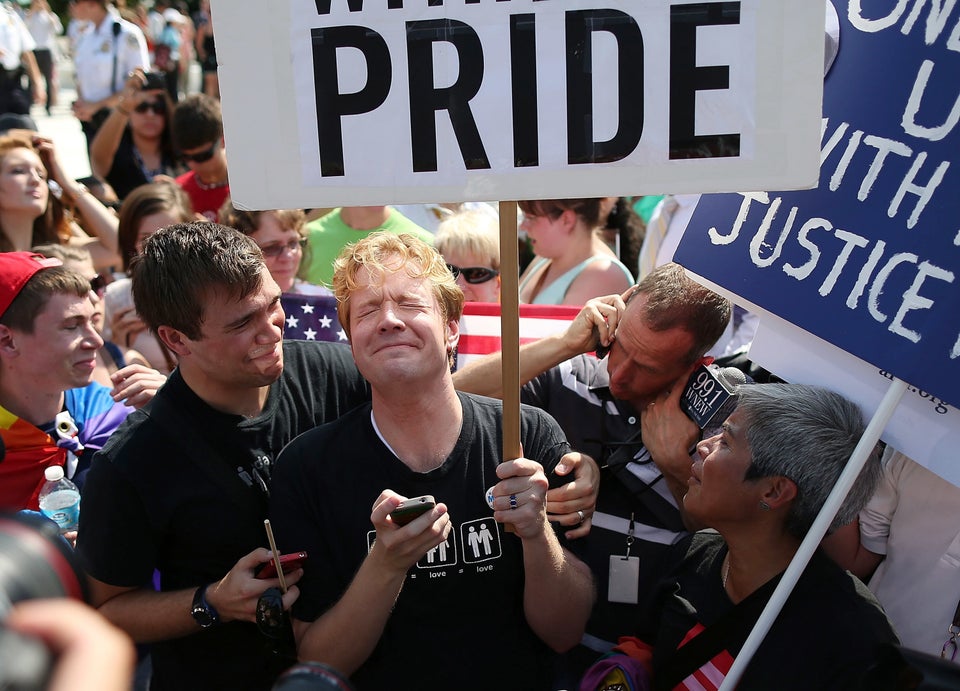 SCOTUS Decisions On Prop 8, Defense Of Marriage Act
Popular in the Community