Deciding to honeymoon in Hawaii was a great idea -- adding Kauai to our itinerary was an ever better one! The drive alone from the airport to our resort was beautiful. From the lush greenery to the mountaintops covered in clouds, the scenery is just stunning. Whether you're planning a trip now or sometime down the road, here's how we enjoyed our honeymoon on this incredible island.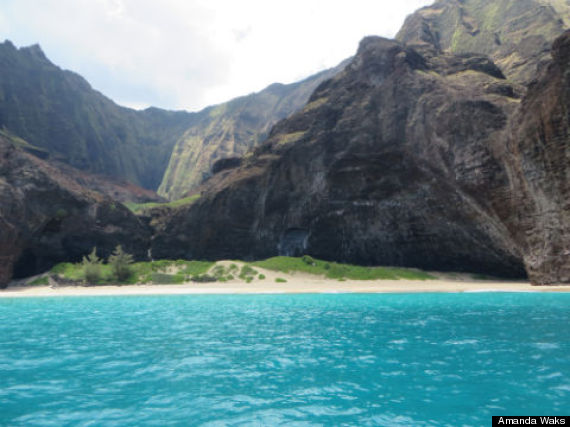 Where to Stay
Naturally, my husband wanted to stay in south Kauai because the surf is known to be better in the summer. Decision made! There are a handful of luxurious, well-known resorts in the area, but we ultimately landed on Koloa Landing, a Wyndham property steps away from Poipu Beach. The location is very convenient, yet we still felt tucked away. This was the best part! We loved the space our villa offered, especially the wrap-around lanai. While we knew we were staying at a popular resort, during high season to boot, we felt as if we had found a hidden gem just for the two of us to unwind. Not to mention, we took advantage of our gourmet chef's kitchen and the poolside barbecue to cook up a romantic dinner for two.
What to Do
It was a tough call between a helicopter tour and a sailing excursion. In the end, we called up Captain Andy's and booked two seats on their Na Pali snorkeling adventure. We had an absolute blast spending the day at sea and the sights were breathtaking. We snorkeled, toured the gorgeous coastline, learned a lot about Hawaiian culture, made friends with the dolphins, and then rode the waves back to land. We also went on an off-road Kauai ATV tour (my husband loved splashing me with mud), but spent the rest of our days hiking, exploring, surfing and relaxing.
What to See
We made a point to enjoy as much of Kauai's rural, natural beauty as we could on our trip. Our motto: If you see a "look out," pull over. If you stumble across a path, see where it takes you. Keep safety in mind of course, but be adventurous and you'll really understand why Kauai is such a magical place. My advice is to pick up a guidebook before your trip - we used this one from Lonely Planet - and familiarize yourself with the geography. Don't miss Waimea Canyon, Ke'e Beach or Hanalei Bay.
Where to Eat
For the most part, we stuck around the south shore for meals, as this is where we stayed. The beloved Beach House Restaurant is worth the splurge and has a killer view. But we also loved the under the radar spots. Like Da Crack for fish tacos and Keoki's Paradise for good food and live music. Order the fresh raw Ahi and you won't be sorry! Also, check out Pizzetta and the Sueoka walk-up snack shop for delicious cheap eats in Old Town Koloa.