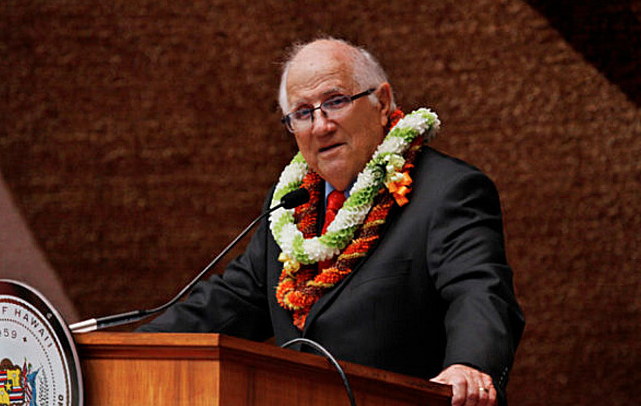 A long-serving Hawaii lawmaker will resign from his post at the end of the month in response to sexual harassment complaints made against him by several women.
Hawaii's State Ethics Commission said that state Rep. Joe Souki, an 84-year-old Democrat who previously served as the state's House speaker, has admitted to touching and kissing "more than one woman in ways that were inappropriate and unwelcome."
The commission added that Souki has acknowledged that his actions "exceeded the boundaries of the customary 'aloha kiss,'" a customary greeting in the islands that involves a platonic kiss on the cheek.
Rachel Wong, a former state Department of Human Services director, filed a sexual harassment complaint against Souki in February, accusing him of an incident that occurred in 2015 in the presence of another male colleague, the Honolulu Star-Advertiser reported at the time.
Four other women have since come forward with accusations, according to the Star-Advertiser's latest report, which did not name the women. At least two other women have filed complaints against Souki, according to Honolulu Civil Beat, but they declined to comment to the news site because they said they feared retaliation. 
Wong has told the Star-Advertiser that Souki's actions made her "unable to do my job," but she has refused to reveal further details to the media.
"There were constraints after that experience where I could no longer do my job," she added, "which means paying visits to, speaking with, the key people involved in government."
While Souki has agreed to resign as part of the State Ethics Commission agreement, he continues to deny that he intentionally misbehaved and maintains that his actions were simply "misunderstood."
In his official resignation statement, Souki said, "I have absolutely no memory of ever acting inappropriately with any women at any time, as a member of the House or in a private setting."
"I am greatly saddened that something I did was misunderstood and believed to be inappropriate conduct," he added.
In a February interview with the Star-Advertiser, Souki's attorney Michael Green said Wong was accusing Souki of acting inappropriately during a meeting with the speaker and another representative three years ago. "She just decided now three years later that that must have been sexual harassment? It's nuts," Green told the paper. 
During that interview, Green also said that Wong is claiming that Souki stood up and "adjusted his pants."
"I don't see anything she said that would rise to the level of sexual harassment in normal conversation," Green told the Star-Advertiser. "I mean, today it's kind of crazy. You can't say anything to anyone."
Speaking to reporters during a Wednesday news conference, Souki appeared to recall the meeting Green was referring to during the February interview. Souki then insisted that he merely stood up and gave Wong a customary aloha kiss after she told him she was retiring and leaving the state.
During that same conference, Green said all the accusations made against him were made three to eight years ago.
The State Ethics Commission said in its report that Souki's power "over legislation and budgeting questions" as House speaker made his accusers hesitant to come forward. At the time of the incident, the commission said, Wong led a state department that had a budget of $3.3 billion.
"Challenging then-Speaker Souki's conduct could have jeopardized her agency's budget and legislation," the commission's report read. "She, like others, felt she had no choice but to remain silent in the face of Respondent Souki's behavior." 
As part of the state agreement, Souki was required to issue a public apology, pay a penalty of $5,000 and not seek or accept any public office for two years.
Calling all HuffPost superfans!
Sign up for membership to become a founding member and help shape HuffPost's next chapter