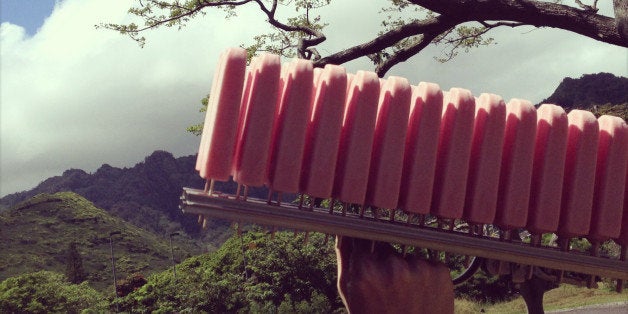 While most of us are trying to be conscious about eating local and organic foods like kale and swiss chard, a company in Hawaii has figured out how to make dessert the best way to take the "eat local" challenge.
The whole point of OnoPops, according to co-founder Josh Lanthier-Welch, is "to put a happy face on eating local."
"We're not talking about eating ulu (breadfruit) and kale," he told The Huffington Post, "we're talking about a popsicle."
And creatively yummy popsicles at that. The Honolulu-based company, whose name plays off the Hawaiian word for delicious, is driven by the challenge to use only locally sourced ingredients. The result is an impressive array of surprising and inventive flavors that pay homage to Hawaiian regional cuisine, including Lilikoi 50-50 (think Creamsicle, but made with passionfruit instead of orange), Mango Honey Cream, Kona Latte, Mauna Kea Green Tea, Mexican Chocolate (which features cinnamon and chile), and Butter Mochi (it tastes like a creamy combo of buttery pound cake and the gooey texture of the Japanese rice cake).
Inspired by traditional Mexican paletas, Lanthier-Welch and his brother Joe Welch founded the four-year-old company on a "farm to stick" philosophy while honoring the foods they grew up with on Oahu.
"It's really about the access to local ingredients," said Welch. Hawaii, as he points out, is the only place in the U.S. where coffee, chocolate, green tea, vanilla and a variety of tropical fruit are grown relatively close together in both quantity and quality.
Since 85 percent of the food in Hawaii is imported, sourcing locally is especially important to the Welch brothers. They plan to spread their locavore-dessert concept with a franchising model, first to other Hawaiian islands starting next month and then to the mainland.
"If you're having an OnoPop, you'll know that the ingredients came from within 250 miles of where you're standing," said Lanthier-Welch.