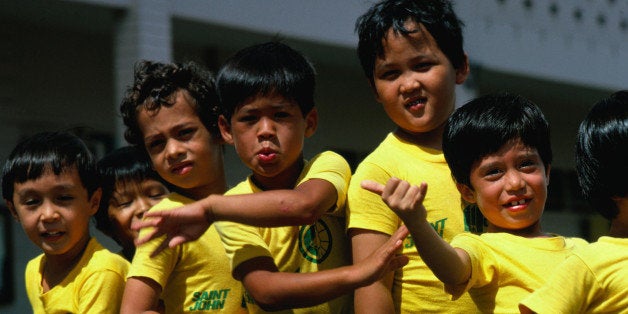 From the weather and the beaches to the aloha culture of extended families looking out for one another, Hawaii is a pretty good place to be a kid. But when you consider the state's record on educating its youngest, most vulnerable residents, it doesn't look quite so much like paradise.

"We have these giant disparities for kids," said Deborah Zysman, executive director of Good Beginnings Alliance, a child advocacy group. "It's really become about the haves and have nots."

While upper middle class families send their kids -- or keiki -- to preschool, children from lower income families are already at a disadvantage by the time they start kindergarten, Zysman said. Seventeen percent of Hawaii's children live below the poverty line, according to the University of Hawaii Center on the Family. And Hawaii's highest-in-the-nation cost of living doesn't help.

"We have kids that are living in tent cities on some of our beaches," Zysman told The Huffington Post. "There is this hidden Hawaii that people on vacation don't necessarily see."

However, Hawaii's early education disparity is getting more attention these days, with momentum building among lawmakers, business leaders and nonprofits that something must be done to begin to close the state's early education gap. Hawaii is one of 11 states without state-funded preschool.

In June, Gov. Neil Abercrombie signed a bill expanding early childhood education for 900 children. "No other piece of legislation this year was more important," he said at the time.

A broad public campaign to give all 4-year-old children access to quality preschool is bringing together voices from beyond the world of education -- from union leaders to hotel executives. A group of CEOs has made it a 2013 policy priority.

Meanwhile, educators are taking innovative approaches to expanding access to Hawaii's less fortunate keiki.

In beachfront tents on Oahu, the Ka Pa'alana Traveling Preschool is welcoming Hawaii's homeless children -- the first and only nationally-accredited preschool to do so. The school not only educates children, but offers their parents training on subjects ranging from budgeting and goal-setting to GED preparation and job placement.

As Albert Carrisales told the Associated Press, Ka Pa'alana was a crucial lifeline for his daughter Enaia after their family lost their home to foreclosure. "It means a lot to us," he said in June. "She's able to learn and get together with kids."