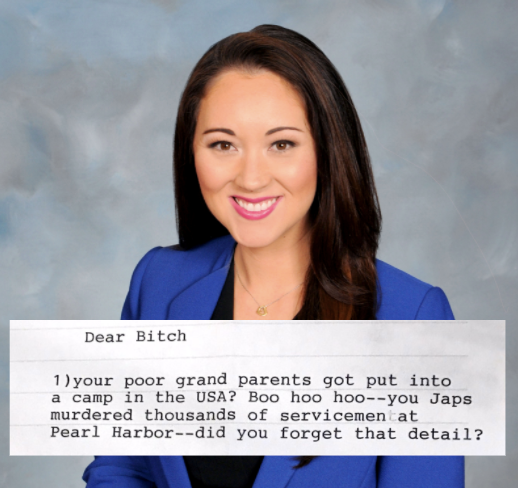 "Dear Bitch," began the note, mailed last week to the lawmaker's Honolulu office. "Your poor grand parents got put into a camp in the USA? Boo hoo hoo ― you Japs murdered thousands of servicemen at Pearl Harbor ― did you forget that detail?"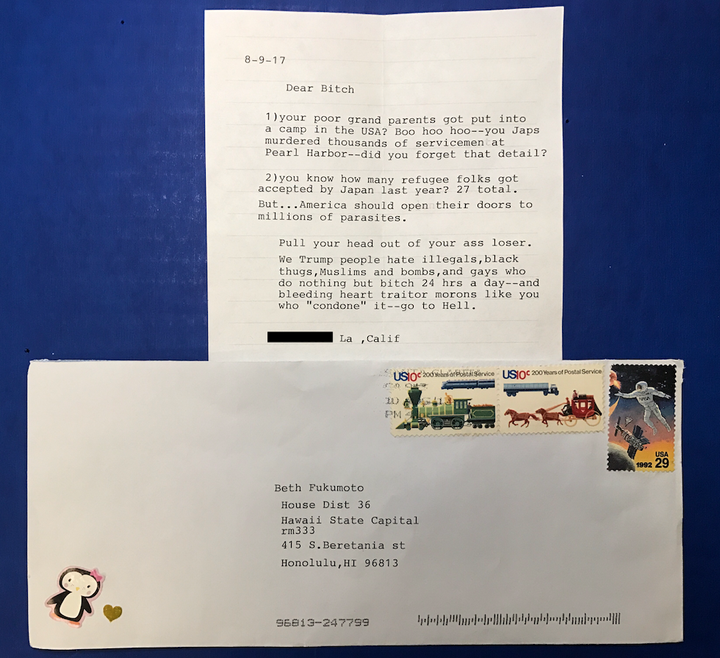 It was from a self-identified Trump supporter. In just five sentences, the letter managed to insult people of Japanese descent, refugees, immigrants, black people, Muslims and the LGBTQ community. It conflated Japanese-Americans with Japan, suggesting that they weren't actually loyal Americans and were responsible for the attack on Pearl Harbor. It also got other facts about Fukumoto's family wrong: Her grandfather was in Honolulu and was not imprisoned in an internment camp in the U.S. during World War II.
She shared the letter on Twitter and tagged the president. "You need to understand your words have consequences," she wrote.
The letter, however, "was more upsetting than usual," given the outbreak of violence between white supremacists and counter-protesters in Charlottesville, she told HuffPost.
Fukumoto's office said they're working with local law enforcement to look at ways to trace it back to the original sender. She had reached out to the security team at the Capitol in Honolulu because her staff felt threatened and feared for their safety after receiving hateful letters in the mail.
"One of the reasons that I switched parties is that I felt the Republican Party was unwilling to confront racism," Fukumoto said. "Racism specifically in the party and racism as promoted by the nominee at the time, and now the president."
When she was a Republican, Fukumoto said, her colleagues would dismiss her any time she spoke of the racism and sexism she experienced or when she would point out the offensive rhetoric in Trump's presidential campaign. She said Republican lawmakers would constantly tell her that it wasn't true and claim, "You're making it up. Nobody really thinks like that."
She says she was treated that way despite the fact that she was the minority leader for the party.
"I felt like my opinion always counted last because I was a minority and I was a woman," she told HuffPost. "That's how it feels like. To know you'll always have to work that much harder to be taken seriously is sort of the minority and the female experience in America."
All that, on top of Trump's constant racist, sexist and offensive remarks, was why she left the Republican Party, she said. It's also what fueled her decision to publish the letter.
For Fukumoto, the letter she received last week served as proof to anyone who thinks that minorities are too sensitive about displays of racism, intolerance and hate.
"To see what's going on nationally ― and really has been going on nationally for a long time ― minorities are being told, 'You're scared for no reason. You're making things up. You're the one inciting violence,'" Fukumoto said, referring to the clashes between white supremacists and anti-racism protesters in Charlottesville.
"I did want to weigh into that a little bit and say this is what's actually happening, and it's happening to people you know," she said.
The letter, Fukumoto added, shows how Trump's rhetoric as a leader allows others to be racist more freely. And she criticized the Republican Party for not doing more to alleviate the racial tension in the country.
"Here's a letter that came directly to me from somebody who says they support Trump, listing out all these people that they hate," she told HuffPost.
"I think that the Republican Party, but primarily the president, is not recognizing that everything he says is being picked up and people are acting on it.
"Even if it's a flippant comment or he doesn't say enough during a press conference, whatever it is, every single one of those choices are being picked up by somebody somewhere who's acting on it."
As a Democrat, Fukumoto continues to call out Trump for his policies, sexism and racial bias ― and she hopes the president sees the letter so he can see what kind of hatred he inspires.
"I don't like receiving those letters," she said. "But there are worse things happening [in the country] because he's talking the way he is."
UPDATE: Wednesday, 2:30 p.m. HST ― In response to allegations that the letter is faked, Fukumoto's office provided HuffPost with a copy of the envelope in which they'd received the letter and a copy of the original letter.
Fukumoto's office denied accusations they sent the letter to their own office, and said they would get the letter professionally analyzed if authorities recommend they do so.
HuffPost sent a copy of the envelope to officials at the U.S. Postal Service in Honolulu, who confirmed that the enveloped was processed by a USPS center in California before it was sent to Honolulu.
The barcode at the bottom right of the envelope, which some have claimed is used only by "commercial mailers," is in fact printed by USPS and used by their high-speed sorting machines to identify the delivery address, a USPS spokesman told HuffPost.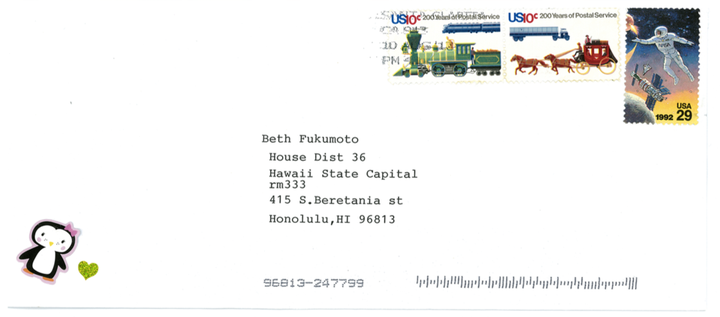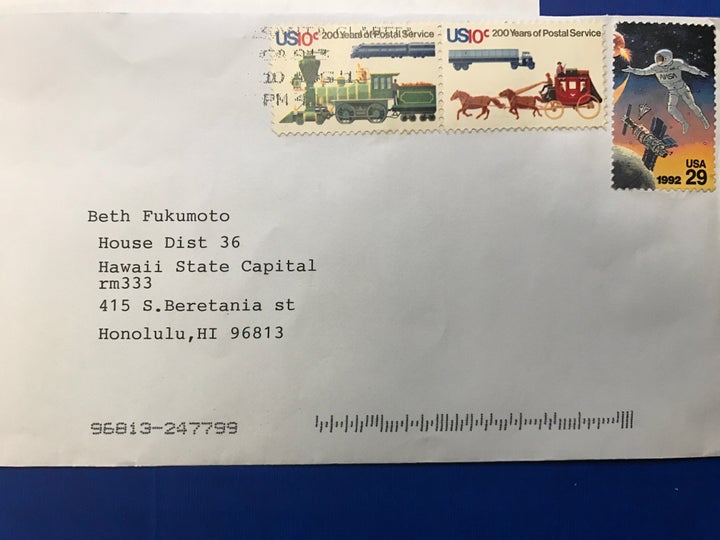 Related
Before You Go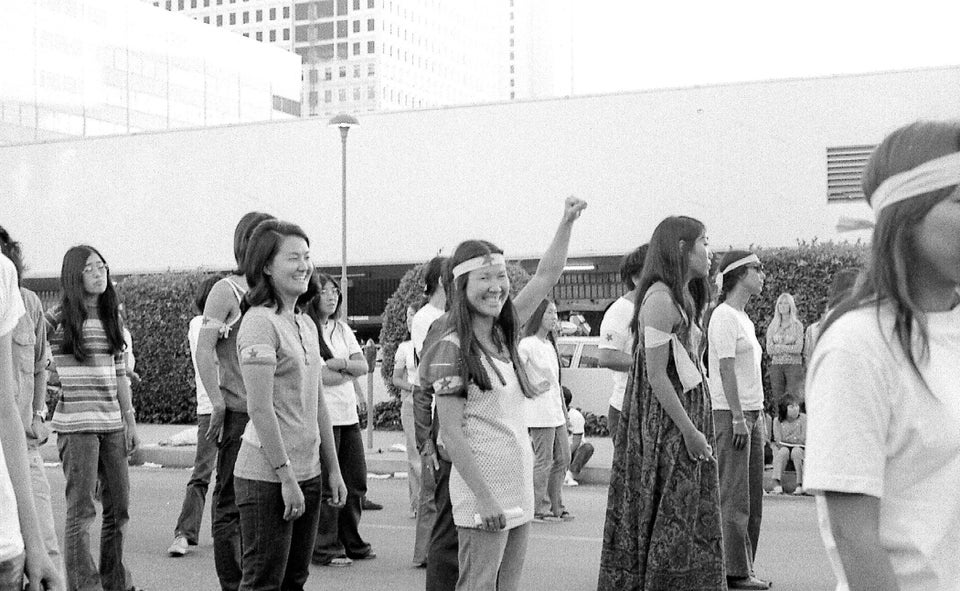 Asian Americans' Political Protest After The Vietnam War
Popular in the Community