Marti Hutchinson, 29, had only 10 minutes to grab whatever she could and evacuate her childhood home with her brother and boyfriend on May 3.
A volcanic vent had cracked open on her street and began spewing toxic gas and lava in the rural Leilani Estates subdivision of Hawaii's Big Island, which prompted the Civil Defense Agency to evacuate the neighborhood immediately. It was the first of what would be 24 fissures (and counting) to break open with explosive lava and claim 87 homes.
As officials yelled through loudspeakers for residents to evacuate, Hutchinson grabbed her dogs, important documents, a few clothes and an urn with her father's ashes. She looked desperately for her cats, but she knew they were scared by all the commotion.
"There were [Civil Defense] trucks in the driveway with their hands on the horns nonstop blaring. It was really panicky," Hutchinson said. "I had no clue what to grab. I was completely at a loss."
As Hutchinson and her group drove away down Mohala Street where she's lived nearly all her life, she said she could see lava "spraying up in the air" in the rearview mirror. She inherited her home nine years ago after her father, who built it, died. She couldn't stop thinking of the photos of him that she left behind.
Once they were out of the disaster zone, Hutchinson's group pulled over to the side of the road to take a breath. They were unsure of what to do next.
"It is very surreal," Hutchinson said. "It's really hard to put a feeling to it, except for feeling very lost."
She added: "It feels really hard to know that you have nowhere to go and nothing to your name."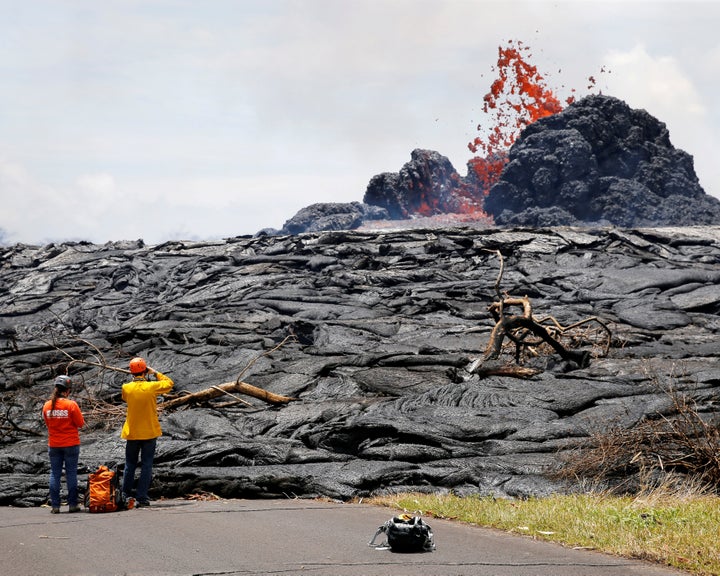 Life has changed dramatically for residents living in Leilani Estates and those who live on the slopes of Kilauea volcano.
About 2,500 people have been evacuated from their homes since May 3. They have been forced to stay with friends or family, or at one of three shelters in the area. An estimated 409 evacuees are registered in the shelters, though only 134 have a roof over their head. The rest, about 275 people, have set up tents next to the shelters or are sleeping in their cars.
If lava hasn't claimed their homes already, they are monitoring the flows to see if it will.
Four days after she evacuated, Hutchinson, who is now staying with her boyfriend's family, was allowed to go back home and retrieve anything else she needed, including the photos of her dad.
When she returned to her house, she could hear explosions from the fissures on the next street over. The ground shook as she packed her things. She found fresh cracks around her property, some two feet wide. She also found her cats.
"It was nerve-wracking because we could hear it nonstop," Hutchinson said of the eruptions. "Big loud booms like bombs were going off in the backyard. ... The ground was shaking. ... It was like being in the middle of a war zone."
Hutchinson's house remained standing for three weeks, giving her hope that it would be spared from the lava. On May 25, the flow advanced and her home was gone.
She recently visited the area where Mohala Street once stood ― where she had grown up and where she had walked up and down for years. She couldn't believe what she saw.
"I couldn't really tell where my house was," she told HuffPost. "It looked like an expansive wasteland. At this point, it doesn't really seem like Earth."
An estimation of Marti Hutchinson's property before the eruptions: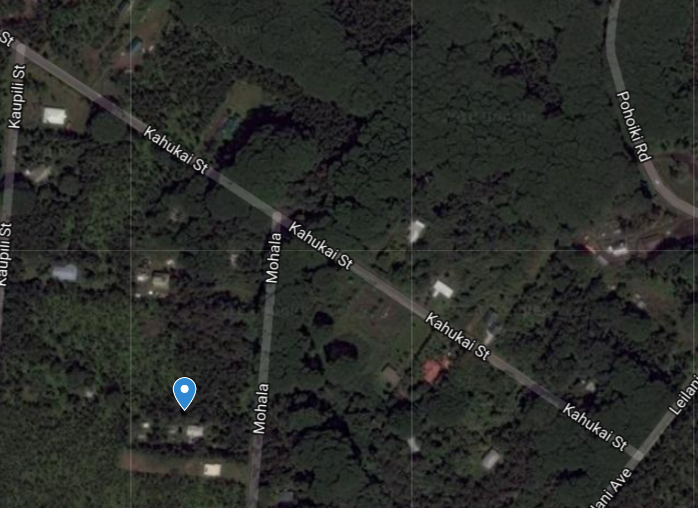 Hutchinson's home, circled in red in the post below, after May 25:
Home In The Disaster Zone
Fissures in the volcano's east rift zone, which includes parts of the Puna district, continue to open up and disgorge lava, sometimes with no warning. Some cracks spew fountains of lava hundreds of feet into the air, while other flows have joined into one massive lava river.
Officials continue to call evacuations as needed, with the latest evacuations ordered suddenly last week in a neighborhood known as Kapoho. On Sunday, Hawaii Civil Defense said that a lava flow cut off a road, trapping at least 12 people there with no electricity or water.
Like Hutchinson, some residents have chosen to stay in areas just outside the disaster zone in order to be near their community and, as Hutchinson had done, hold onto hope that their homes might be spared.
"For me, I'm camping out as long as my house is standing. I'm not leaving," April Buxton, a Leilani Estates evacuee who is camping outside the Pahoa Community Center shelter, told Hawaii Public Radio late last month.
"I could rent some place in Waimea [in the northern part of the island]," she added. "But I wanna be with my community and doing what I can to help out but I also want to be close so when it's time to go home, I can get back home."
For the past few weeks, Hutchinson has been monitoring the volcanic activity and helping her neighbors, many of whom she's known since kindergarten. She recently had to tell one of her friends that their home had been taken out by the lava, too.
The whole experience has changed the way Hutchinson sees her childhood and the lush and manicured gardens of Leilani Estates. Now, it's just a memory that's completely out of reach.
"It does put a new light on things, on how precious memories are," she said.
Chaos Is The New Normal
While the current eruptions are threatening only a relatively small part of the island, Hawaii residents have pooled their resources to support those affected.
The U.S. Geological Survey, Civil Defense, National Guard, fire and police departments. and volunteers who just want to help are working around the clock to find new fissures, keep residents safe and update everyone on whether their properties are still there.
In a Sunday morning update, the Civil Defense Agency said that first responders were actively doing search-and-rescue missions in neighborhoods isolated by lava, including Kapoho and Vacationland.
To create a sense of stability, residents have formed a community organization headquartered near the affected areas called the Pu'uhonua o Puna. Pu'uhonua, a Hawaiian phrase, roughly translates to "a place of refuge."
There, donations of food, water, clothes and respirators for the toxic fumes are dropped off by volunteers and picked up by evacuees. People also gather there to find more information on whether their homes are still standing or advice on what to do next.
Now, when Hutchinson talks about her hometown in Leilani Estates, she speaks of it like a faraway memory, even though she was peacefully living with her dogs, cats and fruit trees just over a month ago.
In the weeks following the eruptions, Hutchinson says she's heard people criticizing her and others for choosing to live atop an active volcano. She says those people don't understand the Big Island the way its residents do.
"We grew up with the lava, we understand it's part of our world," she said. "That doesn't make it any easier when it shows up in your backyard."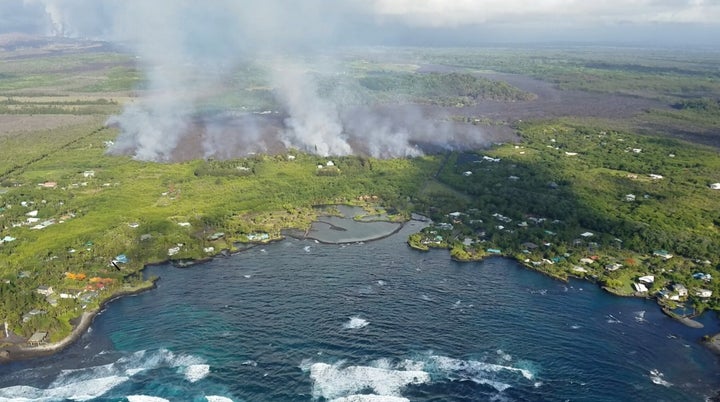 Before You Go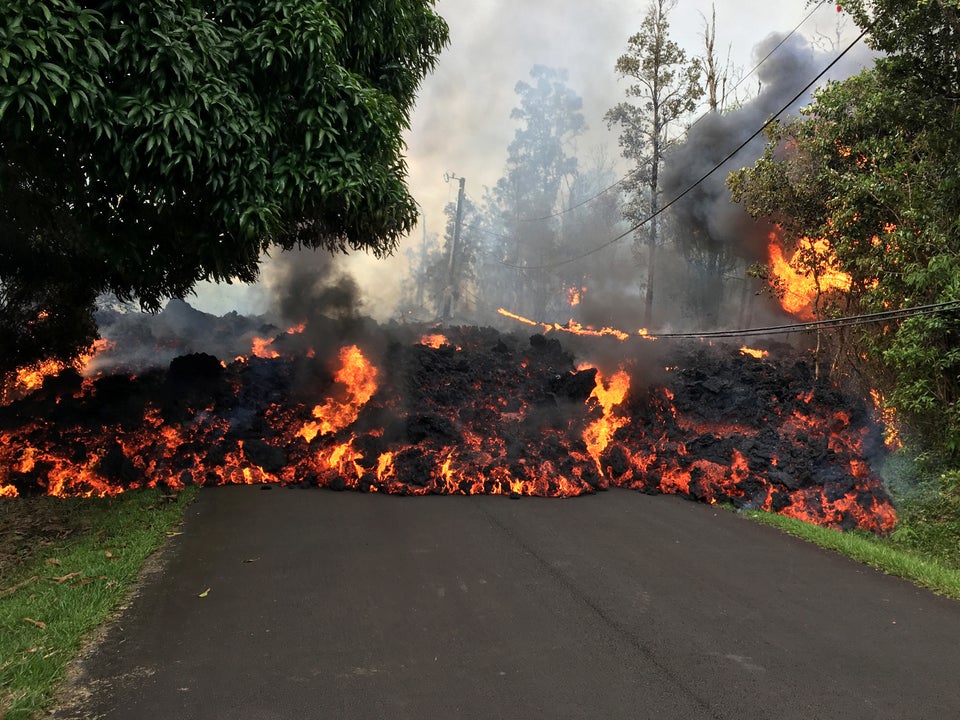 Hawaii Eruptions 2018
Popular in the Community