HONOLULU - Same-sex marriage legislation finally cleared another major hurdle.
Despite 55-plus hours of oral testimony, most of it weighted heavily in opposition, two Hawaii House committees passed Senate Bill 1 Tuesday by a comfortable margin.
The Judiciary Committee passed the bill 8-5. The Finance Committee passed it 10-7.
The bill, amended to expand exemptions for religious groups that oppose gay marriage, now awaits full House votes. A second reading is set for 10 a.m. Wednesday with third reading sometime on Friday.
That will send SB 1 to the Senate for its consideration early next week, following the Veterans Day holiday Monday.
SB 1 was amended to expand exemptions for religious groups that oppose gay marriage by including "for-profit" organizations who can opt out of marriage ceremonies. The House is following the example of Connecticut's same-sex marriage law, Judiciary Chair Karl Rhoads explained in a press conference following the vote.
"The big issue — the most important — was the religious exemption," he said.
Under the new language, a church would not have to provide "goods, service, or its facilities for the solemnization or celebration of a marriage that is in violation of its religious beliefs or faith." The exemption would apply to religious organizations and nonprofit groups even if those activities are "for profit."
The amendment also removes a section on parental rights that had upset many testifiers and committee members — especially Native Hawaiians. It also changes the effective date of the bill to Dec. 2 to give the Department of Health more time to set up a registration system, while taking care of a few minor technical details.
Finance Chair Sylvia Luke said the amendment takes into consideration the concerns of representatives and the public. She called this "unusual" in a special session, when bills are typically not amended.
Unless the Senate accepts the amended version of SB 1, a conference committee will work between the House and Senate to find compromise language, and then send the the bill to the governor. Rhoads said he was unsure what the Senate would do.
"You never know," he said. "They have their own minds."
Gov. Neil Abercrombie and Attorney General David Louie released a statement regarding the amendments, saying the proposals "strike a balance between the bill that was introduced by the Legislature and concerns raised in written and oral testimony during public hearings."
The House committees' vote on same-sex marriage went largely as expected, with only a few surprises.
Voting in support of SB 1 were Democrats Rhoads, Luke, Della Au Belatti, Tom Brower, Denny Coffman, Chris Lee, Derek Kawakami, Jessica Wooley, Scott Nishimoto, Richard Onishi, Mark Hashem, Kaniela Ing, Bert Kobayashi, Nicole Lowen, Dee Morikawa, Gregg Takayama and Kyle Yamashita, and Republican Cynthia Thielen.
Voting in opposition were Republicans Aaron Ling Johanson, Beth Fukumoto, Bob McDermott and Gene Ward, and Democrats Mele Carroll, Justin Woodson, Sharon Har, Clift Tsuji, Ken Ito, Ty Cullen, Jimmy Tokioka and Jo Jordan.The decision was obviously painful for many lawmakers.
Ing, a freshman lawmaker, explained how he came from a conservative Christian family that was taught that homosexuality was a sin. But, as he met gay people and became educated, he came to the conclusion that the Bible was in error in that regard because "being gay is not a choice."
"Why deny more loving couples from getting married?" Ing asked before casting his vote.
Carroll, a fellow Democrat who was thought to be in favor of same-sex marriage, voted against it.
Tearing up at times, she said she was upset with "the process" of hearing the bill and angry at some in the LGBT community who had personally threatened her. Carroll also argued that the Legislature had not been "transparent," amounting to a government betrayal of the people.
Har, while calling the SB 1 hearing "a wonderful display of democracy at its finest," also complained about the process, saying that SB 1 should have been heard during regular session. She also said the religious exemptions did not go far enough and suggested that the law could turn Hawaii into "a totalitarian state."
Ward, meanwhile, called the exemptions "weak" and "wobbly."
"What we've got now is kind of a jalopy of sorts," he said.
Several lawmakers were also upset that more neighbor island folks were not able to testify. By Tokioka's count, only three came over from Kauai.
The public-input portion of the debate over same-sex marriage legislation is largely over. Supporters and opponents can still hold rallies at the Capitol, walk the hallways and crowd the House and Senate galleries, but the legislation is now in the hands of legislators.
Tuesday's hearing began at 10:30 a.m. in the Capitol Auditorium with Rhoads asking testifiers and lawmakers to "be civil" with each other. Not everyone listened. Not longer after, Luke asked the House sergeant-at-arms to escort an unruly audience member out of the room.
While 5,184 people signed up to testify, and because of the time commitment required, not everyone stuck around to speak. The House decided Monday to accept testifiers who had been called but were absent; that rule continued Tuesday morning, when the remaining testifiers held numbers between 3,200 and 3,400.
As has been the case throughout the Legislature's special session, most people testifying on SB 1 Tuesday strongly disliked it.
"We love our mahus, but I oppose SB 1," said a Hawaiian woman and church-goer, who said the bill would "defile" the state.
"Just because Lady Gaga says you're born this way doesn't make it right," said another opponent.
An SB 1 supporter, however, told legislators they should be on "the right side of history" and correct the mistake made in 1998 when Hawaii voted to give the Legislature the authority to restrict marriage between one man and one woman.
In contrast to previous testimony, things moved pretty quickly Tuesday. By 12:50 p.m. or so Luke issued a "last call" of 2 p.m.
"We have heard five days of testimony and we would like to start deliberating on decision-making," she said. "So line up now."
Sensing opponents were running out of time, McDermott asked Luke to grant the two committees a five-day recess before a vote was taken so legislators could talk with their constituents. Luke said it was up to Speaker Joe Souki, another way of saying there would be no recess.
Luke and Rhoads thanked their staffs and a (mostly) patient audience.
"I know it can be a very frustrating experience to wait for days and days to testify for two minutes," Rhoads said. "We've done our best to accommodate everyone."
"Now we can sleep for a week," Luke said afterwards
Support HuffPost
The Stakes Have Never Been Higher
Before You Go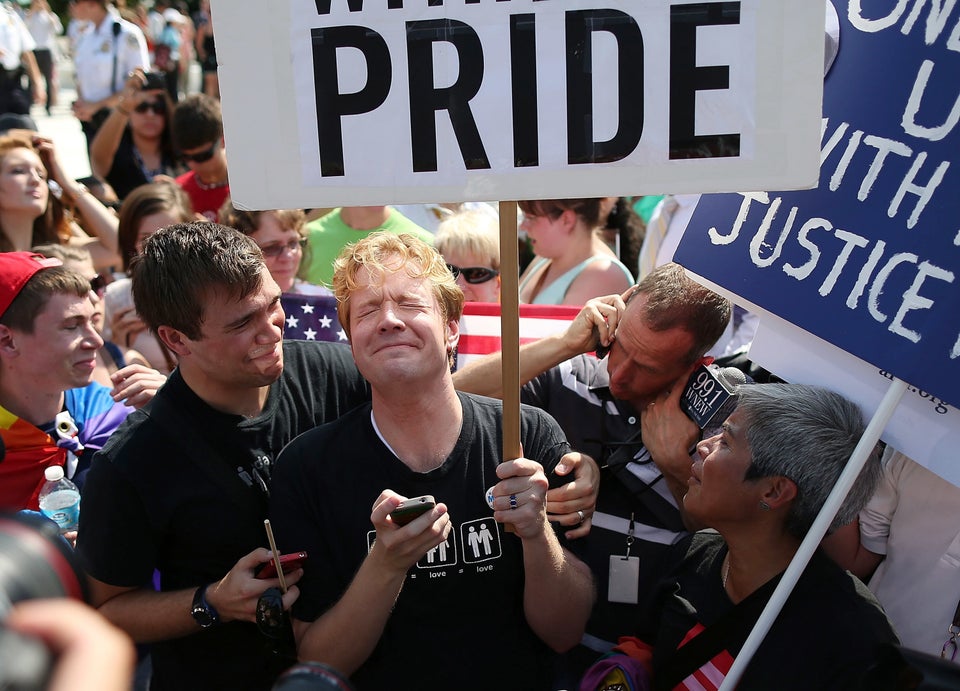 SCOTUS Decisions On Prop 8, Defense Of Marriage Act
Popular in the Community