After nearly 12 hours of passionate, repetitive, sometimes heated and often ill-informed testimony, the Senate Judiciary and Labor Committee passed a same-sex marriage bill late Monday.
The vote on Senate Bill 1 was 5-2, with Democrat Mike Gabbard and Republican Sam Slom in the minority.
"This measure represents the Committee's best effort to balance the interests of supporters and opponents of this issue," said Senator Clayton Hee, chairman of the Senate Committee on Judiciary and Labor. "The Senate's bill preserves religious freedoms and ensures that the rights of all Americans are preserved as enshrined in the United States and Hawaii Constitutions."
SB 1 now awaits a vote in the full Senate, where it is expected to pass comfortably. It will then be heard by the House Judiciary and Finance committees Thursday morning, where its fate is less certain.
The public hearing for SB1 attracted more than 1,800 people who said they wanted to testify. That prompted Hee to limit testimony to one minute.
The time limit was not imposed on the first group of testifiers, however. They included Gov. Neil Abercrombie and Attorney General David Louie.
The governor was uncharacteristically brief in his comments. Perhaps in recognition that it is the Senate's prerogative to decide the fate of SB1, Abercrombie did not push his own same-sex marriage bill.
Instead, the governor said that after two decades of public deliberation on gay marriage, all that could still be said on the issue had been said. He closed with an inspirational quote by the Dalai Lama.
Louie told senators they had a historic opportunity to change lives "for the better."
"We believe this is the right thing to do and the right time to do it, and the Legislature has the right people to make it happen," he said.
But Louie's arguments in favor of SB 1 were complicated by his comments on how federal rights and benefits for same-sex couples would be recognized if Hawaii legalized same-sex marriage.
Under questioning by senators, Louie acknowledged that a same-sex couple that got married in California and then came back home would receive the federal benefits that were the basis of the U.S. Supreme Court's rationale to strike down a section of the Defense of Marriage Act.
If that is the case, Hee asked Louie, why should Hawaii bother to allow same-sex marriage here?
Louie responded that some federal benefits — estimated to total 1,138 — could be denied to Hawaii same-sex couples if the benefit was based on where the couple made their permanent domicile. Medicaid and the Family and Medical Leave Act are two examples.
Louie also said that requiring a same-sex couple to go to California to get married would amount to "not an insubstantial burden," referring to airline ticket prices.
But Slom dismissed Louie's argument. He said, "People go to California very frequently, so we should adjourn this meeting and session." After the hearing, Hee lamented that Louis was not better prepared for the hearing.
Hee asked Louie to provide the Senate (and the House, should they ask for it) a more detailed explanation of the federal benefits currently denied Hawaii same-sex couples.
Louie also dismissed arguments that the Legislature should put the question of same-sex marriage before voters via a constitutional amendment — the desire of many testifiers. He said the 1998 vote that effectively defined marriage in Hawaii as between one man and one woman gave the Legislature the power to revisit the issue.
Stephen Levinson, the retired Hawaii Supreme Court justice who authored the 1993 opinion that began the same-sex marriage movement, explained what he believed the DOMA decision (United States v. Windsor) means: that the U.S. Congress in passing DOMA violated the constitutional principle of due process of law as found under the 14th Amendment.
"The marriage equality wave is washing onto shores on four continents and Oceania all around the world," said Levinson, who urged Hawaii to catch the wave.
But Bill Hoshijo, executive director of the Hawaii Civil Rights Commission, raised other concerns about SB 1 — namely, worry that exemptions for religious groups in the bill would skirt the state's public accommodations law. Hoshijo urged senators to clarify the scope of the exemption, particularly the definition of "for profit" religious organizations that rent their facilities.
Hee asked Hoshijo to help submit recommendations so that his committee could better define the meaning of religious organizations.
The most intense arguments against SB 1 during the first group of testifiers came from Gary Secor, vicar general of the Diocese of Honolulu.
Secor, who represented the Hawaii Catholic Conference — the public policy office of the Roman Catholic Church in Hawaii — explained that the conference's opposition to legal recognition of gay marriage is based "not only on the religious teachings of the Catholic Church, but also on the church's concern for the potentially negative sociological impact such relationships may eventually have on society."
Secor called marriage between one and one woman "a fact of nature." He said he failed to see how SB 1 adequately protected constitutional religious freedoms.
Not long after that, the Senate committee began to hear from other testifiers, limiting them to one minute and breaking them into more than a dozen groups that numbered 25 people each. In orderly fashion, each person testified one after the other; security personnel made sure no one got out of hand — even searching the bags of media and running a metal detector wand over their bodies before they entered the Capitol Auditorium where the hearing was held.
The testifiers largely fell into two groups: those who oppose gay marriage on religious grounds and want a constitutional amendment question on the ballot, and those who support same-sex marriage and argued that the fundamental issue of civil rights is not one that needs to be decided by a popular vote. On balance, opponents appeared to heavily outnumber supporters.
Because of the repetition of testimony, senators, including Hee, were able to take short breaks while their colleagues continued the hearing. When testifiers exceeded their time limit, a bell was rung.
The testimony grew more passionate as the hearing went on. At one point opponents of SB 1 recited "The Lord's Prayer."
"I am not a bigot, I am not homophobic, I am filled with compassion and lots of aloha, that is my DNA as a Native Hawaiian," said Colette Machado, the chairwoman of the Office of Hawaiian Affairs who testified as an individual. "But I raise this issue of fast-tracking of SB 1, whether we need more time for community input. We need to hear the voices of our people. ... A special session is inadequate."
Strider Didymus, who is a familiar presence at the Capitol, argued that homosexuality "is an abomination" according to the word of God, and that people who choose a "deviant path pollute their own bodies and give themselves over to Satan."
On the other side of testimony were people like Isis Osbourne, who pointed to Brown v. Board of Education as a precedent for enacting gay marriage.
"Every American should be entitled to Constitutional protection," she said.
Said Jean Corpus, "I'm a gay, Filipino, Catholic man. Not all religious people are against this bill."
And, in a line that got lots of laughs, Laurie Cicotello — the daughter of a transgendered parent — thanked Gabbard for raising a daughter (U.S. Rep. Tulsi Gabbard) who voted to repeal DOMA. Sen. Gabbard smiled.
House GOP: Let Voters Decide
Over on the House side, Republicans Bob McDermott, Gene Ward and Richard Fale called on Speaker Joe Souki and their fellow reps to hear a bill to put a constitutional amendment on the ballot that would let voters decide the issue of gay marriage.
"I implore you, sir, please let the people's voices be heard," McDermott said.
Ward said a "very costly, very scientific" survey found that most people in Hawaii want the issue of gay marriage to be decided at the polls.
The proposed constitutional amendment is being put forward through House Bill 5.
It's up to House Finance Chairwoman Sylvia Luke and Judiciary Chairman Karl Rhoads whether HB 5 will get a hearing, but lawmakers have said privately they don't expect it to be heard. The House Finance and Judiciary committees are set to meet jointly at 10 a.m. Thursday to hear the Senate bill.
There was an effort to split the joint House hearing into two separate hearings, but it ultimately failed in a 34-13 roll-call vote — a vote that may foreshadow how the House will ultimately vote on SB 1. More procedural moves to combat SB 1 are expected Tuesday.
Meanwhile, thousands of people swarmed the Capitol in waves throughout the day.
It started early with a crowd that was largely in favor of gay marriage rallying before the legislative session started at 10 a.m.
Rep. Chris Lee, Sen. Roz Baker and others addressed the crowd.
Choking up at times, Baker said she had been shocked at the substance of some messages to her office from opponents of gay marriage.
"They claim to be Christian, but they are not pono, not right," she said to enormous cheers. "There is no place in Hawaii for this."
Then around 3:30 p.m., hundreds of people against gay marriage started arriving on buses and held a huge rally outside the Capitol that was easily well over 1,000 strong. Some carried crosses and many carried signs saying "Let the people decide" and "1 Man + 1 Woman = 1 Marriage." Priests addressed the crowd, cautioning of the dangers to society if homosexual behavior was "normalized."
Inside House chambers during the morning session, dozens of people filled the seats in the gallery, representing both sides of the gay marriage debate. Some wore blue, short-sleeve collared shirts with the names of various churches, like Cedar Assembly of God. Others wore rainbow-colored lei and blue t-shirts with "Hawaii United for Marriage" printed on the back.
Nazis, Righteousness and Keiki
It was a long day that saw the energy ebb and flow among the public and the lawmakers. Hee first greeted testifiers with a "Good morning," then a "Good afternoon" and finally a "Good evening."
Smiles turned to sighs as the hours wore on. By 7 p.m., it had become an endurance contest. By that time, a new wave of testifiers, mostly against SB 1, turned up.
Some of the testimony from opponents of SB 1 seemed to have little basis in fact. Many said that the bill was being pushed on Hawaii by outsiders, and that if passed it would somehow harm Native Hawaiians. Indeed, the words most repeated throughout the night (besides Hee saying, "Please wrap it up") was the state motto, "Ua Mau ke Ea o ka Aina i ka Pono." The argument was that gay marriage would not be righteous.
Another testifier linked gay marriage supporters to Nazi Germany, stating that a minority was trying to exert their view over a silent majority. (There was no mention of the fact that homosexuals were, in many cases, persecuted and killed in Nazi death camps.) Others warned that the Department of Education would somehow change its curriculum in response to gay marriage in such a way that children would be endangered. And still others said only a man and woman can procreate.
Hee tried to point out the fallacy of some of the testimony. If the Legislature was "redefining marriage," as SB 1 opponents claimed, then wasn't allowing interracial marriage another example of redefining what is now accepted?
Generally, though, the Senate panel let the people have their say. If this hearing is any indication, the House hearing on Thursday could go quite late — or well into early Friday.
Hee was asked by reporters whether the public had enough time to weigh in on marriage rights for gays. He said that the issue had been debated thoroughly for two decades, as well as in the past 10 weeks since the governor ordered a special legislative session.
Of 3,459 pieces submitted by Sunday morning, 40 percent were in favor of SB 1 and 60 percent were either against SB 1 or the special session, said Hee. It's not clear what the testimony submitted since that time said; Hee said his staff hasn't had the time to read it all.
Before You Go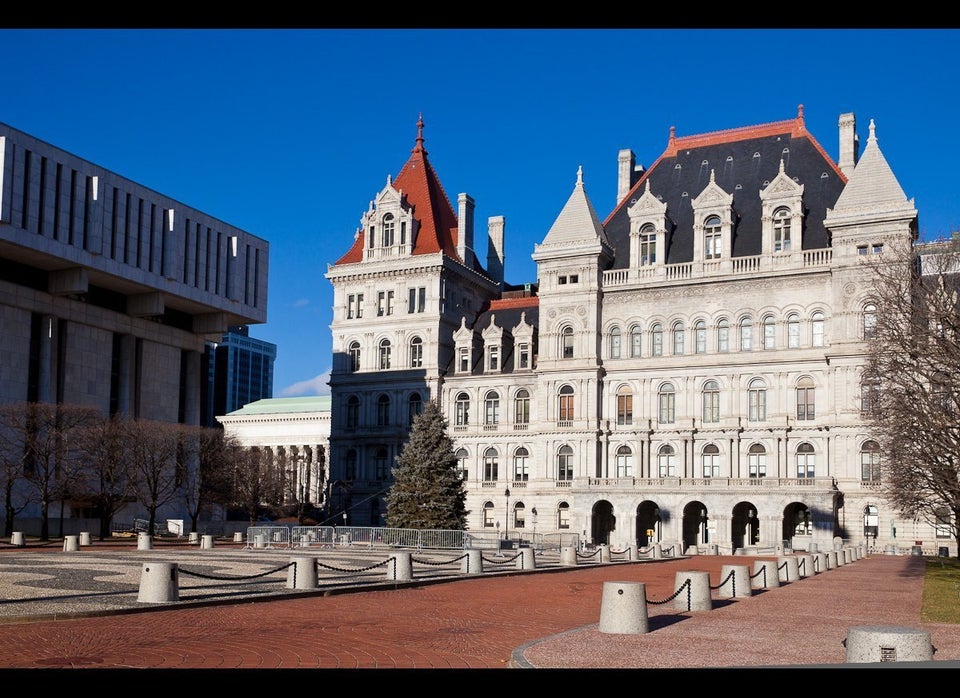 Gay Marriage In The United States
Popular in the Community