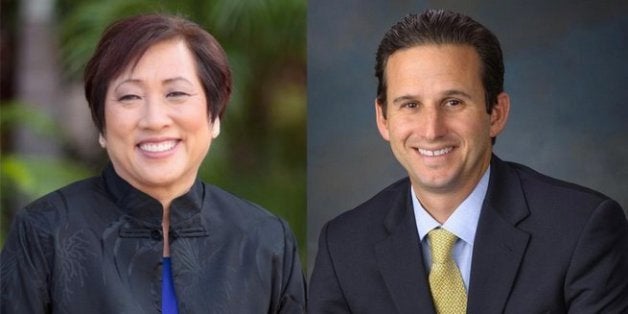 The results of Hawaii's tight Democratic Senate primary could come Friday, after voters in two storm-ravaged precincts finally get a chance to cast their ballots.
Hawaii held its primary elections on Saturday, but many voters in the district of Puna were unable to turn out to vote because of a tropical storm that swept through the area.
The results of the Democratic Senate primary, between Sen. Brian Schatz (D-Hawaii) and Rep. Colleen Hanabusa (D-Hawaii), remain too close to call. Schatz currently has just a 1,635-vote lead.
On Monday, Hawaii's Office of Elections announced that voters in the two affected precincts in Puna will get a chance to vote in person Friday, which is a state holiday. According to Honolulu Civil Beat, the results will be announced that same evening.
"Only voters who are assigned to Hawaiian Paradise Community Center (04-01) and Keoneopoko Elementary School (04-02), who did not previously vote by absentee mail ballot or at an early vote site will be allowed to vote," according to a statement from the agency.
Hanabusa told Politico Monday that her team of lawyers are looking into possible "irregularities" in the voting in the areas affected by the storm, beyond just the two precincts that are getting additional time to vote.
"There are irregularities that have occurred in terms of just access, and I'm hoping that the Office of Elections will look at it," she said.
"We've got a lot of people coming up to us saying, 'We couldn't get out to vote but they didn't close us down,'" she added. "We have a lot of people who are talking about the election because they felt in fact they were disenfranchised."
The Hawaii Senate primary has been heated, with Schatz touting his progressive credentials in the deep blue state and Hanabusa playing up her ties to the late Sen. Daniel Inouye (D-Hawaii). The "last wish" of the late senator reportedly was for Hanabusa to take his seat. But Gov. Neil Abercrombie (D) instead appointed Schatz, who had been his lieutenant governor.
Want more updates from Amanda? Sign up for her newsletter, Piping Hot Truth.