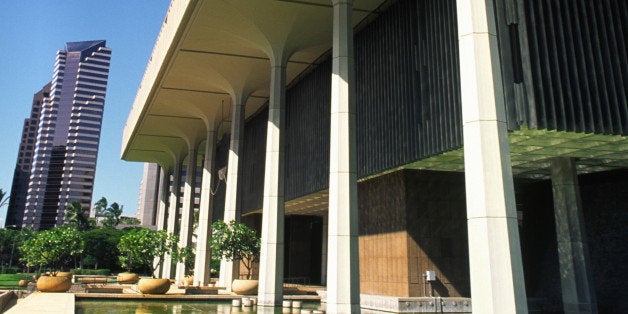 Even though Hawaii does not allow gambling, it's a pretty good bet that the Aloha State will become the 15th state to allow marriage between same-sex couples.
If all goes as planned — that is, if legislators are able to agree on language that satisfies supporters of marriage equality while granting deference to religious expression — Hawaii will follow New Jersey, where gay marriages became legal just last week.
Passage of a bill could come next week, with Gov. Neil Abercrombie likely to sign it quickly and make same-sex marriage law in Hawaii as early as Nov. 18.
The action begins at 10 a.m. Monday on the respective floors of the Senate and House. Supporters and opponents of gay marriage will be in the galleries and the Rotunda, and sign-waving along Beretania Street. In Capitol offices and corridors, both sides will be busy lobbying.
While the Senate may get through its floor business fairly quickly — the Senate Judiciary and Labor Committee is set to begin hearing the marriage proposal, Senate Bill 1, at 10:30 a.m. — the House may see some fireworks of their own. That's because House members remain divided over same-sex marriage, and members who oppose it may try to introduce other bills or resolutions to force votes and find out where all 51 members stand.
Some legislators, including Republican Bob McDermott, prefer a bill that would put the gay marriage matter before voters in the form of a constitutional amendment question on the ballot. But that view has minority support.
Look in particular to see what Sharon Har, the majority whip who is against gay marriage, and Marcus Oshiro, the former Finance chairman and part of the leadership of former Speaker Calvin Say, do and say in floor discussions. And watch how many church groups pack the House gallery.
No one knows for sure how many House reps support same-sex marriage, but most Democrats in leadership believe they have more votes than the 26 required for a majority. Democrats control the House 44-7, and all but one Republican (Cynthia Thielen) is on record opposing gay marriage rights. The final tally of reps supporting gay marriage numbers around 30, though it changes from day to day, House insiders say.
The action in the House Monday will foreshadow whether it will be a smooth or bumpy ride for the special session, and one House leader predicts things will be "tumultuous" at times. In Senate Judiciary and Labor, meanwhile, all eyes will be on Chairman Clayton Hee, who is known for firm control of his committee hearings. Testimony in the Capitol Auditorium will be time-limited, Hee will encourage oral testifiers to keep things succinct and Capitol security will be on hand to try to ensure everyone stays in line.
Barring new information that would warrant a change, SB1 will probably not be amended by Senate Judiciary; the pattern would parallel Hee's shepherding of the civil unions bill in 2011. Five committee members — Hee, vice chair Maile Shimabukuro, Majority Leader Brickwood Galuteria, Majority Policy Leader Les Ihara and Malama Salomon — are expected to vote "aye" on SB1; Mike Gabbard and Republican Sam Slom are expected to vote "no."
The full Senate could vote Tuesday to pass the bill, with only Gabbard, Slom, Senate President Donna Mercado Kim and Vice President/Majority Caucus Leader Ron Kouchi likely no votes; Sen. Donovan Dela Cruz, previously identified as being against gay marriage, now appears on board.
Things to watch for: Will David Ige, Abercrombie's opponent in the Democratic primary next year, take a vocal (rather than passive) position in favor of same-sex marriage? What will Gabbard and Slom say in their public comments on the bill?
SB1 could then make its way to the House by Thursday, where two committees — Judiciary and Finance — would hear the measure. Unlike the Senate, where only one committee is hearing SB1, the House decided to have its two largest and most important committees present to hear testimony and take a vote; one reason is that many of the members are new and have not heard previous deliberations over gay marriage or civil unions.
The House is expected to amend SB1 to grant broader exemptions for religious organizations that don't wish to perform same-sex marriage ceremonies. The "religious exemption" business is the most sensitive and thus difficult part of the bill to agree on; the House might incorporate recommendations from the Abercrombie administration, which has offered a tweaked version of SB1 that says churches would not have to make facilities available for a marriage if they don't operate "primarily as a for-profit business."
The House is not expected, however, to carve out an exemption to the state's public accommodations law, which prohibits discrimination on the basis of sexual orientation. Assuming SB1 passes Judiciary and Finance (as in the Senate, the hearings will run for hours) amended, it goes back to the Senate, where the big question is whether that chamber will readily accept the new language.
SB1 would then need final votes in both chambers, and it could head to Abercrombie's desk for his signature early the following week. The governor, wanting to both honor the historic nature of the law and make the best out of a great photo op (if you haven't heard, he's unpopular and running for re-election), may choose to hold a big bill-signing ceremony, perhaps at Washington Place.
The special session is not all about gay marriage: There are a number of measures before lawmakers, and two that are expected to attract attention are Abercrombie's appointments of Shawn Smith to the Board of Land and Natural Resources and Genevieve Salmonson to the Office of Environmental Quality Control. The picks, especially Salmonson's, are controversial and possibly in trouble; Salmonson's confirmation hearing is set for Tuesday morning in Senate Energy and Environment, while Smith's is Wednesday afternoon in Senate Water and Land.
There are other judicial, board and commission appointments to take up during the special session, as well as appropriations for two collective bargaining agreements and funding for Kauai's regional health care system. These may be historic times for Hawaii.
Calling all HuffPost superfans!
Sign up for membership to become a founding member and help shape HuffPost's next chapter
BEFORE YOU GO
PHOTO GALLERY
Gay Pride Around The World