HONOLULU -- Construction of Hawaii's $1.4 billion Thirty Meter Telescope has been delayed yet again. The Hawaii Supreme Court issued an order Tuesday that temporarily blocks crews from working on the telescope.
For more than a year, Native Hawaiians and environmentalists have succeeded in stalling the building of TMT -- one of the world's largest telescopes -- via a series of coordinated protests.
The motion was filed by the same group that is challenging the state's issuance of permits for the project. Mauna Kea, a dormant volcano on Hawaii's Big Island, is considered sacred in Native Hawaiian culture and opponents argue the telescope would desecrate the space and cause environmental damage to the mountain. 
In August, the Supreme Court heard oral arguments in the case, but a final ruling has not been made.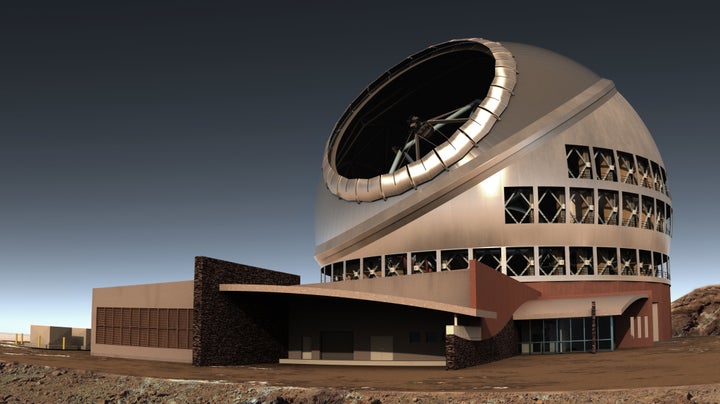 Scott Ishikawa, a spokesman for the project, said in a statement Tuesday that the TMT team respects the court's decision and will "stand down" until Dec. 2. The decision, he said, would "give all parties involved in the appeal sufficient time to respond to the motion."
Kealoha Pisciotta, a leader of the group that's challenging the project, welcomed the news and said she was hoping the court would agree construction of TMT shouldn't begin until a final decision is reached in the lawsuit, reported the Honolulu Star-Advertiser.
On Nov. 10, TMT announced its plans to send a small crew of local workers to the project site to "conduct site preparation activities, starting with equipment maintenance and repairs." It would have been the team's first attempt to reach the summit since June, when project opponents blocked the road using their bodies and boulders.
Confrontations on Mauna Kea have resulted in dozens of arrests, and for months, a core group of protesters have maintained a constant, 24-hour presence on the mountain. Project opponents often refer to themselves as "protectors" of the mountain they consider sacred. 
In preparation for another standoff, Hawaii Gov. David Ige recently issued a statement stressing his commitment to upholding the law and providing safe access to the mountain's summit for everyone, including those working on the TMT project.
"If this work is stopped, it is not a victory," Ige said. "It will harm the environment. If there is violence, as some have suggested, that is not a victory. We are one community and we must continue to search for a resolution that will keep this community together."
"We are deeply committed to respectful stewardship of the mountain," Henry Yang, chair of the TMT International Observatory Board of Governors, said in a statement, "and to the vision that integrates science and culture in Hawaii and enriches the educational opportunities and local economy."
PHOTO GALLERY
Wonders Of Astronomy
Calling all HuffPost superfans!
Sign up for membership to become a founding member and help shape HuffPost's next chapter