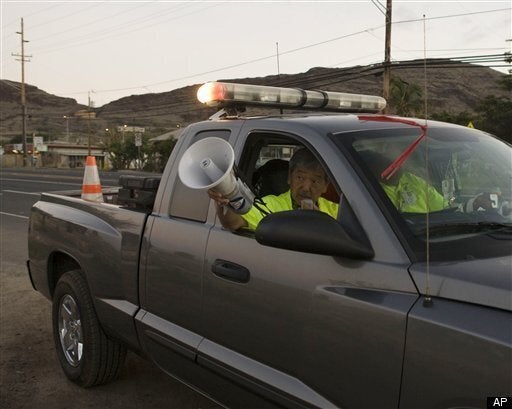 A catastrophic earthquake struck Chile early this morning. The magnitude-8.8 quake spread as far as São Paolo, Brazil and was felt by 3-million people according to the US Geological Survey. Over the past few hours, a tsunami has struck the coast of Hawaii, the Phillipines, Alaska and other coastal cities around the Pacific.
5:58 PM ET: After speculation over the effects of the intial and subsequent tsunami surges, citizen journalist Bill Sager reports from Kaneohe, Hawaii that the worse is over:
It looks like we are going to be ok. Tsunami warning Center says trough to top was about six feet. Where surge was concentrated at river mouths we got significant surge. No damage.

I live on Kaneohe Bay and we had water level changes of about a foot. The third wave is currently passing Oahu. It is not over. Third wave was largest. Don't know what my come but things are looking pretty good. Fourth wave just passing Hilo. Seems fourth wave is smaller.

Good news. All ok.
5:20 PM ET: Eileen Forrest reports that a tsunami did hit islands off the coast of New Zealand. According to the New Zealand Herald, the surge should reach Auckland by 8:52 PM ET.
We have had a 1.5 metre wave hit Chatham Islands off the coast of New Zealand and its heading for mainland. East coast of NZ north and south islands are on alert, parts of Banks peninsular near Christchurch in the south island has been evacuated as a precaution...
5:03 PM ET: From Tahiti, HuffPost user John Stember reflects on the tsunami that hit those shores earlier today:
Tahiti and French Polynesia have experienced no injury or damage from the Tsunami which came through the islands at approximately 8.00 am this morning Tahiti time... maximum wave height was 1-2 meters on the east coast.

We in Tahiti did not even notice the Tsunami passing on the west coast and have also been monitoring the people in Easter Island and in the Marquesas. This Tsunami is definitely not dangerous... at least not in the South Pacific!!!
4:40 PM ET: Rebert Retallick reaches the airport to find it closed and in a state of disarray:
ground zero for the tsunami....the airport is closed. downtown hilo is closed. they have shut off all the water and are asking people to conserve. the police have set up road blocks at all the beach access points. this is where it will hit first.
3:59 PM ET: Tourists are trapped on the top floors of hotels in what's being called "vertical evacuation." Katie Maher said that business is still somewhat ordinary despite the disaster warnings. She reports:
I am in Waikiki at the Sheraton Princess Kaiulani on the 14th floor in a corner room, across the street from the beach on Kaiulani Avenue... Hotel announced that they are shutting down the elevators in 10 minutes and that everyone should return to their rooms. I never left mine. Staff will be evacuated to the 3rd floor or higher in the next few minutes. A maid just came to my room to clean. She is from the Philippines and has been here for over 20 years and this is her first experience with a tsunami.
3:42 PM ET: HuffPost citizen reporter Robert Retallick has taken cover in Hilo, Hawaii where the most extreme conditions are expected from the tsunami. He writes:
i am sitting in a walmart in hilo hawaii. i just tried to get to the airport but they have closed it as its very close to the coast. the police have blocked off all beach access. downtown hilo is closed and being cleared. they have shut off all the water on the coast and have asked people to conserve what they have...
Calling all HuffPost superfans!
Sign up for membership to become a founding member and help shape HuffPost's next chapter