HONOLULU -- A new mobile employment center on the Hawaiian island of Oahu is bringing work opportunities -- and hope -- directly to homeless and at-risk residents.
With 7,260 homeless people, Hawaii has the highest rate of homelessness per capita of any state in the nation. And according to Kimo Carvalho, a spokesman for the Institute for Human Services, a Honolulu nonprofit, one of the biggest challenges for service providers is to meet homeless residents where they are, rather than relying on them to find their own way to IHS' downtown center.
Now, Carvalho said, IHS has figured out how to come to them instead.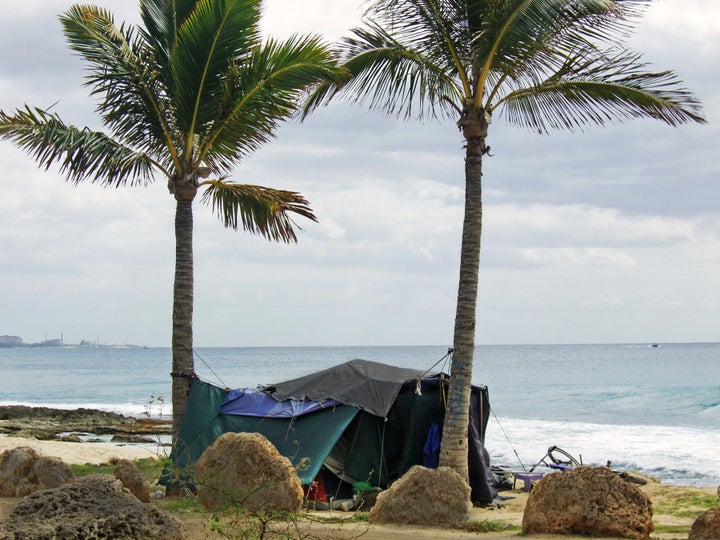 Since first hitting the streets in October, the mobile unit, part of IHS's Hele2Work employment program, has been out 32 times, popping up at food banks, churches, shelters and homeless encampments, according to Carvalho.
In that time, it has helped 137 people, whether providing them with a bus pass or placing them in a job for the first time in years.
"There's a stigma out there that [homeless] people just don't want to work and they're lazy," Carvalho said. "And that's just not true at all."
The pop-up center is funded through private donations, as well as a grant-in-aid from the city of Honolulu, which paid for a new 15-passenger van, according to IHS. 
Among the services offered are transportation, help obtaining necessary documents including identification and birth certificates, resume-building, mock-interview training, job-retention courses and access to computers, cell phones, haircuts and clean clothes. IHS also assists employers with background checks and drug testing.
"Anyone who's 100 percent motivated and able to work," Carvalho said, "we can usually get them hired in an average of a month."
"It's just amazing to see what the demand is," Carvalho said.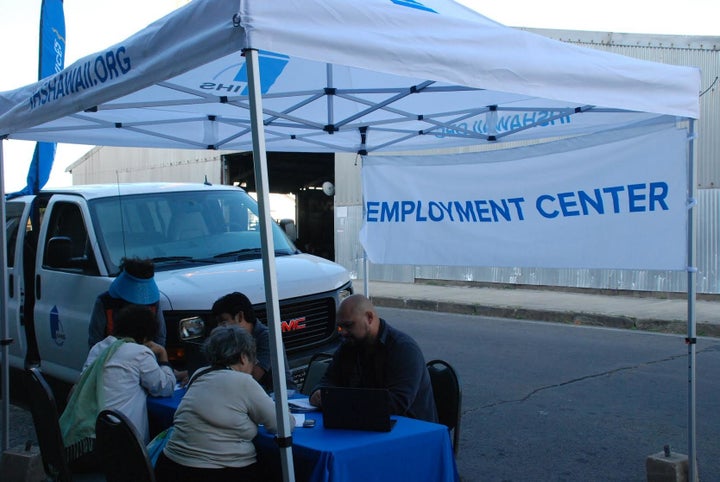 November Morris, who runs IHS' work employment and community services program, told Hawaii Public Radio earlier this month that searching for work while homeless involves significant struggles.
"Living outside, it's rough, you get robbed, you get your things stolen. If you have addiction or mental health issues, you have to get that managed before you start looking for work," Morris said. "We really focus on people who are ready to work. If they're not ready, we help them focus on the things that they need to get ready. Once they are, we give them everything they need to get that job."
Carvalho told HuffPost that the mobile employment center is the latest tool in IHS' comprehensive strategy to end and prevent homelessness on Oahu. 
Between 2014 and 2015, Hawaii's unsheltered homeless population grew by 23 percent, according to the Associated Press. In October, Hawaii Gov. David Ige (D) declared a state of emergency to deal with the state's homelessness crisis. 
"A lot of people who get jobs, it allows them to qualify for housing," Carvalho said of the new mobile program's goal. "In the end it's just this butterfly effect of moving someone off the streets into housing quicker, and ensuring that they have developed self-sufficiency."
Calling all HuffPost superfans!
Sign up for membership to become a founding member and help shape HuffPost's next chapter
BEFORE YOU GO
PHOTO GALLERY
The Harbor Homeless Camp In Hawaii