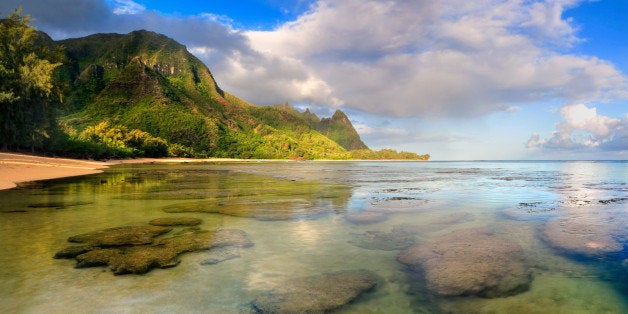 With the First Family's annual Hawai'i winter vacation wrapped up and 2014 is well on its way, the discussions of a Presidential Library are growing ever louder. With these discussions comes the inevitable typology of business, academia and importance versus sand, surf and sea. Or should I say, unawareness versus potential. Otherwise known by this little dance of venues, created by opposing sides: Chicago versus Hawai'i.
With no insult to Hawaii's [sic] respect for the life of the mind, it's fair to say that very few people go there in fierce pursuit of book learning. Who's going to want to relive the 2009 stimulus debate when they could be snorkeling, surfing, peering into a volcano, lying on a beach, playing golf, gorging at a luau [sic] or learning to appreciate ukulele music? And we might mention those distractions are available year-round.
Granted, the stigma of Hawai'i being purely a vacation destination is a disadvantage borne of our own marketing success, and a uniquely indigenous trait known as aloha. There are many reasons for both cities to house such an esteemed edifice and purpose. Yet the First Lady's quote about her husband still rings true, "You can't really understand Barack until you understand Hawai'i." Correct. Thank you, Madame First Lady.
Yes, Chicago was the start of his political career. But these islands in the middle of the Pacific, Hawai'i, allowed him to believe he could be anything he wanted to be, irrespective of race or gender. His Tūtū (Grandmother) held a position of title in a bank, perhaps during years when the rest of America was becoming used to a woman in positions of power. In a place where legislators reflected every race in Hawai'i, a governor of Japanese ancestry, no racial majority, he lived in possibility.
According to a Washington Post article ("Hawaii's Influence on Barack Obama"), in 2004 President Obama uttered these words to an audience in Honolulu:
No place else could have provided me with the environment, the climate, in which I could not only grow but also get a sense of being loved... There is no doubt that the residue of Hawai'i will always stay with me, and that it is a part of my core, and that what's best in me, and what's best in my message, is consistent with the tradition of Hawai'i.
These islands are more than vacation destinations, more than a respite for celebrities and billionaires who grow tired of -50 degree weather during our spectacular winter months.
These tiny islands may be characterized as a laid back, lū'au gorging, beach lying, volcano laden, 'ukulele music hangout, yet it has reared some of this country's notables that we are proud to call kama'āina or local born, besides taking credit for our President Barack Obama, we have the late Senator Daniel K. Inouye, former President Tempore of the U.S. Senate, United States Secretary of Veterans' Affairs Eric Shinseki, war hero and United States Congresswoman Tammy Duckworth, just to name a few.
The values we grow up with here in Hawai'i expects nothing less of us. Even if Hawai'i is overlooked when it comes time to make a decision, the real win is Hawai'i's. These values will continue to permeate every generation that we offer to the world, in the hopes that we will offer another Barack Obama, another Daniel K. Inouye and more individuals filled with compassion and aloha.
Related
Popular in the Community