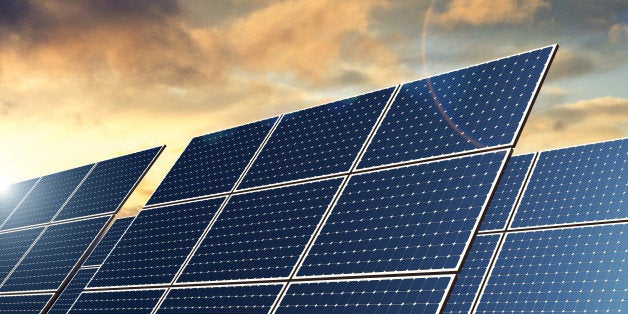 HONOLULU - Hawaiian Electric Co. is hoping to fast-track nine solar farms on Oahu that could mean hundreds of thousands of solar panels stretching across areas equivalent to 40 Ala Moana Shopping Centers.
The power is expected to lower consumer electricity bills, in addition to moving Hawaii away from its dependency on oil-fired generators.
But where will all of these solar panels go?
Who is going to develop them?
That's proprietary too. And HECO even wants state regulators to exempt the projects from competitive bidding requirements.
HECO will say that it hopes the solar farms will be up and running by the end of 2015. The utility already has agreements with developers for specific projects, including timelines and prices for the power.
But the public won't get more information about the projects until HECO submits final contracts with each developer to Hawaii's Public Utilities Commission for approval.
"It is very weird," said Henry Curtis, executive director of Life of the Land and longtime HECO critic. "It seems to me that you would want to identify (the location) sooner rather than later so you can figure out if the site is good or bad."
Especially in Hawaii, where land is limited and energy projects rarely escape opposition.
HECO spokesman Peter Rosegg says keeping the information confidential allows developers to work with communities before a project becomes generally known. The agreements stipulate that the developer has to engage in community outreach.
"We don't want anyone to wake up and read in the media that something is planned for their community," he said.
But advance warning can also have a significant impact on a project if people don't want it in their community.
In 2006, a wind farm planned for the Leeward coast of Oahu was scrapped amid community protest. Residents complained that they were already hosting the island's dump and main industrial facilities.
The Kawailoa wind farm on Oahu's North Shore went up without too much community protest, but the turbines have since sparked anger from some residents who say they were surprised by the towering turbines' visual impact. The turbines poke above the dense foliage of Waimea Valley, easily seen by drivers along the coastal highway.
Hawaii's Consumer Advocate, Jeff Ono, says information on projects and locations should be kept confidential.
"There could be competitive advantages and disadvantages if that information were being disclosed upfront," he said.
Plus, solar farms haven't attracted the levels of community opposition that wind farms have, he said.
"The solar projects take a relatively low profile," said Ono. "They are not like 400-foot wind turbines."
But they do take up a lot of acreage. Unlike wind farms, which ultimately have a small footprint, solar panels cover large tracts of land.
HECO has said it wants the nine solar farms to provide up to 240 megawatts of capacity. The U.S. Department of Energy calculates a utility needs eight acres to produce a single megawatt. That means HECO would need about 1,920 acres and hundreds of thousands of panels. The Kauai Island Utility Cooperative recently broke ground on a solar farm that will use 45,000 solar panels to produce 12 megawatts.
The aggressive push for more commercial solar projects is part of HECO's recent effort to bring consumers some relief from high electricity prices.
HECO says the average cost of electricity from the nine proposed solar farms is about 15.8 cents per kilowatt hour. That's compared to as much as 22.7 cents per kilowatt hour for oil-fueled electric generation.
HECO is also asking state regulators to exempt the projects from the competitive bidding process. That might seem at odds with getting the best price for ratepayers and bringing down energy costs.
But Ono, the Consumer Advocate who is supposed to represent consumers' interests before the PUC, says he's reviewed some of the projects and supports exemptions because of their lower pricing.
"What you see on the mainland is incredible drops in pricing for (contracts) and we weren't seeing any kind of drop in prices for wind and solar," said Ono.
A bill that would have forced developers to disclose this information to regulators died in the Hawaii Legislature earlier this year.
Calling all HuffPost superfans!
Sign up for membership to become a founding member and help shape HuffPost's next chapter
BEFORE YOU GO
PHOTO GALLERY
Top U.S. Renewable Energy Sources - 2011 (MOST RECENT DATA)