You might know them as Hawaiian shirts, but in Hawaii, they go by a different name: aloha shirts. And they have come a long way since the days when your always-golfing uncle tried to look like Magnum, P.I.
It seems the storied style -- once seen as the equivalent of mom jeans for men -- is rising from the ashes.
Aloha shirts go back as far as the 1930s and have bounced between being cool and hideous for decades. In mid-century, as tiki culture raged through the country, celebrities like Elvis, Shirley Temple and Bing Crosby, as well as President Nixon, all donned the style, and it became emblematic of a happy, more relaxed attitude.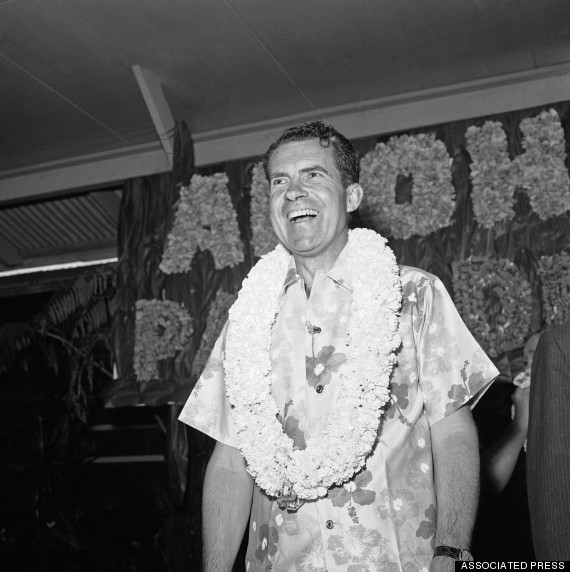 President Nixon at a 1960 luau in Hilo, Hawaii.
But not just any shirt with flowers on it is an aloha shirt, says Dale Hope, a designer, shirt collector and author of "The Aloha Shirt: Spirit Of The Islands" with Gregory Tozian. What separates an aloha shirt from a patterned shirt is a degree of thoughtfulness and research.
"With an aloha shirt, it's all in the art," he told The Huffington Post. "It's done by artists as a tribute, with respect to the place. You can tell that homework was done in the print when they research the shape of the canoe or the details of the fish in the print. It's not just some stupid canoe; there are enough stupid canoes." A true aloha shirt is "something made with pride in Hawaii."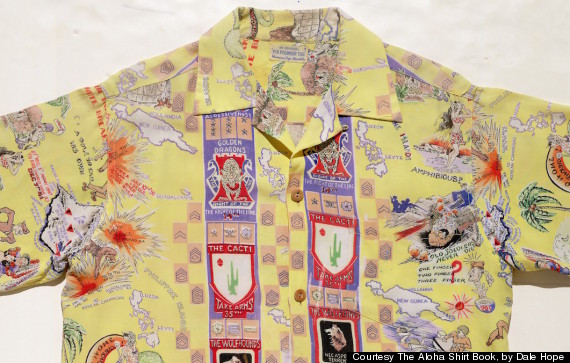 This shirt was made for the U.S. Army's 25th Infantry Division, which is based on Oahu, and represents the military's far reaching influence in Hawaii's culture.
Threading The Needle: The Multi-Cultural Origins
So where did the aloha shirt come from? Although the invention is credited to Ellery Chun, a clothier in Honolulu during the '30s who was shrewd enough to trademark the phrase "aloha shirt" in 1936 or 1937, the shirt as we know it today was more likely the evolution of a bunch of things.
The Native Hawaiian population had traditionally worn kapa, a cloth made from the bark of the paper mulberry tree that was pounded flat, bleached dry by the sun and dyed in bright reds and yellows using berries and kukui nuts. However, due to missionary influences, they had started wearing modest, more subdued clothing. Anthropologist Linda Arthur Bradley notes that kapa were traded out as it became "a mark of status to be able to wear new Western-style clothes." But the kapa's bold colors would resurface in aloha wear.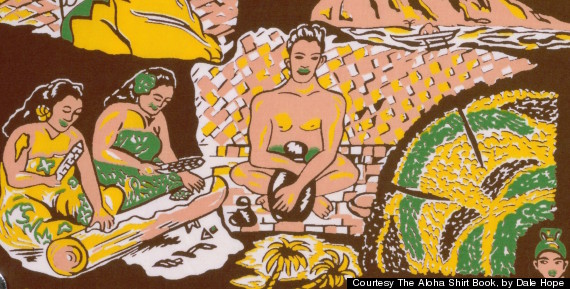 Storytelling is important to an aloha shirt print. These depictions represent Hawaiian traditions of beating kapa, among others.
The shirt was further influenced by the untucked way shirts were worn in the Philippines, as well as kimono fabric from Japan and flower prints from Tahitian pareus. For the growing tourism industry in Honolulu in the '30s, the shirt became an emblem of all these exotic cultures and crossroads.
As Hope writes in his book, "nothing painted a more vivid picture of Hawaii than these bold shirts with their colorful Island images." That a shirt with island-based colors would come to represent the aloha spirit, "was probably just something that was in the air at the time," he told The Huffington Post.
Bursting At The Seams: The Trend Grows In Popularity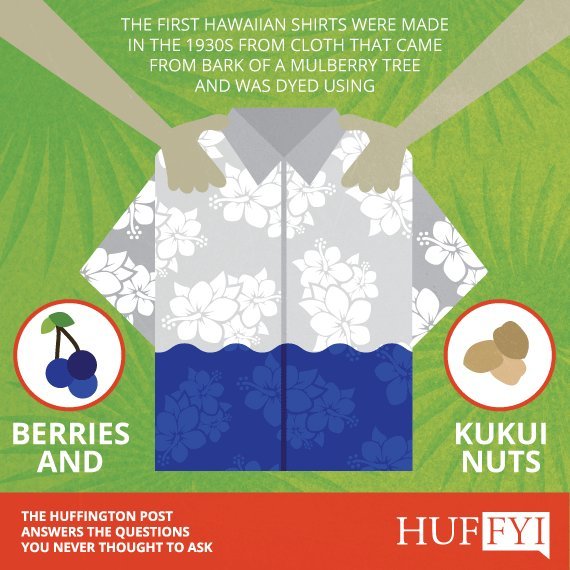 The word "aloha" was thrown around a lot in the '30s as tourism grew, but Musa-Shiya Shoten, an inspired shirt-maker, was probably the first person to ever use "aloha shirt" in print. He ran an ad in a 1935 issue of the "Honolulu Advertiser" for "Aloha" shirts: "well tailored, beautiful designs and radiant colors: 95¢." Later, Ellery Chun noticed the hot trend and trademarked the phrase as a way to keep his store in business during the Depression.
According to Dr. Bradley, aloha shirts of the '30s were technically "hash prints," or a "hodgepodge of images [slapped] onto a shirt using linoleum stamps." During the war, stationed servicemen bought tons of these shirts, which served as a colorful antithesis to their uniforms, but it wasn't until a design house led by Alfred Shaheen hired salaried artists in the '50s that the style really took off.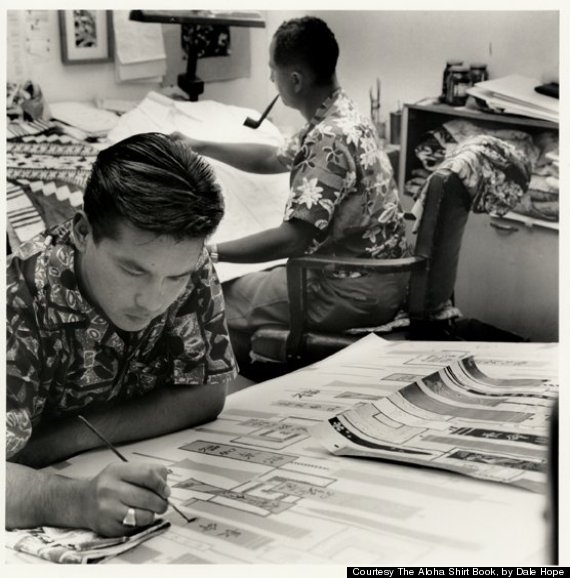 Textile designer Robert Sato created most of Shaheen's designs in the art department.
"I masterminded the look," Shaheen is quoted as saying in "The Aloha Shirt." "I wanted a certain look that was different from everyone else's. I would not do hash prints or chop suey prints. I avoided bright or garish colors ... I wanted my stuff to blend into a man's pair of pants or into a woman's jacket or skirt."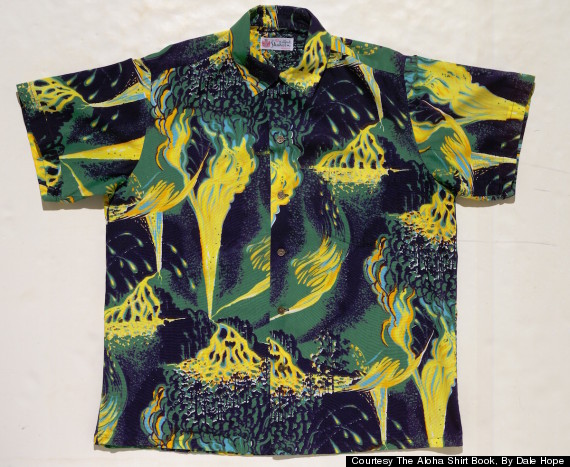 This print, named "Kilauea Volcano," typifies Shaheen's style and storytelling.
Shaheen's mass-produced shirts were sold in 3,600 stores on the mainland, as well as stores in France, Hong Kong, London, Samoa and Cuba. Today, they fetch tens of thousands of dollars each at auctions. One of Shaheen's early designs, the Tiare Tapa, was worn by Elvis on the cover of "Blue Hawaii" in 1961.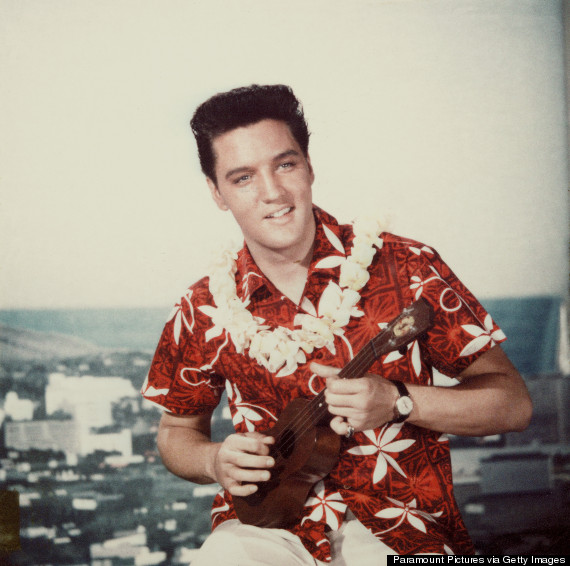 Elvis wears a Shaheen shirt on the cover of "Blue Hawaii."
The 1960s also saw a huge shift in aloha shirt design: the reverse print, a more subdued style that looks like a shirt sewn inside out. Design house Reyn Spooner first put the reverse print out and locals loved them. "The reverse shirt was something special," Pua Rochlen, president of Jams World, told Hope in "The Aloha Shirt." "It was for the kama'aina, not for the malihini tourists."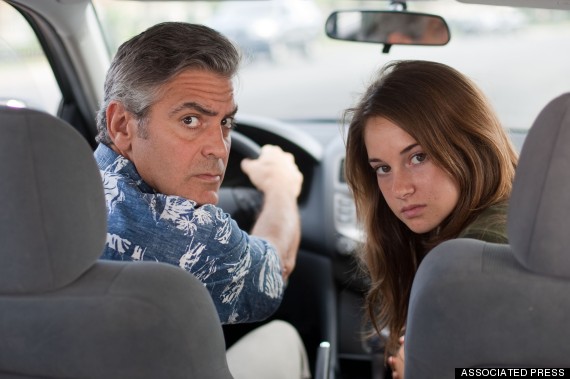 George Clooney and Shailene Woodley in 2011's "The Descendants."
When Shirt Hit The Fan: The Hawaiian Shirt's Fall From Grace
The 1970s and '80s were a dark period for aloha shirts. The popularity of a mustachioed Tom Selleck in the television series "Magnum, P.I." had every paunchy guy thinking he could look as macho as Magnum if he, too, wore aloha shirts. Rochlen told The Huffington Post that the Hawaii style presented in "Magnum, P.I." "wasn't about embracing unique fabrics, color, art, and imagery." For instance, Magnum's Jungle Bird shirt -- which is now included in the Smithsonian's collection -- was a basic print: a blue shirt with parrots on it. But as Rochlen points out, "it was Tom Selleck. He could have been wearing toilet paper and we would have chased the best toilet paper in the world."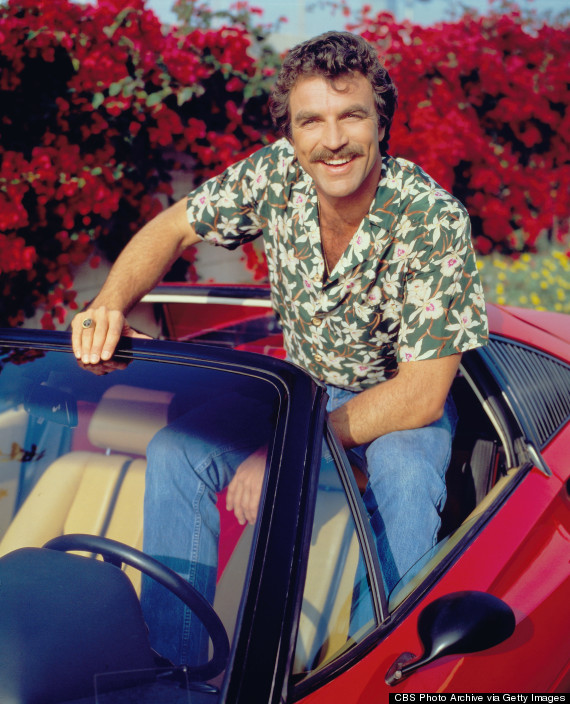 Tom Selleck wore many aloha shirts as Thomas Magnum for the television show, "Magnum, P.I.," in the '80s.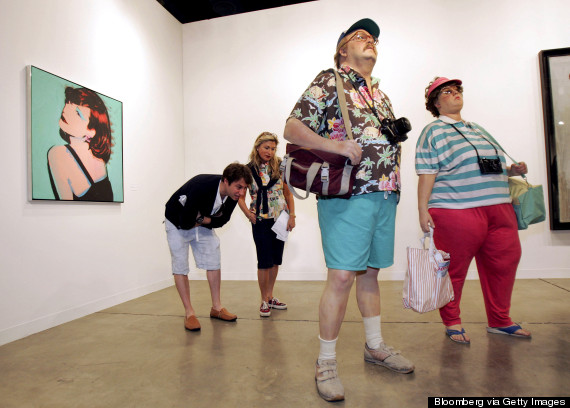 Artist Duane Hanson's "Tourists II" (1988) illustrates the aloha shirt at its campiest.
Tommy Bahama ushered in a new era for island resort wear. It championed a Jimmy Buffett Parrothead lifestyle that confused the public's perception of aloha shirts, ultimately dooming the term to nothing more than kitsch.
"The demise came after all the bottom feeder manufacturers proliferated in the big box stores with Tommy Bahama-looking shirts at cheap prices," Hope says.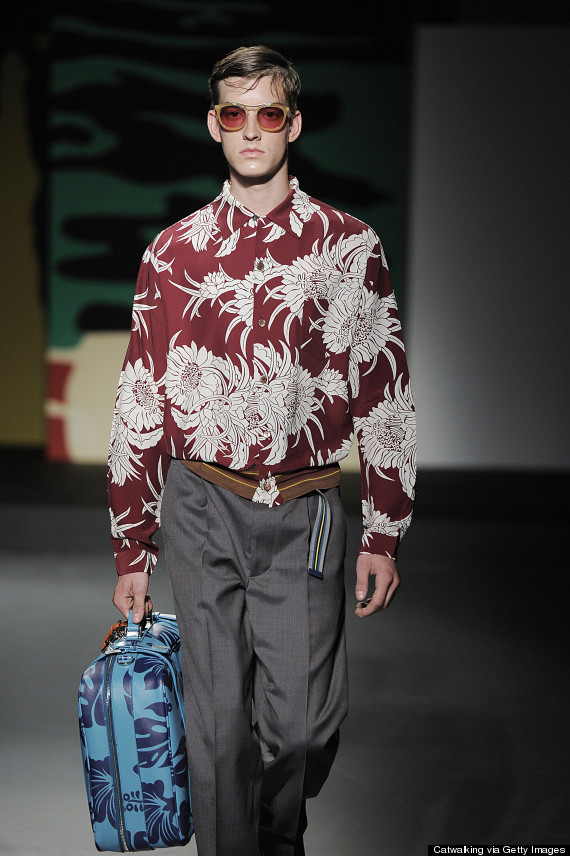 A model walks the runway at the Prada Spring Summer 2014 fashion show during Milan Menswear Fashion Week.
While these are beautiful Hawaiian-inspired shirts, most wouldn't be considered true "aloha shirts" under Hope's definition because they lack the storytelling essence. For authentic styles, you can look to Sig Zane from the Big Island, whose designs incorporate Hawaiian ethnic motifs and tradition; Kealopiko, a manufacturer based on Molokai that sources inspiration from designs and materials locally; and legacy Hawaii-based resort wear labels such as Reyn Spooner and Tori Richards, which still sell to an international market. Dale Hope has collaborated on several lines, including one with Quiksilver and another with Kailua-based Mu'umu'u Heaven.
Big Island artist and designer Sig Zane describes his process of telling stories through his fabrics in the above video.
Whether people call them Hawaiian or otherwise, it seems the world is still in love with these shirts (Jared Leto, especially) and designers will continue to find ways to incorporate Hawaiian-style motifs into their products.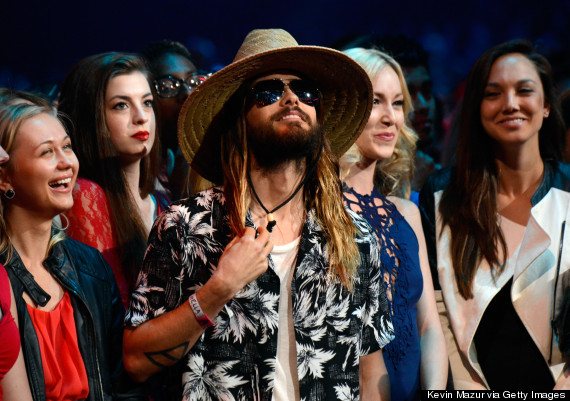 Jared Leto at the 2014 MTV Movie Awards.
But if the old stuff is what you really want, Bailey's Antique & Aloha Shirts in Waikiki has long been known as a Mecca for antique aloha shirts. The crowded store usually keeps more than 15,000 different pieces in house with originals that cost up to $8,000 each and replicas as high as $89.
Not convinced Aloha shirts are for you? At the very least, we all owe them a debt of gratitude. The tradition of wearing the shirts on Aloha Fridays in Hawaii introduced the concept of "casual Fridays" to the rest of the country.
Correction: An earlier version of this article misspelled designer Hedi Slimane's name.
Related
Before You Go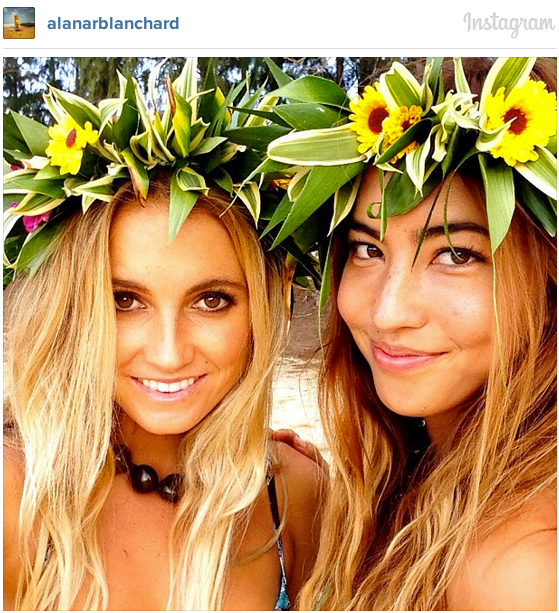 Surfer Chick Style