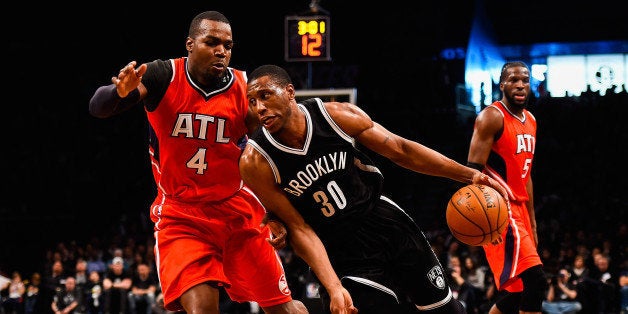 But for Atlanta, as investigations into the incident continue, they're just looking to keep focused and extend their playoff run. They fell short to the Nets, 91-83, but continue to lead the first-round series 2-1.
"We're trying to keep our routine and everything -- on the court, off the court -- as close to normal as possible," Atlanta head coach Mike Budenholzer said before the game when asked if the team's routine changed at all during this trip to the city.
"We miss Thabo," he said, but added, "We've got guys who are very mature, very responsible."
"I think they're all in a good place, they know how important what's happening is, and we're just going about our business," Budenholzer said of the series.
The injury ended the season for Sefolosha, who did not travel with the team to New York. Sefolosha, along with his teammate Pero Antic, were both arrested in the early hours of April 8 as they were exiting New York club 1OAK. That same evening, Chris Copeland of the Indiana Pacers and his girlfriend had both been stabbed, and later taken to the hospital.
The NYPD said Antic and Sefolosha were resisting arrest and obstructing the investigation into the Copeland incident, which occurred earlier that night. However, both players pushed back against that account, and in the days that followed, a damning cell phone video was leaked that appeared to show a police officer using a baton against Sefolosha.
Just over two weeks later, Sefolosha's teammates said he is missed, but they are maintaining business as usual while facing off against Brooklyn, which includes any pre-game routines.
"We play a lot of FIFA. That's what we do on the road, so that doesn't really change. We play Uno," Atlanta's Kent Bazemore told The Huffington Post. "Nothing changed."
"Hasn't had an impact," forward Paul Millsap told HuffPost. "Situation's a tough situation, especially for Thabo, we feel for him. He's a big part of our team, but we let it play out, see what happens with the league."
But neither player would comment on the investigation itself.
"Not at all. Not at all. It's not my judgment, not my call, so I stay out of it," Millsap said when asked if he had any thoughts on the video and police comments.
Bazemore would only say, "It's a legal matter."
However, Sefolosha's own run-in with the police follows a year of high-profile cases in which controversial police aggression was used, including that leading to the deaths of Missouri teen Michael Brown and Eric Garner of New York.
A vocal critic of both those deaths sat across from the Hawks on Saturday: Nets point guard Jarrett Jack. Jack, who organized "I Can't Breathe" T-shirts to be worn by some players earlier this season before a Nets-Cavaliers game, said Sefolosha's case could perhaps continue to shed light on what has been a hotly debated topic.
"I think with the added celebrity to his name and what he's affiliated with as far as being an NBA player, is going to bring much more attention to it than maybe your typical civilian," Jack told HuffPost.
He continued: "You wouldn't want that to be the way that it happens ... but if it starts to get the ball rolling in a positive way, then so be it."
Jack, while skeptical of the details surrounding Sefolosha's arrest, also stopped short of a full-throated condemnation of the officers.
"None of us were there, we don't know what went on before the video started to be filmed, but I don't know, it's just difficult for me to understand why nine people had to take down one guy that didn't seem to be, like, resisting, to me," the Nets player said.
Since Sefolosha's arrest and injury, many players have expressed concern, including Cleveland's J.R. Smith -- known for his New York social life while playing for the Knicks -- who said players need to be careful while out late at night.
"I think we all have a responsibility to ... protect ourselves in a way, to understand that you are a commodity, and that you're an asset to your family, to the companies you represent," Jack said. "And just make sure you try to get yourself back home and safe and sound as possible."

Calling all HuffPost superfans!
Sign up for membership to become a founding member and help shape HuffPost's next chapter